ON SALE FRIDAY 29TH NOVEMBER


Underwater Secrets – Part 7
After a fascinating series so far, we take a look at one of the deadliest winter approaches – the PVA bag. Would we find out why it is so successful?
Match News
All of the latest gossip and news from the world of match fishing. Plus we quiz some of the sport's best stars for their top winter tips.
Matrix Performance Of The Month
We always like it when a big match is won by an angler who isn't necessarily a star name. For that reason we couldn't wait to hear how Andy Leathers lifted one of the biggest prizes in angling!
Drennan Knockout Cup – The Final
It's finally here! After five hard-fought rounds the epic final is upon us, between Lee Kerry and Michael Buchwalder. But who will come out on top after two days' tough match fishing at the fantastic Docklow Pools?
Seedy Speedy In The Redfin District
Nick Speed goes back to his roots on the Sheffield Canal. Can this once-famous match venue live up to its former glories?
The Discussion Forum
We want to know where you think the pole market is headed – there are so many great poles out there that we decided to find out what you look for in a pole.

Shimano & Dynamite Baits Q&A
Time to get your questions answered by the panel of experts and win some great prizes. Will you be one of our lucky winners?
Kerry's Way
Lee Kerry's honest appraisal of his entire Drennan Knockout campaign and his thoughts on the competition as a whole.
The Bait Bible!
Rob Hewison lifts the lid on his breadpunch secrets as he gives you his definitive guide to bread preparation.
The Battle Of The £5K Winners!
We pit two former Fish 4 5K winners against each other at the Water Meadows venue near Skegness.
Double Top!
Cathal Hughes and Phillip Jackson amazingly won the World Pairs for the second year running! We find out just how they went about destroying another quality field.
Kernel Mason
Barry Mason takes on the Alder's Farm residents with a twist on fishing corn in cold water. Liquidiser at the ready...
Bank Notes
Rob Wootton has had a good month again, this time White Acres has been the object of his interest, with the Preston Innovations festival.
The Big Interview
Dickie Carr is in the hot seat this month as Stan Piecha interviews the longest-serving England international.
Flowing Finesse
Preston Innovations man Scott Geens has been winning loads of money on rivers by simply using pole rigs on a rod and line! We find out just why it is so devastating.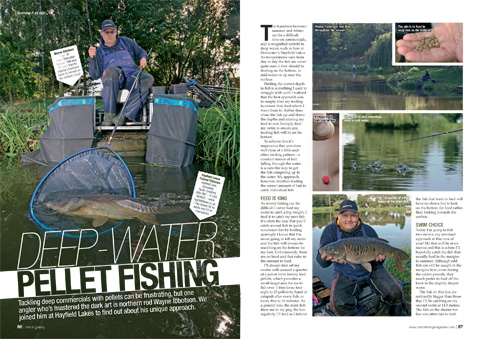 Deep-Water Pellet Fishing & Marukyu Competition
Wayne Ibbotson has been in fine form of late, thanks to his theories on deep-water pellet fishing. Match Fishing joins him on the bank to find out what makes his approach so good.
Jargon Buster – Part 3
Will Raison is on hand to give out his finest silver-fish lessons as he shows how to amass a match-winning bag of skimmers.
Tackle & Guns Special
Here's what was on offer at this year's tackle extravaganza!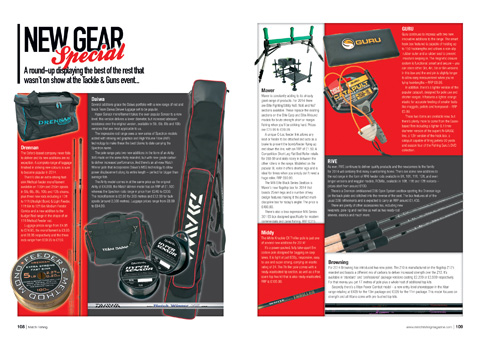 New Gear Special
We have a look at some of the best new tackle that is set to hit the shops in 2014.
Tackle Awards Results
You voted in your masses and here are the results! Will your favourite items of tackle get among the prizes?
Used & Abused – Drennan Catapults
Drennan has long been famed for its quality 'pults and Joe Carass is just one of their many fans! Here's why.

DPS Comp
Five lucky winners get the chance to choose five items of spanking new Drennan luggage.
Stopwatch
White Acres' Parkdean Masters is at the very pinnacle of our sport. We have a blow-by-blow account of just what happened as the 24 finalists took on Jenny's Lake.
Things To Try On… Rivers
We divulge 20 superb tips to help you make the most of your next river session.
Hot Topic
Just what does it take to get into the England squad and should there be an alternative qualifying format? Agent X expresses his views… and he doesn't hold back!