The Italians storm to victory on the Guadiana River in Merida, Spain, while England hold onto the silver medal.
Italy reinforced their Day One lead in the European Championship with an emphatic Day Two victory, confirming their status as the number one team in the world at present. Even without top names like Falsini, Gabba and Fini in the squad they followed up their Day One victory with a crushing 16-pointer on the second day. That was more than enough to fend off Spain on 39 points and England and the Czech Republic who tied on 40 points on the day.
Italy's two-day total of just 45 penalty points gave them a comfortable win on Spanish soil with England claiming a solid second place with 71 points, followed by the rapidly improving Serbian squad on 76.5 points. Of the other Home Nations, Wales fared best with 116 points and 11th place while Ireland were 16th out of the 23 competing teams. Last year's champions France limped home in 9th place.
The home nation had a reason to celebrate with the Mario Mateos Doncel taking individual gold with the only perfect two-point score and an impressive total weight of 36.992kg. Only the second-placed Italian, Simone Carraro, recorded a better two-day weight with 41.693kg and a three-point total.
The ever-consistent Will Raison was top individual for England in fifth place while Andy Neal had a fantastic debut for Wales to take sixth overall.



Overall Teams: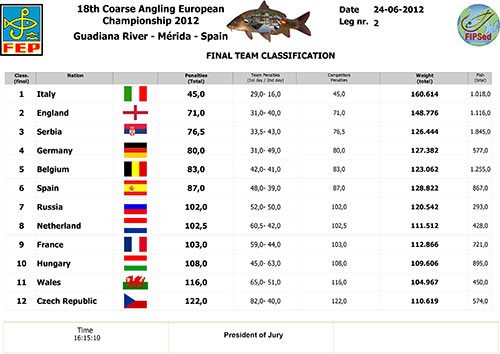 Overall Individuals: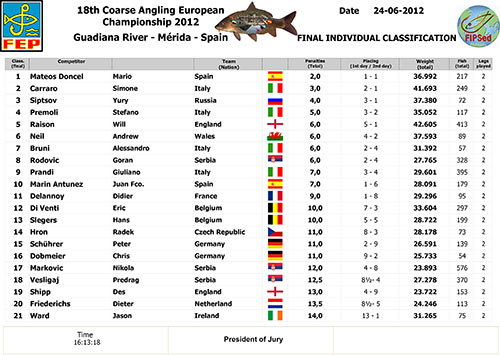 Last modified on Monday, 25 June 2012 07:19