Sonubaits produces some of the finest groundbaits about. You only need to look at what anglers such as Des Shipp, Lee Kerry, Michael Buchwalder and Andy Power are using to see how good the bait is.
One thing Sonubaits is really good at is reacting to trends and producing what anglers need. The Sonubaits consultants required a feeder fishing groundbait, so the team set about producing a one-bag groundbait that would cover your feeder fishing needs where a sweet mix is required.
Super Feeder is the result of countless meetings tweaking the mix, to make it work perfectly in all styles of feeders. This is a lovely sweet mix with a very distinct caramel aroma. It's not a super-fine groundbait and is perfect for fishing for quality roach, skimmers and bream.
A nice touch to the mix is a scattering of brightly coloured particles throughout. Many anglers now add these brightly coloured specks to their groundbait mixes especially for targeting bream. Super Feeder takes the hassle out of adding them and these highly attractive flecks of colour work with the mix perfectly.
Super Feeder is available in both original brown and a dark colour, so that the mix can cater for all different water colours. The mix is identical in both colours to keep things nice and simple.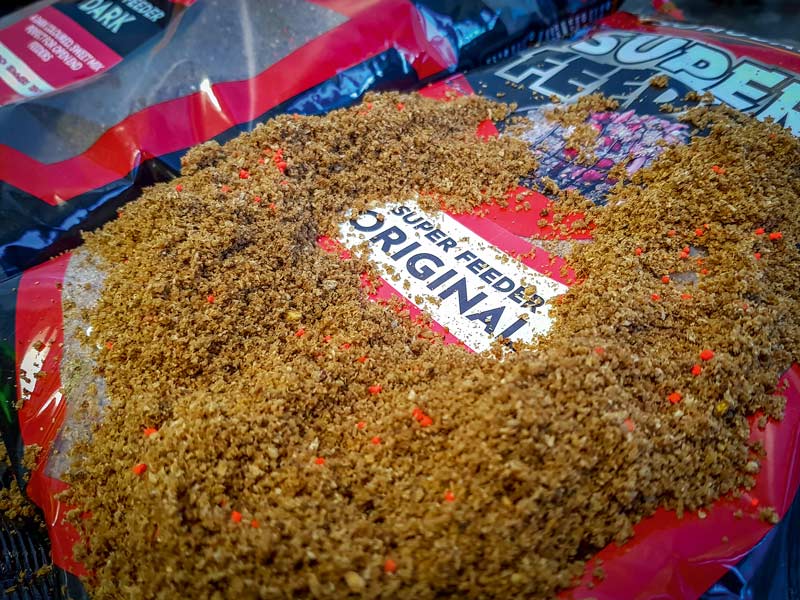 It's incredibly easy to mix and works well no matter how it is mixed. Keep the mix dry and you will have a groundbait that explodes out of the feeder quickly. Dampen the mix off and the breakdown becomes slower and more controlled, but thanks to the ingredients the mix doesn't become clogged up.
Of course a lot of feeder fishing is now done with fishmeal-style mixes, but sweet mixes still play an important role. A very popular tactic is to mix fishmeal and sweet together to create the best of both worlds. It's something I do an awful lot and by adding one of the superb fishmeal mixes from Sonubaits you will have a great combo mix. Something like F1 or Match Method Mix would be great additions to Super Feeder on venues where a fishmeal element is needed.
As with most of Sonubaits' range, Super Feeder is supplied in generous 2kg bags, which could be enough for two or three feeder sessions, making this very good value for money.
Sonubaits has drawn on its experienced consultants and created a superb groundbait here. Essentially it is a simple, sweet feeder groundbait, but it means that you can go to your tackle shop and pick up one bag of groundbait and off you go.
RRP: £6.99
Available at Benwick Sports

Verdict – A superb one-bag sweet mix that works perfectly through open-ended feeders.