Poles in this price bracket really do have their work cut out. You can expect to pay around £1,200 for the 14.5m package or £999 for the 13m version. In my experience, you see poles of this ilk in more situations than any others. Serious pleasure anglers, club match anglers, and top-end matchmen will all be seen with poles in this bracket.
On reflection, I feel like this kind of pole really needs to be an all-round tool, and reading the specifications on this pole that's exactly what this is intended to be. Here's how my workout with it went!
The Package
What exactly do you get for your money with the Darkside Series One packages? First there's the pick of a 13m or 14.5m version. Talking to anglers, I know for certain that there are loads out there who never fish further than 13 metres, so I can see the appeal of the 13m package. At first I was unsure if this was a good thing… what happened if you wanted to fish 16 metres? But then, I actually thought about how often I had fished that length, and it's hardly ever! Time would tell if the pole performed at its 14.5m length.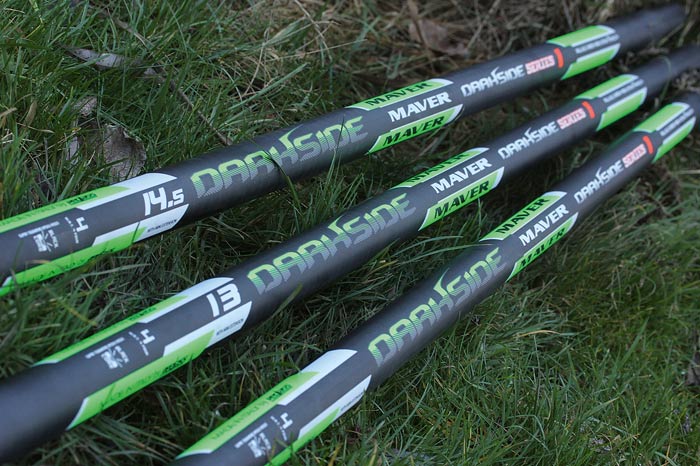 Both the 13m and 14.5m packages contain the same spares. The pole is fitted with a Power Kit containing a Hollow Match Tip. You then get five extra Power Kits that are all slotted and pre-bushed. There's also a cupping kit and cups included, along with a mini extension, tubes, Deluxe Holdall, and three EVA Clean Caps.
Pole Performance…
While unpacking and assembling the pole, I was very surprised at how light the sections were. It urged me to have a good squeeze of the sections. To be honest, there was a little bit of give here, which I don't mind at all. In fact, I think most stiff and light poles do have this.
Assembling it, it was exactly that – very light and very stiff, especially at 13 metres. I was rather impressed, especially when saying that this pole is the cheapest in the Darkside range. When the 14.5m section was added, and in the strong (and bloomin' cold!) northerly wind, a little bit of rigidity was lost, but the performance was still very impressive.
Shorter Lengths
In really poor conditions, I started the session fishing short, just eight metres out, loose feeding sparingly with maggots and fishing a light, strung-out rig. The pole is like a wand at this length – very light and stiff. But did the light sections feel weak you might ask? Not at all – I was striking hard and catching small silvers quickly, and the pole felt fine.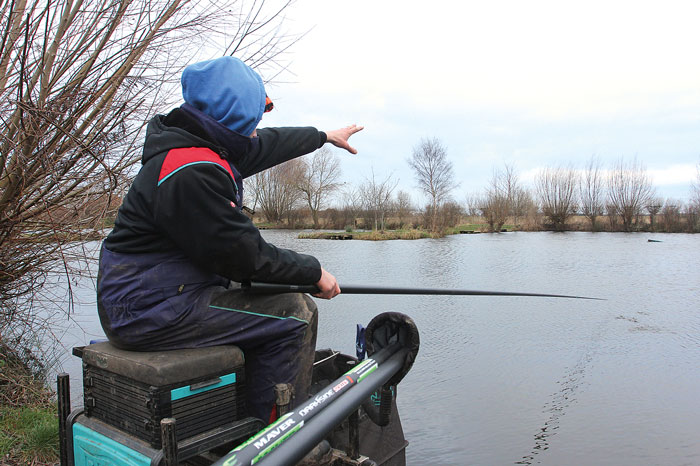 Going The Distance
As bites slowed, I decided to gradually chase the fish out, re-plumbing up at 11.5 metres to start with and feeding just a dozen or so maggots with a Cad Pot. To be honest, this really didn't work, although it did enable me to give the pole a test at these middle lengths.
I felt like my only option was to venture right out to the full 14.5m length of the pole. There was a small amount of whip in the tip sections, but it still performed very well.
On several occasions I cheekily held the pole, fighting against the wind as it almost swivelled me around on my seatbox! It was a good strength test!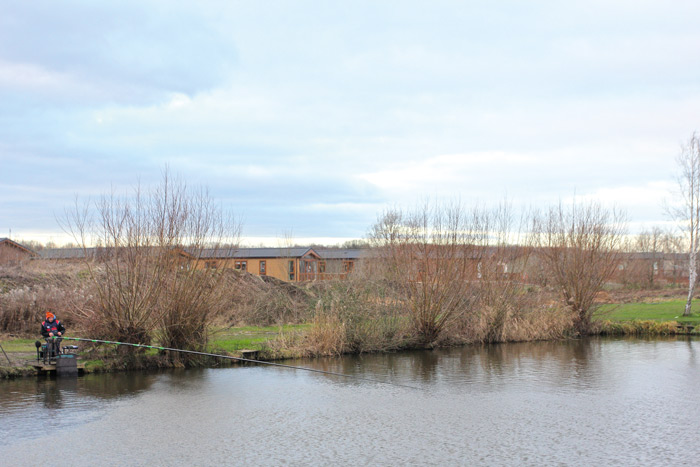 Pinging in a few maggots with a catapult, I hoped to draw in some of the lake's bigger F1s, but they really weren't playing ball and I felt if anything they were backing away from me, being the only one on the lake. After a good run of roach, which all came on a very light rig that offered a slow-falling presentation, I managed to finally connect with some, which made for a welcome end to the test.
The Slotted Power Kits were great when playing fish, and even though I was only using a No6 elastic, I could use the side puller slot to quickly and easily get the fish under control. Despite being called 'Power Kits' these are far from the heavy, bulky kits that I remember using on some of my old poles. They left the pole remaining stiff and responsive even at length, but when under pressure at the netting stages I'm confident you could pull very hard with heavy elastic without fear of them breaking.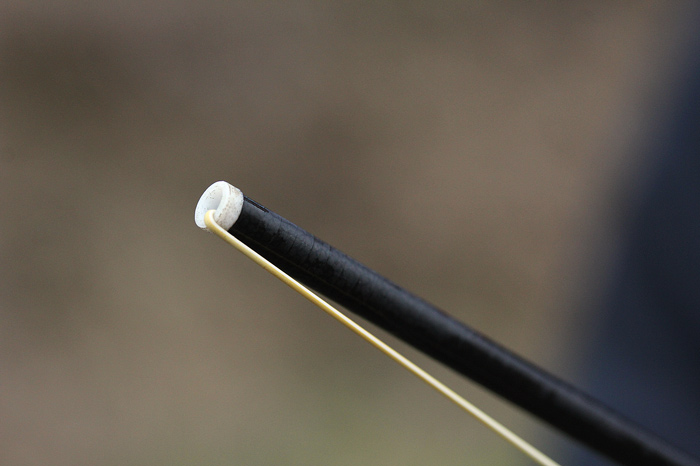 All in all, it's a very impressive mid-range model from Maver, making the ideal all-rounder whether you're a 'part-timer' who enjoys pole fishing, or a serious matchman.
Features!
Black Suncore anti-friction surface
Slotted and bushed power kits
Magic Steps
Fusion
STER and 4MAT resins
Nanolith
Teflon joints
EVA clean cap system
Tech Spec
Package: 13m or 14.5m pole containing top kit plus five Darkside slotted and bushed Power Kits, cupping kit and cups, mini extension, three EVA Clean Caps, Deluxe Holdall and tubes
RRP: 13m £999; 14.5m £1,199.99
www.mavermatch.co.uk