Drennan Red Range Target Carp Pole -
Joe Carass gets out on the bank with Drennan's new Target Carp pole to see whether it is a hit or a miss.
I must admit, I do enjoy getting the chance to test poles at the cheaper end of the scale. Poles under £500 always surprise me with their quality and usability.
The Drennan Target Carp is the latest in this price range to find its way into my mitts; a 14.5m model that Drennan's Jon Arthur told me I would be very impressed with for a number of reasons.
The first thing that took me aback when unboxing this pole was the spares package. This is my one criticism of poles at the lower end of the spectrum, as they often come with perhaps a spare power top two and maybe a cupping kit if you are lucky. The Target Carp is different and scores 10 out of 10 for me!
But what do you get? Six carp kits for starters, all factory fitted with Drennan's side pull system. The pole doesn't come with a cupping kit but it does come with the cups and adaptors to make one of the carp kits into a cupping kit, which still leaves you with five spares.
However, it is with the ancillaries that this pole really scores. It comes with everything that you need to get your pole up and running, bar the elastics. Six roller cones, 12 PTFE internal Polemaster bushes, EVA nose cones, eight side pull beads, extractor rod, Polemaster Pole Pot, two cupping kit adaptors and finally a set of protective tubes. Now I am sure you will agree that for a pole that comes in at a penny under 400 quid that is a nice little sweetener to the already impressive deal.
For my test session, I grabbed a few hours at Woodland View, near Droitwich. Front Deans were to be my playground and two of the carp kits were elasticated. A 'carp' rig with 10-12 Bungee was prepared while I also set one up with No5 elastic to try and target a few silvers. After all, poles in this price range shouldn't just be all about carp.
A simple two-pronged attack was all that was needed, with a few loose-fed pinkies at 10 metres for roach and for the carp I decided to utilise the Target Carp at its full 14.5m complement, and with a stiff breeze, this was likely to be no cakewalk!
At 10 metres this pole is a dream to use. It's stiff and well balanced and is relatively light. Add the first butt section to take it to 13 metres and the pole remains very nice indeed. Add the final butt section and I was probably just as surprised as anyone to find a pole that is actually good to use.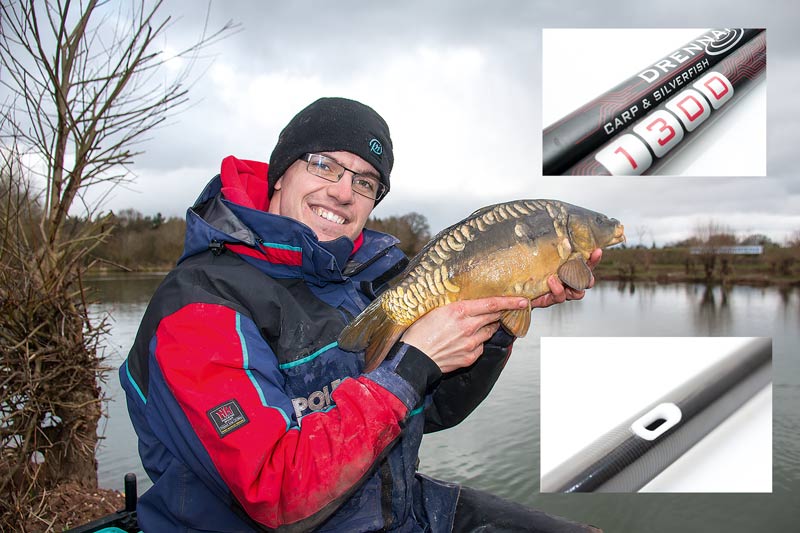 I had a great hour or so fishing at 10 metres for the roach; I even managed a few skimmers and a rogue F1 that presented a few problems on my lightweight No5 elastic. Fortunately, the side pull system helped me to get the fish under control quickly and effectively. This is a great system and the roller cone produces a silky smooth elastic performance.
With a tidy bag of silvers approaching double figures in the net, it was time to go carp hunting!
My bait tray was simple – pellets and corn, a great springtime combination. The pole was easy to use at 14.5 metres; I'm not going to say it is the stiffest pole out there, but for the price it is one of the best that I have seen, and for me if you mainly fish up to 13 metres but need the occasional session at 14.5 metres then you have to seriously consider this pole.
As soon as I hooked my first carp I knew that this was a strong pole. The 10-12 Bungee, while being a lovely choice for mid-ranged carp, barely even tested this pole. The Target Carp could easily handle a Red Bungee 18-20 and would make a great bagging pole.
I really like this pole; it's a great bit of kit and the attention to detail is what really makes it. Drennan is a brand you can trust and I would be more than happy to part with 400 notes to bag myself one of these. Great work Drennan!
RRP: £399 - For more information head over to https://www.anglingdirect.co.uk/drennan-red-range-target-carp-14-5m-pole?a_cid=11111111&a_aid=dhpltd

Like what you see?

Or buy a single issue