I am finding myself increasingly impressed with what tackle manufacturers are able to introduce to the market; the advancements in what bang we get for our buck has improved drastically, even in the 10 or so years since I was working as a sales assistant down at my local tackle shop.
Although most of these developments span right across the board, there is no one area that impresses me quite as much as the mid-range pole market, such is the standard of what is now available, and despite it being, in my opinion, the most competitive and difficult to conquer price point for poles.
It is the £1,499 priced Browning Xitan Z7-2 (Power Special) that I have at my disposal today, a pole that slots itself nicely into the mid-range pole bracket. The Z7-2 is Browning's self-confessed powerhouse of the Xitan range, having received the label of Power Special. As we know, though, the reason mid-priced poles have their work cut out is the fact that people who want to buy them expect them to offer an almost equal measure of all the attributes that make a good pole, unlike cheaper poles where weight and rigidity is often sacrificed for strength alone, or flagship models where finesse and balance rule above all else. So, how does the Z7-2 fare?
The Package
One area that can often make poles around this price stand out from the rest is the spares package they come with. Pleasingly, on unzipping the padded Xitan holdall in which the Z7-2 had arrived I was presented with a plethora of tubes, each housing spare sections as well as the pole itself.
Seven of Browning's Xitan SL kits are supplied, each of which are pre-bushed and have a reinforced area ready to be drilled and fitted with a side puller. A cupping kit is also supplied alongside a spare C/3 section (a No4 section in old money) and three of Browning's ergonomic square butt sections, which, although I was sceptical when I first heard about them, are in fact very handy when fishing long or in windy conditions. All in all, quite the generous package.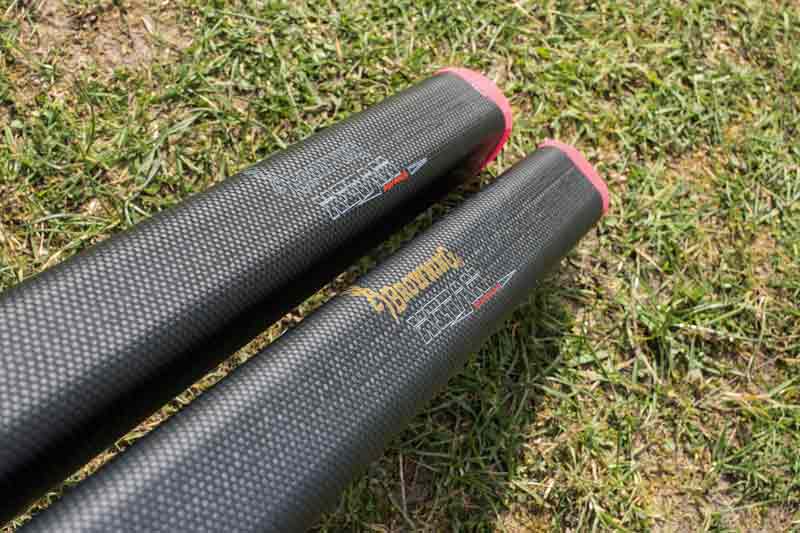 Square butt reinforcement sections are standard.
On The Bank
Barby Banks Fishery is the venue of choice for the day's test, a venue I have used before during the testing of various poles and offering plenty of variety in the way of features and target species.
I have a certain peg in mind on my way to the Northamptonshire venue, only to find the particular section of the lake in question blocked off and emptied of all its water!
A quick look around the rest of the pegs and I soon find what looks to be the perfect spot, a long, narrowing margin swim that leads to a bridge over the lake and a far-bank swim full of features that looks good for a few bites.
What the empty section of the lake does allow me to see is the make-up of the lake bed, with very little in the way of shelves, slopes or depth variation. In fact the options are simple – deep or shallow.
That suits me, however, seeing as I'd threaded just two of the seven top kits up with elastic. A 13H version is to be used with the deep rig, which will allow me to fish anywhere a metre inwards of either bank – just past middle seems as suitable as anywhere and will see corn thrown little and often throughout the day.
Then a 12-16 rated hollow is for my rig set at two feet deep, which is to be used across to the far-bank reeds as well as long down my edge towards the bridge, which will make full use of the pole's 16 metres. Again corn is the bait of choice but will be introduced rather heavily by the bait tubful by my willing cameraman, who feels the bridge will be a nice spot to take some photos… nothing like a bit of skylining, eh!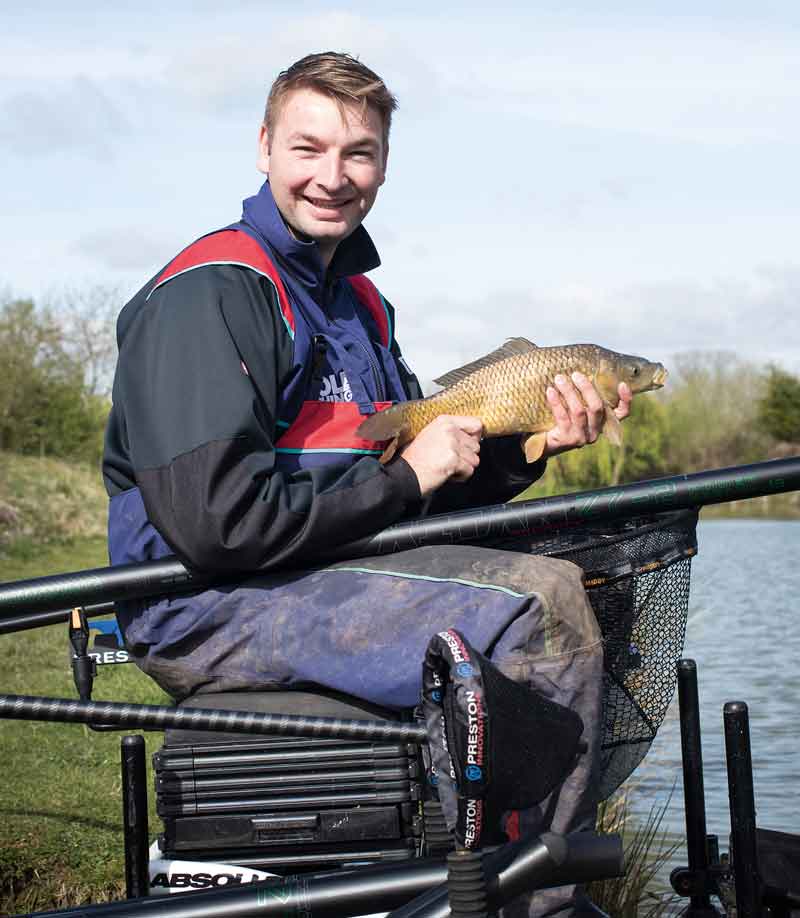 Small but perfectly formed… the fish, that is!
Section Aesthetics
A lot of thought has gone into the construction of the Z7-2, with the aim of making it incredibly strong without it being heavy and unbalanced.
You don't have to look far to see the first evidence of this as each section features a visually pleasing spiral of silver and black carbon; I can only assume this is a particularly effective way of strengthening the sections. They certainly feel strong and it looks good all the same.
Look a little closer and you'll notice further reinforced areas; firstly the male and female joints have received a carbon overwrap to help reduce wear and tear while a further 'grip' wrap has been included at the most common breakage area on the lower sections of the pole.
Existing Xitan/Sphere pole owners will also be happy in the knowledge that all sections follow the very same mandrel as previous and existing models, so if it is an upgrade you are after or simply a strong back-up the Z7-2 can fulfil that role as well.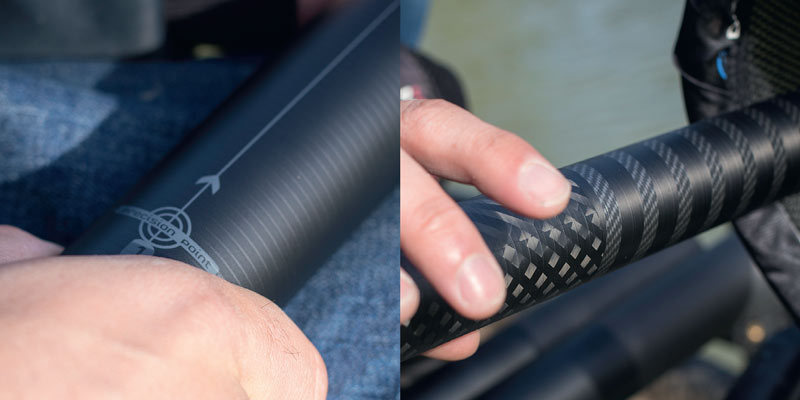 Precision markings aid feeding and fishing accuracy.
Spiral wraps add strength and look good.
Let's Get Fishing
Starting across, tapping in a few grains of corn through a Cad Pot with a single kernel on the hook produces some early signs and sees me put a mixture of skimmers and small carp in my net. At this 13m length the Z7-2 feels every bit as good as you would expect of it – stiff, responsive and lightweight.
In the search for some 'proper' carp a switch to the short pole line is made, which produces instantly, but rather than the anticipated carp I am inundated with skimmers. Quickly shipping in these rather languid specimens does give me a good look at the pole's reinforced grip section, which is positioned in just the right place for breaking down and is sure to save on accidental finger-through-section breakages!
The No6 section also deals with the pressures of a pointy elbow particularly well, as the fast-paced workout ensures it sees plenty of action.
Finally the big boys came out to play – no problems there.
With a couple of hours of the test gone and just a few smaller carp among my netful of skimmers it is about time to get among some of the bigger carp that Barby has to offer. The bridges here offer something of a safe haven for these fish and in bright conditions, as is the case today, should help produce the goods.
Another pint tub of bait is introduced by our man behind the camera and is followed closely by my rig, double corn on the hook. An instant wobble of the float followed by it shooting under results in me hooking and landing a carp of around 6lb – not before it gives me a good runaround, though.
With all the extensions plus a square dolly butt (giving me the full 16 metres) the Z7-2 is definitely manageable, although understandably loses some of the rigidity it showed at shorter lengths. It does seem, however, that this extra flex at these longer lengths goes some way to aid the strength of the pole, and on hooking my second fish down to the bridge this is made evident as the fish swims directly back towards me. An immensely rigid pole would have snapped into multiple pieces by now, but that is not the case here.
I just have time for one more look down the edge before it's time to call it a day, and again the bite comes instantly. I am able to quickly lift into it, which again results in a good few metres of black elastic being pulled from the top section of the pole as another hard-fighting Barby carp attempts to give me the runaround before ultimately surrendering itself following a few pulls of my puller kit.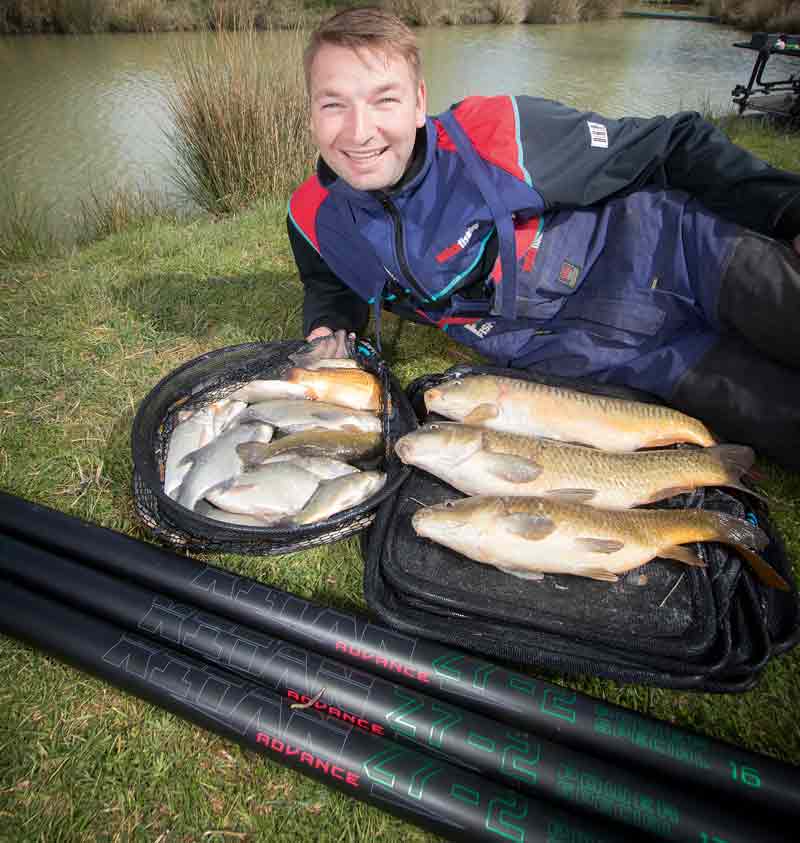 A nice mixed bag demonstrated the versatility of the Z7-2.
The Verdict
Browning has gone a long way to create a seriously strong pole in the Xitan Z7-2 but has done so without sacrificing other key elements, such as the pole's balance and overall feel.
This is a 16m pole that is certainly very useable at that length but excels when used up to 13 metres, making it the perfect option for somebody who tends to target venues up to this length or occasionally past.
The fact that the Z7-2 is compatible with older and existing models in the Xitan/Sphere range also makes it a perfect back-up/second pole, or to be used in those more testing conditions.
Tech Spec
Browning Xitan Advance Z7-2 Power Special
Stated length: 16m
Actual length: 15.39m; with dolly butt 16.14m
Top kit length: 2.60m
Top-four length: 4.03m
Top-five length: 5.54m
Puller kits fitted: No, but has reinforced sections
Pre-bushed: Yes
Butt diameter: 49mm
Butt section length: 1.85m
1 x 16m Xitan Advance Z7-2 Power Special
7 x Xitan SL top kits
1 x spare C/3 section
1 x cupping kit
3 x ergonomic square pole protector
RRP: £1,499
Like what you see?

Or buy a single issue