Working on Match Fishing magazine means that I get to see a lot of stuff before it actually comes out. Most of the brands out there are usually clambering for page space to make sure their new and exciting product gets in front of you guys. With the new Signature Pro range of poles from Maver, though, it was different.
The first we had seen of these 'long sticks' was an appearance at the various angling shows. I just had to arrange a day out and quickly got in touch with Maver HQ to see what could be done.
A visit to the Maver factory was soon arranged and a behind the scenes look at the design team was just what the doctor ordered, and gave me a chance to see what Maver was trying to do with this range.
The first thing to notice about Maver in 2017 is the addition of Welsh international angler Lee Edwards. Lee has joined the design team and is playing a key role in the development of Maver kit going forward. As far as I am concerned it is a great move and Lee's wealth of experience will definitely help the brand. Interestingly, his first project was to produce this new Signature Pro range.
"This range of poles has been a joy to work on," commented Lee. "The previous range of Signature poles, particularly the 800, were a big success story for Maver so we knew we had to go some to improve them."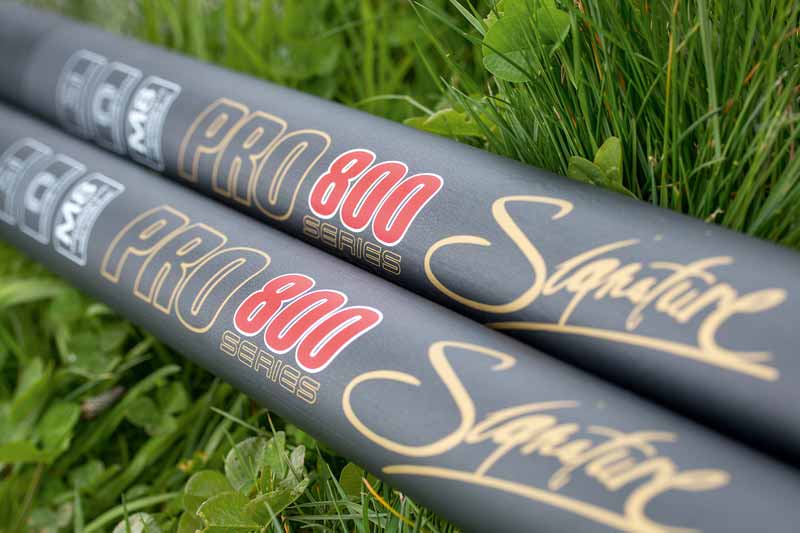 There are three poles in the range – the 700, 800 and 900 – but it is the 800 that we will look at in depth as I absolutely love this model!
The pole itself has been designed very much to be an all-rounder. These are top-flight match models with a lovely hint of finesse to them. To give it a bit of a workout I visited a typical commercial fishery, one full of F1s and carp, and the ideal place to put the 800 through its paces.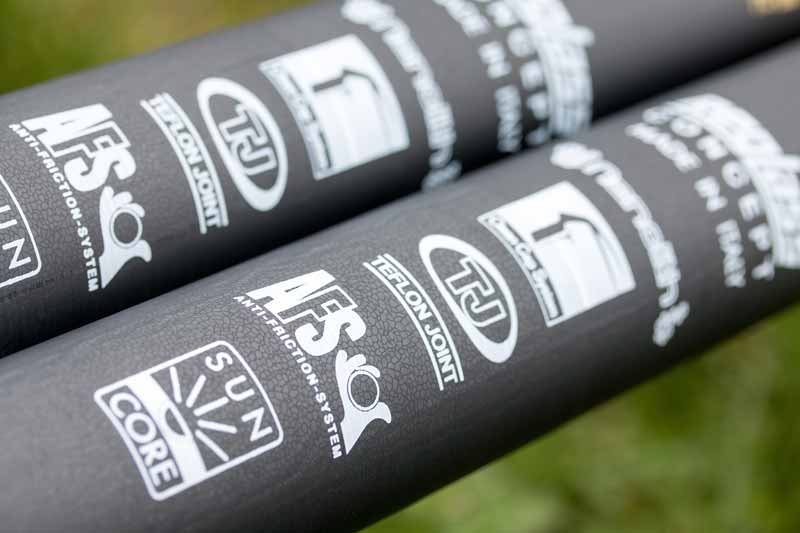 The first thing that grabbed my attention was the graphics. Now Maver's signature green livery looks very nice, but on some occasions previous poles have looked a little 'much'. That's not the case here and while the traditional green is still here, it's used in a far more understated fashion. As far as I am concerned these are the best-looking Maver poles to date – if that floats your boat, of course.
But let's get to the crux of this review: how does this pole perform? As you would expect, at 13 metres the Signature Pro 800 is just ridiculous. Poker stiff and a featherweight 790g, it is incredibly well balanced.
Add the next barrel and the pole remains beautifully stiff; surely the 16m section must be its Achilles heel ,was the thought going through my head. But no, at 16 metres the pole is still a joy to use.
At this point I didn't know how much the 800 was going to cost. When Lee turned round and told me to expect to see them in shops for a penny under £2,000 I was gobsmacked. My initial thought was that to get performance like this for under two grand the package must have suffered. A wry grin on Lee's face suggested otherwise.
"There are two options when buying this pole – the Standard and the Commercial packages. Both are incredibly generous with more carbon than you are ever likely to need. Anglers these days fish a diverse range of venues so a great spares package is essential, and I think we have cracked that with these two options."
It's fair to say that I am very, very impressed with this pole. You can just tell that Maver has gone to town on this model and it feels really nice to use at all of the lengths. I am sure we will see a load of these poles on the bank. Nice one Maver!
Commercial Package
8 x Powerlite Power Kits, slotted and bushed
1 x cupping kit and cups
1 x Fighting No4 section
1 x Fighting No5 section
2 x No4 sections
1 x Short No4
1 x Bi-conical mini extension
Holdall
Clean Caps
Standard Package
6 x Powerlite Power Kits, slotted and bushed
2 x Match top-four kits
1 x cupping kit and cups
1 x Fighting No4 section
1 x Fighting No5 section
1 x Bi-conical mini extension
1 x Short No4
Holdall
Clean Caps
Like what you see?

Or buy a single issue