I think it's fair to say I have never used, or even seen, anything quite like the Middy Shock Stikk, and I think I should admit I probably had the same preconceived ideas about it as many others may have. I imagined it would be a pure hauling tool for getting big fish to the net as quickly as possible with little consideration for their wellbeing.
Well, it's not.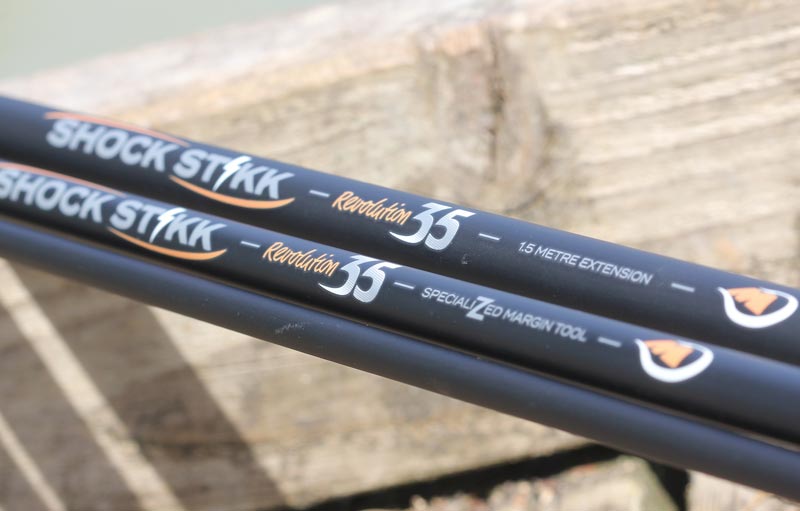 Let's call it… unusual.
Admittedly, it is very different to any other pole around. The 4.5m version I tried is an updated model from the original and comes in three sections, and the top kit (one section) is ready bushed and elasticated with Middy's purple 26-30 grade hollow Hi-Viz elastic, so can be pressed into action 'straight out of the packet'.
There's no puller kit fitted, but with that elastic do you need one? The Shock Stikk Revolution 35 has a bigger bore top section than the original model, which actually allows the use of bigger elastics up to a 35, but why would you? There's a plastic connector at the end that can be used with or without the Dacron loop. I decided I would try it without, using the conventional method of rig attachment.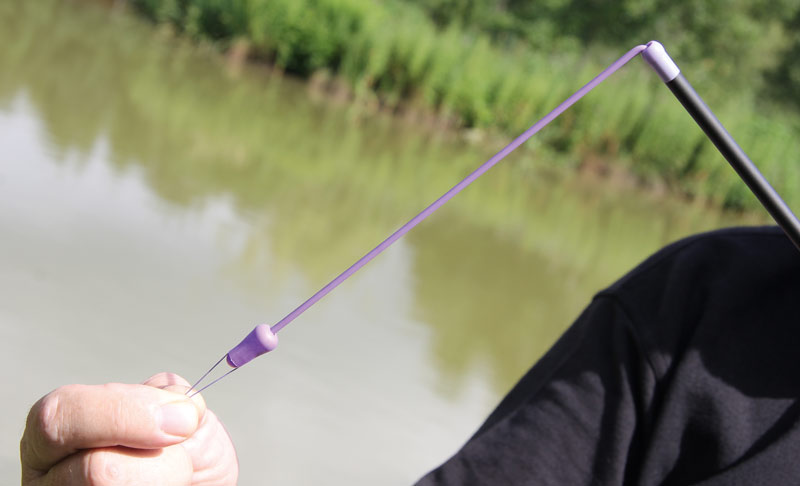 Ready to use out of the bag.
The sections themselves are pretty unique in that they feel as if they have been taken from a heavy-duty carp rod, complete with built-in spigot fittings, and have a Shrink X-Wrap rubber grip on both the second and third section butts, so can be used at either 3m or 4.5m lengths. These sections are very slim and feel relatively heavy in the hand (although Middy claims a weight of 185g at three metres) which all lends gravitas to the Shock Stikk's feeling of strength.
At just 4.5 metres in length you are fairly limited in where you can fish, but at Alvechurch Fisheries' Horeshoe Lake, near Birmingham, where I tested the Shock Stikk, this didn't seem to be a problem. Carp and barbel were feeding hard just a few inches from the near bank, and at the full length I could loose feed maggots and corn with ease. I could have fed with a cup on the end of my usual pole's cupping kit or attached a clip-on pot, but on this occasion I didn't feel the need.
After leaving the swim for a time while I fed it, I decided it was time to take the plunge. The rig was set up on 0.20mm line, plenty man enough for most, and I dropped it in over the feed spot. The float trembled and shot under: holding my breath and awaiting the fireworks I lifted the pole and connected with… a tiny perch. Changing my maggot hook bait to double corn the next bite was different. No sooner did the float settle than it shot under, and this time the purple elastic met with solid resistance. It turned out to be the first of a succession of barbel, from just over the pound mark up to about 3lb.
Surprisingly, they each managed to pull the elastic out of the pole and put up a spirited resistance, but in the end were no match for the Shock Stikk. Great fun, but no carp.
Just as the end of the session loomed the float shot under again and this time it was definitely "carp on". The elastic powers up nicely and controls big fish, but not once did I feel that I was unnecessarily bullying the fish, nor that I would lose it or be broken by it.
Neither did I feel hampered by the Shock Stikk's length or that I needed to add any extra sections, which often happens with conventional margin fishing. The carp made a few short charging runs but seemed to be quietly subdued by the Shock Stikk's power. At around 5lb it was soon in the net – no fuss, no drama and without having had its head ripped off.
Despite my initial misgivings I have to say I enjoyed using the Shock Stikk, and I may sneak it into my holdall for those occasions when a big weight can be caught down the margin in the last hour…
No bullying, no problem, lots of fun.
Like what you see?

Or buy a single issue