Throw out the rulebook and forget everything you've ever read about winter carp fishing baits. Matrix man Deane Swift has been cashing in on meat in freezing temperatures! No joke. Here's how…
Going against the grain doesn't always pay when it comes to fishing, but Deane Swift is a man who has won many a match on his local circuit and has a particularly fearsome record on one of his local waters, Puddledock Farm in Essex, where we are for today's shoot.
Usually, the big 100-peg snake lake is used for matches, but due to it being frozen over (an indication of just how cold it is today) Deane has sat on the Road Lake instead – a pond he is far less familiar with.
Kindly fishery owner Steve left the aerators on overnight to prevent this lake from coming to the same ice-covered fate as the big snake lake… a good job, with overnight temperatures dropping to around minus 4ºC!
For years these temperatures have commanded the use of other 'winter' baits like corn, maggots, bread and even pinkies… so when Deane mentioned that he'd been doing the damage with meat it had to be seen to be believed. The high-oil offering is far more associated with warmer water, from spring until late autumn, with anglers often steering clear of meat fearing that it's not an offering readily accepted by winter carp with low metabolisms. Over to Deane…
Meat is a fantastic winter bait when used in conjunction with a straight lead approach, so why shouldn't it work in conjunction with the pole? At the end of the day you can use finer tackle than you can generally get away with on the rod and line anyway.
In addition a pole approach gives you the option of dripping in a few cubes of meat with ultimate precision if they do want a bit of feed put their way.
I've fed two lines, one at 14.5 metres at an angle to my right. It's just over four feet deep here, so I'm using a 0.3g Matrix 7 float mounted on 0.14mm main line to a 0.12mm Matrix Power Micron hooklength to a size 18 Drennan B911 barbless hook.
The lake has been dredged, so there's a deeper channel closer to the bank – an 11m line off at an angle to my left gets me into this channel where the water is deeper. For this I'm using a very similar rig that features a 0.4g version of the same float. Both rigs are matched to orange-coloured grade 10 Matrix Stay Fresh hollow elastic
I've put a small Kinder-style pot on the tip of each top kit, which will allow me to feed literally four 6mm cubes of meat over the top of the float.
The Secret Edge
I am a huge believer in flavours and, for me, it has to be sweet all the way. I have done a lot of experimentation over the years, but now Sonubaits F1 is THE flavour I totally rely on.
Prepping my meat with this superb liquid flavour takes some time, but there is no wastage as I always just freeze and re-use any leftover by glugging it in a little more flavour every time I refreeze it. The meat is simply 6mm cubes of Plumrose, which I put into a bag and douse in the F1 liquid.
When you freeze the meat it seems to have a beneficial impact of drawing the flavour in, making it more permanent than if I were to simply cube some meat up on the bank and pour some flavour over the top.
Over the years sweet palatants have been a key player in the success I have enjoyed and this is now my 'ultimate' go-to additive. It's brilliant!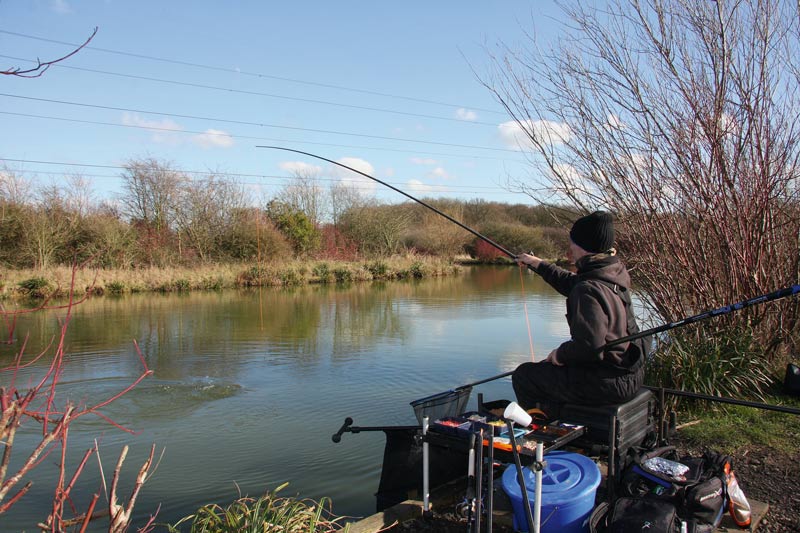 The action intensified as the day wore on...

The Key Benefits
When it comes to meat it's well-documented about its slow fall through the water but this fact, along with many others, contributes to why it works so well. Aside from the flavour I add, the whitish colour is, I believe, a huge factor in its success. Bread is one of the best winter baits and that's white in colour – it's no coincidence that hi-viz baits pay in clear water.
I fed both lines and just approached the session with a view to keeping things very, very simple. Just as you would with a bomb, you can try fishing the lines without feeding and see what unfolds, but even feeding two, three or four cubes adds to my confidence so I just pot this tiny amount in very accurately and I'm then prepared to wait for bites and indications to materialise.
The action begins with a couple of smaller brown and orange goldfish before the odd carp starts to arrive. Not knowing this lake, in particular, I was unsure what to expect, but the response proves to be very positive indeed from very early on in the session.
As the session carries on I drip feed a frugal amount of bait into each swim and the carp follow – not thick and fast, but in tricky winter conditions, I couldn't have asked for more! The bites are very positive and both swims produce the goods with the longer 14.5m swim off to the right-hand side proving the more fruitful of the two. The rigs are shotted with strung bulks of No10 Matrix Easy Shot, which get the bait down quickly but afford a slower fall in the lower 18 inches of water where feeding fish are likely to be.
Even as the cameraman calls time on the session the bites are coming more regularly as the day winds down. The weather has been very bright, which has been fantastic for enjoying a day in the great outdoors but, as we all know, cold, bright, flat-calm conditions are some of the most tricky catch fish in.
I'm pleased with the result and it just goes to prove that going against the grain can really pay… even at times when you could really think it might not!
Venue File
Puddledock Farm
Puddledock Farm Fishery, St Mary's Lane, Upminster RM14 3NX
Tel Steve on: 07788 716837
HYPERLINK "http://www.puddledockfarmfishery.com"www.puddledockfarmfishery.com
Angler File
Deane Swift
Lives: Essex
Sponsors: Matrix
MF says: Into flavours big-time!