Feeder Essentials: Daiwa Tournament SLR Feeder Rods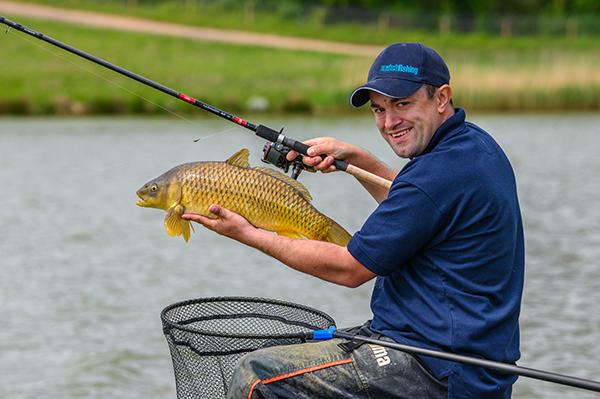 Cracking The Combination
Last month Tony Curd tested the 21 Tournament Feeder 25QD reel from Daiwa, but what sort of rod would turn it into the perfect distance feeder combo? The 13ft Tournament SLR Feeder perhaps...
Distance feeder fishing is a fast-growing branch of feeder fishing – popularised on big open waters, both natural and commercial it was previously seen as a specialised area but with so much distance kit now available the horizon is in reach of everyone!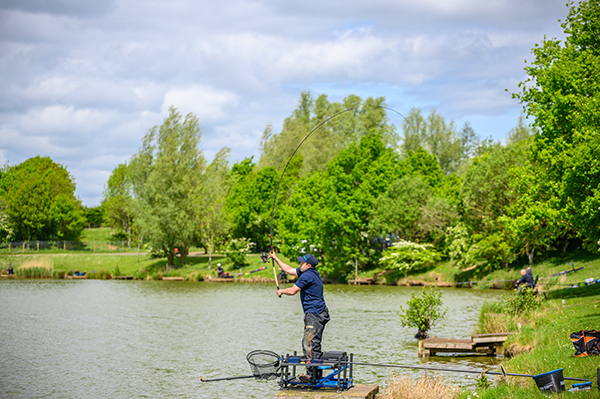 Technological advances in rod design separates the best from the rest though, and Daiwa have been at the forefront of pushing the boundaries of distance feeder rods for several years and the Tournament SLR range is their premium offering to the market.
We've been lucky enough to receive the Tournament SLR 13ft Feeder to have a chuck with – and what a rod it is! But what sets it apart from other distance models on the market?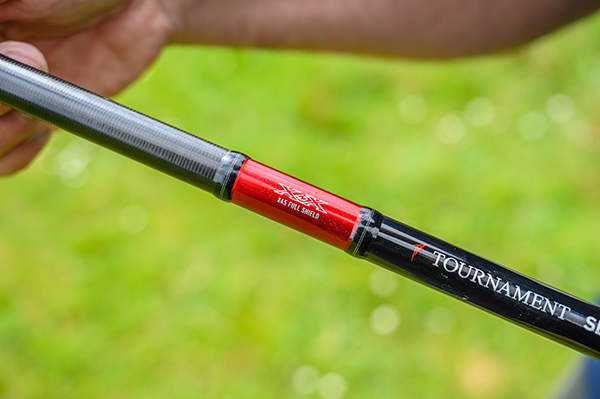 The main aspect to look at is Daiwa's combination of X45X Full Shield and HVF Nanoplus used in the make-up of the blank itself and this combination truly does add up to greater casting control, improved distance and responsiveness.
X45X Full Shield uses bias carbon technology which stops the rod twisting, improves toughness and makes the blank much more responsive while HVF Nanoplus gives a higher carbon density with the main gains being greater torque resistance and more energy converted on the cast, improving the distance capabilities of the rod.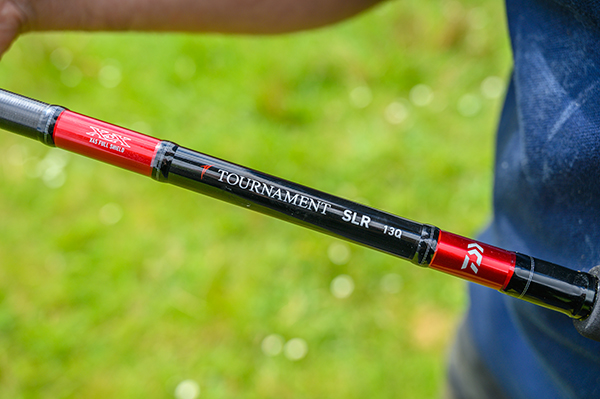 As you would expect with a premium offering like the Tournament SLR Feeder, it doesn't stop there, and Daiwa have developed other areas of the rods from their previous models to take everything to the next level.
V-Joint continues to be a feature of Daiwa's rod ranges, providing an unrivalled seamless smooth curvature. The range has benefitted from Seaguide TDG guides throughout which are weight saving and sharpens the rod recovery on the cast which helps massively when looking to maximise your distance.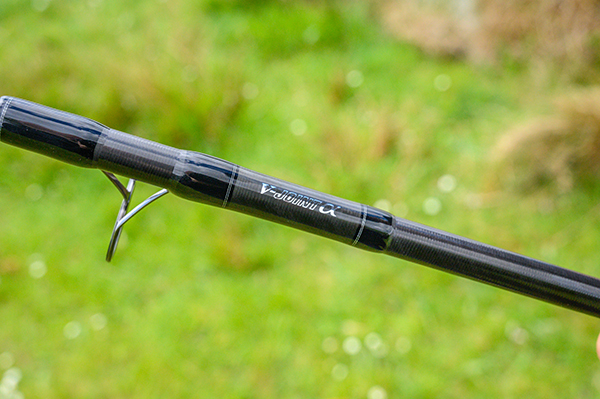 The handle design includes the use of a super-slick Fuji VSS reel seat along with a cork/duplon armlock design that looks super sexy and includes laser etched Tournament branding on the duplon too!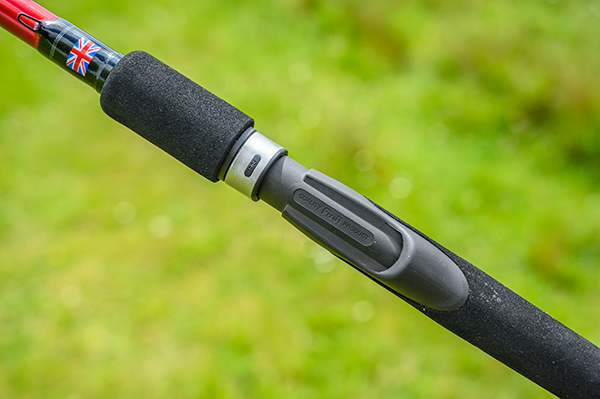 The SLR tips themselves have also been developed and now include and extra guide nearer the tip. The rod comes supplied with three tips in 2, 3 and 4oz with other options available separately, so all bases and venues are catered for.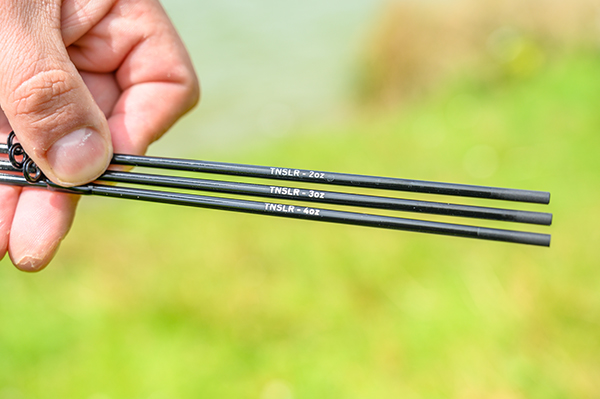 I couldn't wait to get out on the bank with the rod and give it a cast for myself – having seen lots of these on the bank, it was a great opportunity to see what Daiwa have done with the Tournament SLR range and compress some carbon.
I teamed the rod up with Daiwa's new 21 Tournament Feeder 25 QD reel which we reviewed last month – a dream combination of Daiwa's flagship distance kit and the feel was that of luxury I can assure you, the reel was loaded up with 8lb Tournament ST line with a 12lb shockleader attached which creates a bomb-proof set up that is at home in all conditions.
It was time to have my first cast with this set up and the first thing I noticed was that the balance of the set up was truly exquisite and unlike many distance set ups wasn't heavy and cumbersome in the slightest.
The handle length is perfect for generating the tip speed required to achieve distances to be proud of, and even with a stiff headwind, casts of 80 meters were easily achieved and the rod has so much more to give.
One key aspect to get right with distance rods is using heavy feeders that can load the blank, if you're using something too light – you're going to struggle. On this occasion I used a 50g Daiwa N'ZON method feeder which casts incredibly well – and will reach distances of 80m with relative ease, with a decent technique.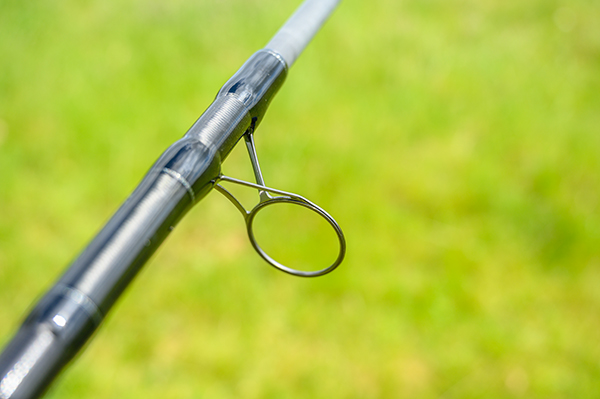 If you need to go even further which is more than achievable with a rod of this quality – heavier feeders will be needed to approach the 100m mark but with a 150g casting weight on the 13ft model this isn't a problem!
Having located a few fish out in the centre of the lake I enjoyed a few hours getting regular bites from some of Meadowlands' hard fighting carp, I was incredibly impressed with the playing action on the Tournament SLR and the seamless battle curve it takes as a fish takes off!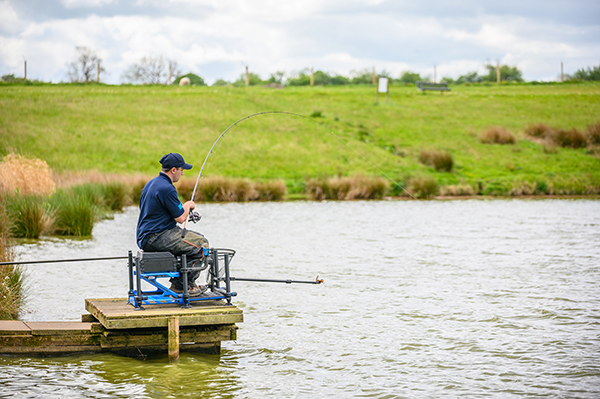 Quite often, manufacturers prioritise distance over playing action but that couldn't be further from what I experienced with Daiwa's premium offering, it truly is the full package!
With several models in the Tournament SLR range there is something for every venue – they're not cheap, but the best generally isn't!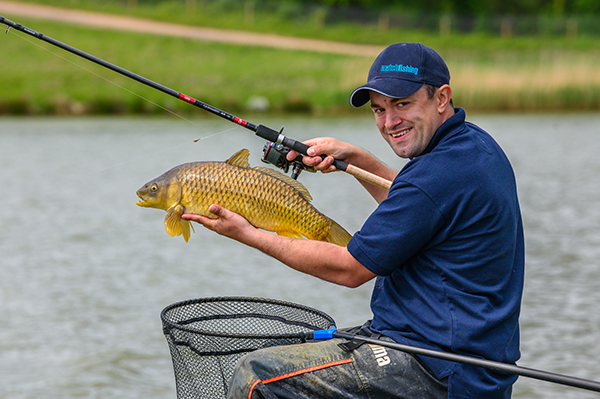 Tournament SLR Feeder Range
11ft - 90g - RRP £500
12ft - 120g - RRP £525
12ft - 90g - RRP £550
13ft - 150g - RRP £550
14ft - 180g - RRP £575