Paste Fishing - Jordan Hall
Make It Pay With Paste
Middy backed Jordan Hall shows us how he fishes the paste at the prolific Monkhall Fishery in Shropshire.
Monkhall Fishery has earned an enviable reputation for the quality of the sport on offer in recent years and with plenty of carp and F1s in all the lakes, paste fishing has established itself as one the baits to beat. It's one of those baits that you either like fishing or you don't, and I know plenty of anglers that won't entertain the thought of using it, but I'm not one of those.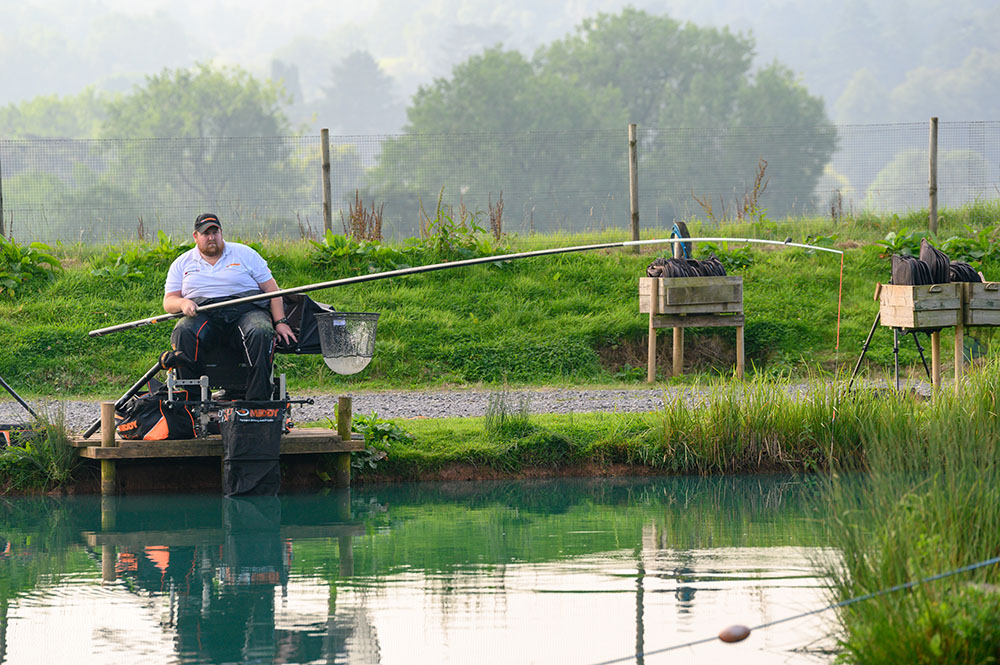 The good thing about Monkhall is that other baits and methods work too so if you don't like fishing with paste, you can still compete. Having said that, there are so many decent carp and F1s in all the lakes at Monk Hall and to catch them quick I like to fish positively and aggressively and for me that means paste.
To give you demonstration of how I fish with paste on here, I've sat on peg 11 on Buzzard, although the approach I'm about to show you will work on any lake on the complex.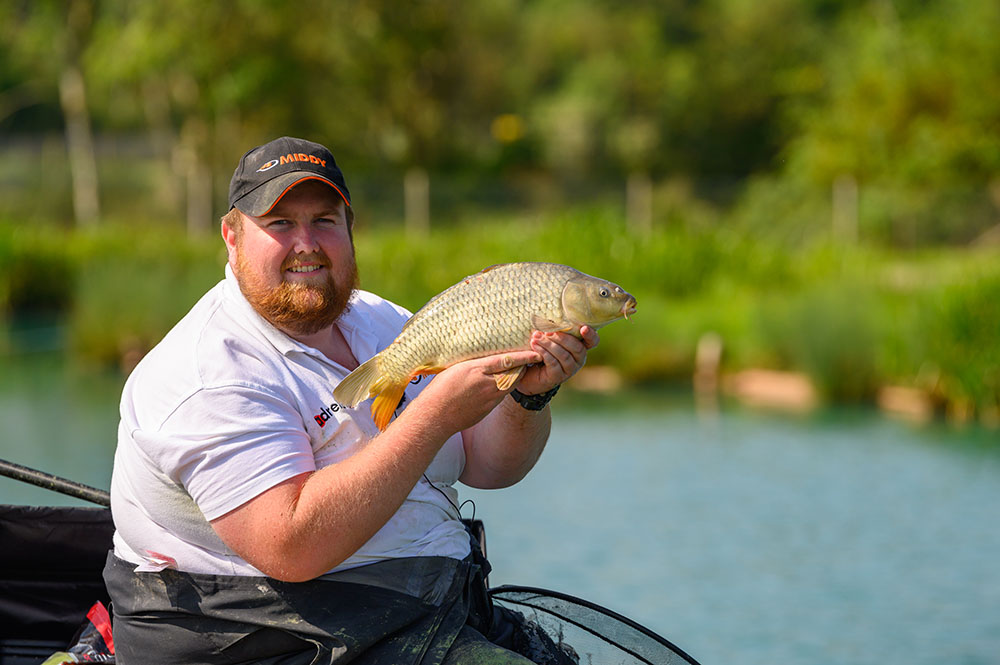 My normal plan on here is to fish paste on the short pole and in the margins, and a Method feeder across to the island but today I'm going concentrate on fishing the paste only. I've got the new Middy M3 G-Force pole to try out today so I'm going to fish a bit further out than I normally would, and then fish at 11.5 metres down the edge towards the next pallet to my left.
I expect the margins to be better because even though we're a week into September, we're into another mini heatwave at the moment with tempertures between 25 and 30 degrees. The fish will naturally want to be in the shallower water in this heat, but we'll give the deeper water a try first and see how we get on.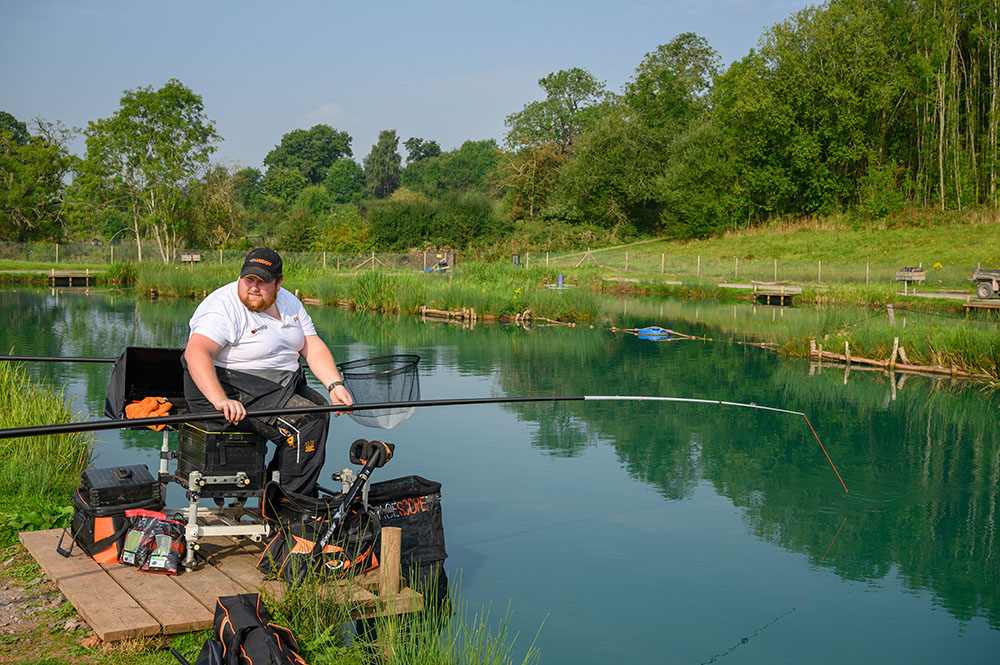 The carp here in Buzzard are generally between four and 8lb on average so they're the perfect size for paste. You don't need to fish it far out either like you do if you were fishing pellets, and that makes it much easier.
I've plumbed up at nine metres which is at the bottom of the slope where the lake levels off, and there's a thin covering of silt which is nice for paste because you can get loads of bubbles, catch loads of fish and you don't need to feed as much as you would when fishing with other baits.
The Paste
There are so many paste mixes on the market nowadays but to make things easier I just use groundbait… and there are so many groundbaits you can use that will make paste too!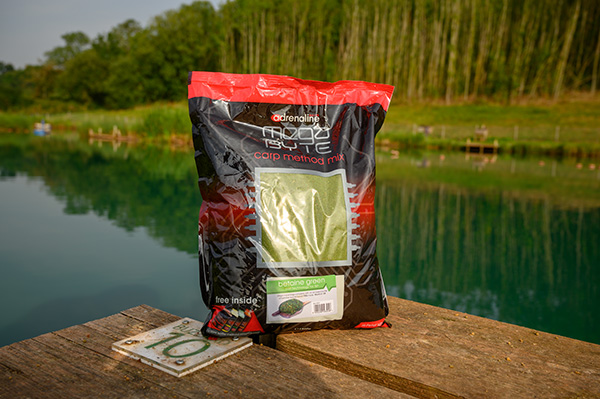 I use the Adrenaline Baits Betaine Green Mega Byte groundbait which comes in a 1.5kg bag so there's plenty for a session and you also get a 50ml bottle of Betaine Reacta Boost, which is an oil based additive, in the bag which I add when I've mixed my paste to a slop.
This is a very fine, pure crushed pellet and fishmeal mix and mixing is so simple and for me, 1.5 parts of water to one part groundbait is the perfect ratio. If you're not that confident with fishing sloppy paste, just use a one-to-one ratio and you'll get a stiffer paste that will stay on the hook better.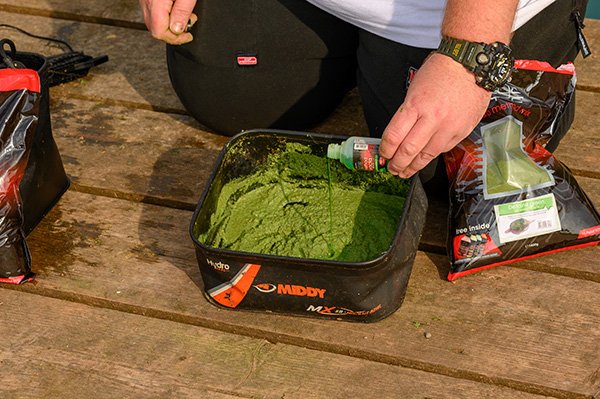 Once I've mixed the dry groundbait and the water together to form a very sloppy mix, I then add half a bottle (25ml) of the Reacta Boost liquid to the slop and then mix it in. You can add the liquid to the water if you want, I just prefer to add it once I've mixed it to a slop. I'll then leave this for 10 minutes and I then have the perfect paste to start the session or match with.
Simple Is Best
Paste rigs are best kept simple and for me the less complicated the rig is, the better. Starting with floats, you ideally want a float with a long carbon stem as wire stems can wobble from side to side and cause tangles. A longish bristle with around a 2mm diameter is best because when there are a lot of fish in the swim it makes reading what is happening and what type of bites you're getting much easier.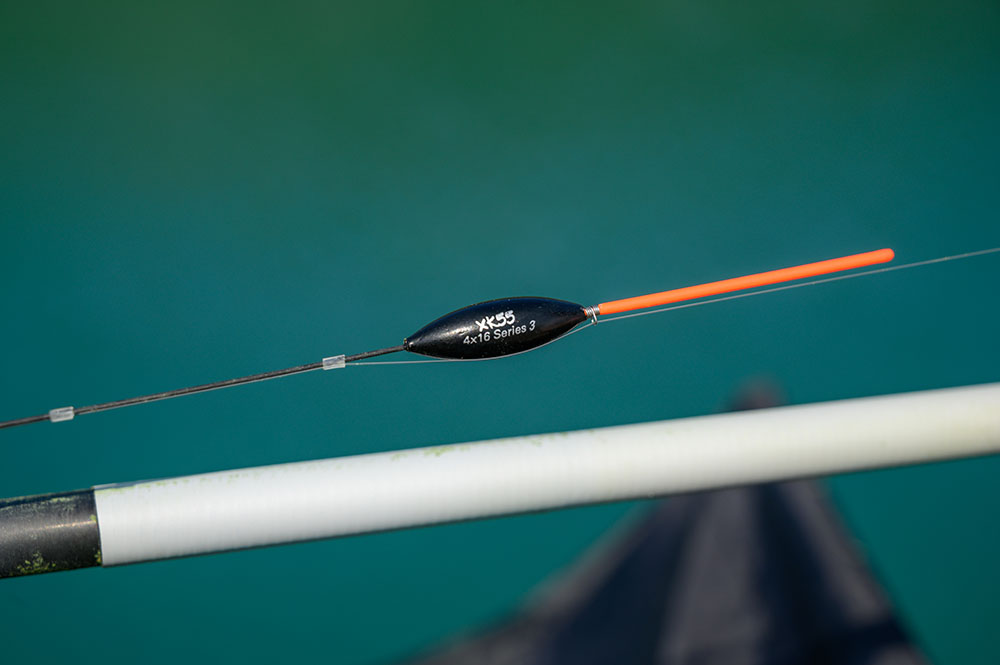 The other important consideration is the side eye and you want a float with a reinforced, strengthened eye for this style of fishing. The pattern I'm using today is a 4x16 Middy XK55 Series 3 which has all the attributes I've just mentioned. My main line is 0.20mm and the hookoength is 0.18mm that I've got tied to a size 12 Middy KM-4 hook, this is strong tackle because there's no point messing around at Monk Hall when you're on fish. The shotting is a bulk of five No8 Slot Shots on the hooklength knot – very simple.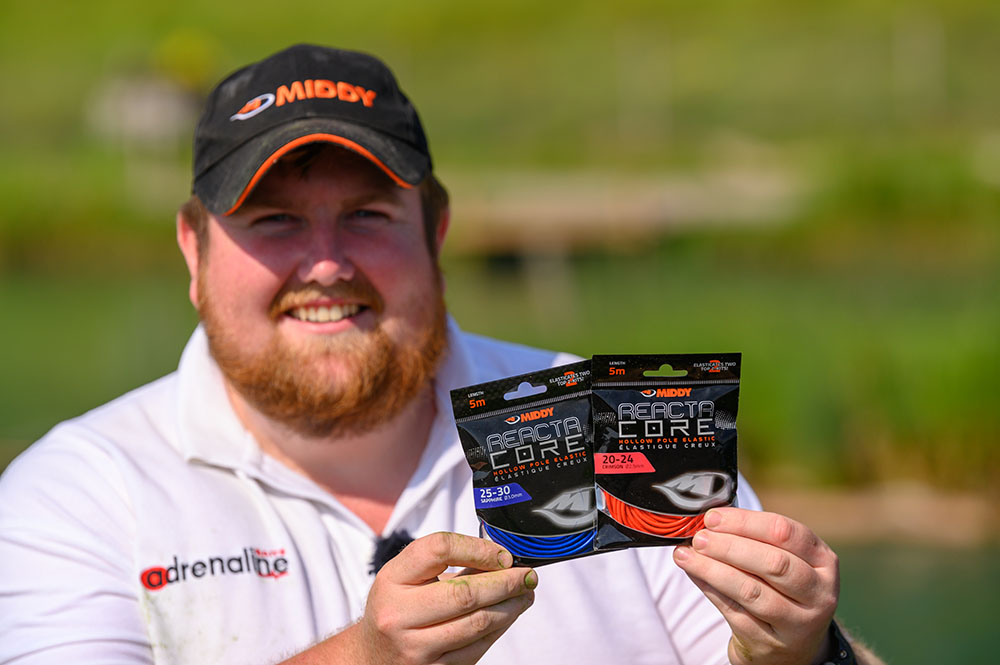 Your elastic choice needs to reflect the rig and I use either a Middy Reacta Core 20-24 (which I'm using today) or the heavier 25-30 for really big fish. This elastic comes supplied in five metre lengths so I can elasticate two top kits with it which is handy.
Obviously with these heavier elastics it's essential to use a pole that will take the stresses and strains of this demanding style of fishing. That's why I'm keen to try out this new M3 Mark 2 G-Pulse pole today, it's a quality pole for fishing shorter distances up to 11.5 metres with great balance and a superb finish to help it glide through the hands… when you're shipping out paste you want the least amount of friction between the pole and your hands as possible.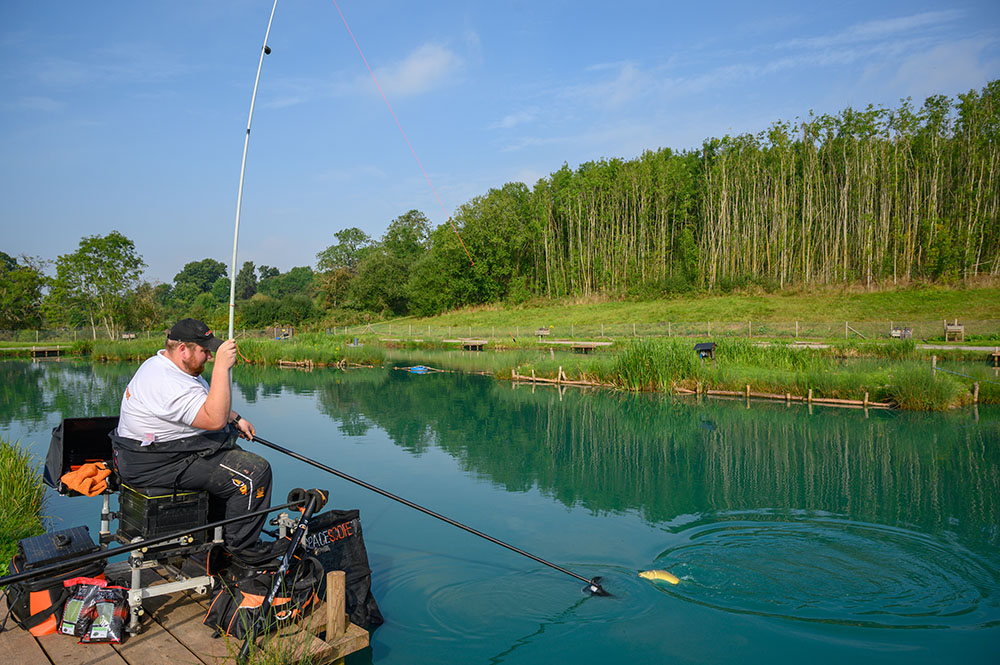 It's very affordable too and as a backup to my main pole it will be perfect. Saying it's a back up is doing it a disservice because on venues like Monk Hall, it could be the only pole I use here for most of the year.
The other important piece of kit is the pole pot. There are a couple of different ways you can fish the paste in regards to how you transport the paste into the swim, but for sloppy paste you have to use a pot otherwise it will fall off the hook.
For stiffer paste you can use a cable tie or the knot from loop of elastic to hook the rig on for shipping out. Make sure the pot you use is secure and the right size, I like my paste to be just bigger than the diameter of the pot's rim as it falls out with less fuss when I turn the pole over.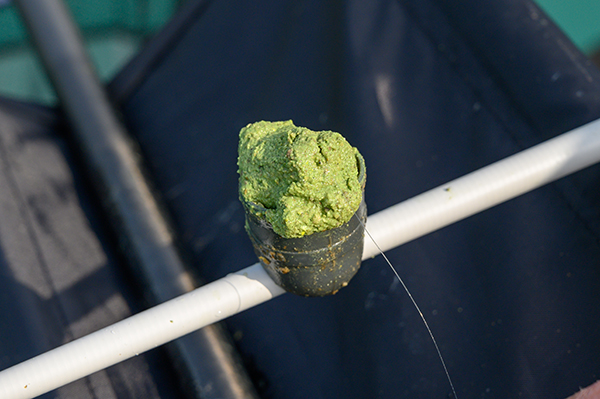 So with the kit and paste out of the way, what other baits do I use here at Monkhall and how do I feed the peg? There are days when the paste alone is enough to feed the swim but on days when I need to feed more bait I'll always have some 6mm pellets and some sweetcorn with me. Corn has been good for the last couple of years here at Monkhall, but I always tend to start feeding 6mm pellet to begin with and then switch to corn later on.
Obviously both baits make a great fish attracting noise when you loosefeed and that really helps. The fish can become harder to catch as the day progresses and after hopefully getting a good run of fish feeding pellet, I might then start to get more and more silly bites and this is when I switch to feeding corn. So, for day's paste fishing here, you're looking at a bag of groundbait, one to two pints of 6mm pellets and a couple of tins of corn.
The Session
I started the session by loosefeeding two lots of 50 to 60 6mm pellets and it was good for a while before the things got very difficult because there were simply too many fish in the peg. In seven feet of water, it's always going to be difficult if too many fish move into the swim and I started getting liner after liner and the float was never still.
What you're looking for are those bites where the float shoots under quickly, they're proper bites, and every other indication needs to be left alone, even if there's an overriding temptation to strike because they look like bites!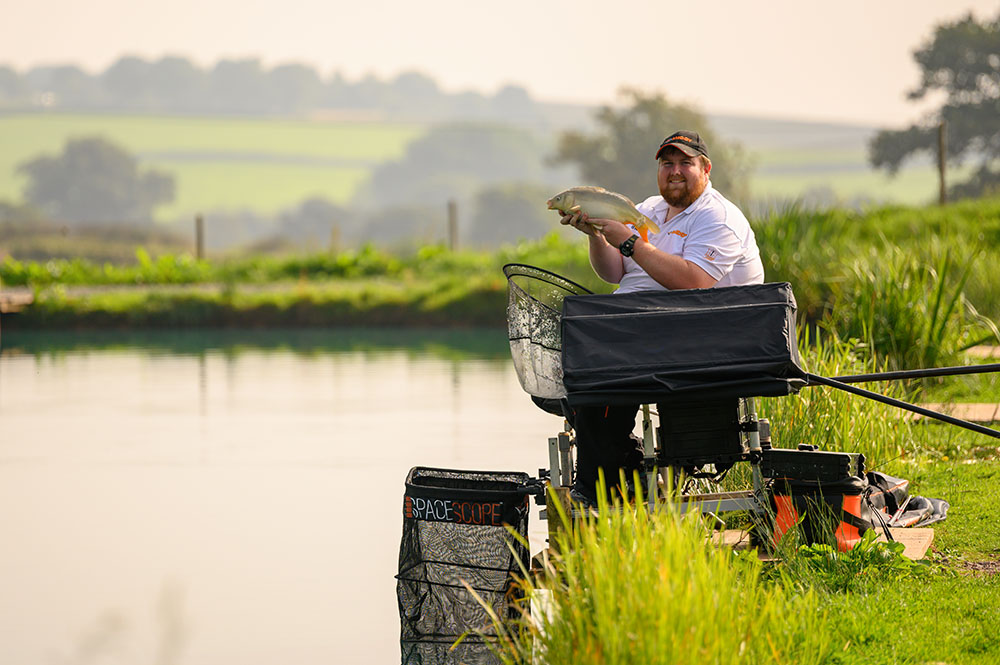 What I had to do was cut the feed back to nothing so the only bait going into the swim was the paste around my hook. Every time I missed a bite I'd be leaving the small ball of paste in the swim and sometimes that's enough bait to keep the peg going.
All the attractive properties of the Adrenaline groundbait and the liquid booster in the water column, keep the fish there which is great because you don't have to feed anything else. That's the great thing about paste fishing here, you can still have a brilliant day's fishing with literally just a bag of groundbait and nothing else. What I did do during the session was add more groundbait to the paste to stiffen it up.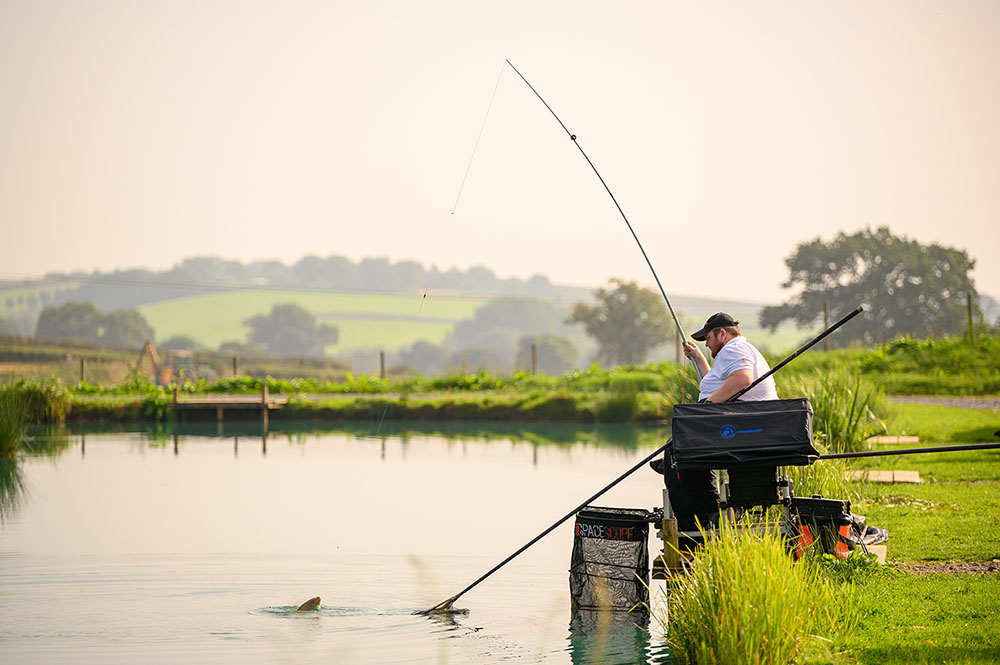 The sloppy paste was creating too much of a cloud in the deep water and as a result the fish were all over the place and I was getting too many liners and bites I couldn't hit. The stiffer paste worked better because it got down to the bottom more or less intact so that's a good lesson to learn; in swims over five feet deep where there's a lot fish, a stiffer paste will definitely help you hit more bites.
The other thing you can do is go either a section past the main area, or shorter or to the left or right, but if you intend to do this make sure you plumb these extra areas up before you start fishing. Because the paste is a groundbait, it can be wafted over a wide area so fishing just off the main area often works well.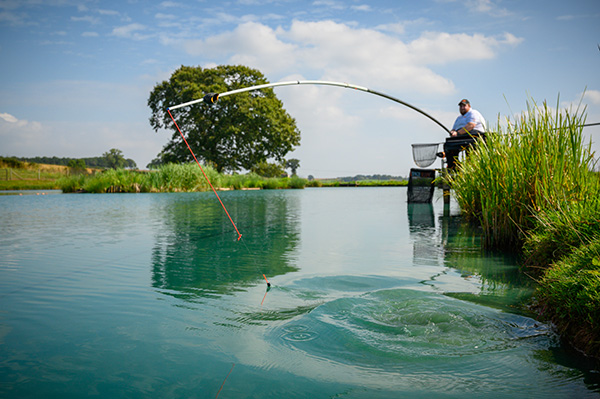 After a couple of hours of catching at nine metres, I decided to give the margin to my left a try because the missed bites and liners were a problem, even without feeding anything. This was purely down to the depth of water and number of fish in the swim.
Down the edge was a perfect 18 inches deep and I fed it in exactly the same way I did when I started the session. A couple of consignments of 50-60 6mm pellets had the fish churning up the bottom immediately and the difference I was seeing on my float was massive.
Instead of the float constantly moving around and going slowly going under because of liners, it sat relatively still until it shot under when a fish took the bait properly. The result was a hooked fish every drop in until the we decided the end the session because of the early afternoon heat!
I never caught any of the lake's bigger fish which was interesting, and the average stamp today was between three and 4lb. I really enjoyed it though and as long as you keep things simple and don't overfeed, you will also enjoy your paste fishing a lot more.