Spring Success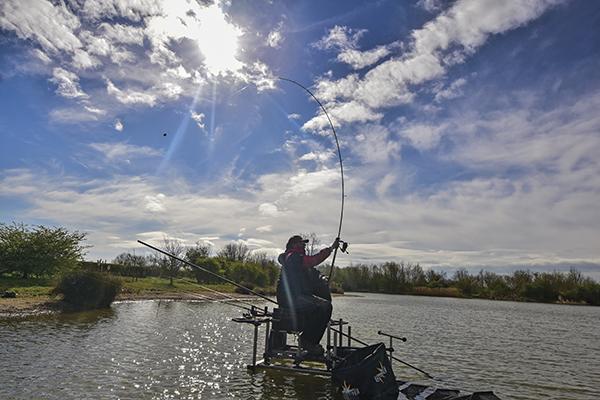 We look forward with anticipation to spring as a relief from the long cold days of winter, but spring itself can be an unpredictable beast. It's all too easy to overdo the feeding because we feel the spring sunshine on our backs, and yet the fish are still huddled up in winter mode. With temperatures still fluctuating, along with changeable weather conditions, it can be difficult to read at times.

The flip side is sitting in a cold northeasterly wind and being really cautious with the feed, only to find the water temperature has just crept up enough in the preceding days for the fish to want to feed. As with all fishing, stacking the odds in your favour is the way to go and in springtime for me this is a combination of taking a gamble while being cautious at the same time.
The Plan
Today I have come to Hackett Lakes, just down the road from where I live, to explain how I think about approaching a match at this time of the year. After seeking advice about current form, I have decided to sit on Peg 23, in the narrow part of the lake. Ideally, I want to target skimmers today and this part of the lake has a deeper channel running about two-thirds to three-quarters of the way across.

I've opted for a simple approach, just targeting two feeder lines. One will be fished at around 40 metres, in the channel where the fish are likely to sit when they are less inclined to hunt around for food. This will be the line chosen for my cautious approach, as I would expect some fish to be resident here.




The second line is at 30 metres and this is where I will take a bit of a gamble. Because the fish are more likely to sit in the deeper water when they aren't that interested in feeding, this shorter line allows me to introduce a bed of bait, which I feel would only be found in the slightly shallower water by fish actively searching for food.

You need to carefully consider where you are going to take a gamble, because putting a pile of bait on to the most likely area to catch from just decreases your chances of catching if the fish are reluctant to feed. The old adage "you can put bait in but you can't take it back out" definitely applies here.
The Tackle
I have assembled two 12ft Beastmaster DX rods in an identical manner, except for using a slightly lighter tip in the short-range rod. Both feature reels loaded with 0.20mm Technium Invisitec main line. The rig itself is set up helicopter-style, placing a small Cralusso hook-link swivel between two Guru float stops. This allows the hooklength to spin freely around the main line like a helicopter rotor and makes the rig virtually tangle-free. I set this about six inches above a snap link swivel tied on the end of the main line, but this can be moved up and down to alter the length of the paternoster.

I carry a variety of made-up hooklengths in 18, 24, 30 and 36 inches, with VMC 7039B hooks tied to Aspire line: size 18 to 0.125mm, 16 to 0.145mm and 14 to 0.165mm. Today the hooklength I've used mostly is the 36 inches of 0.125mm tied to a size 18 hook.




I also carry a wide selection of feeders with me, mainly Guru X-Change in standard and slim, but I also have a few Preston window feeders and Dura Banjos. The rig that I use allows me to remove the hooklength and replace my cage or window feeder with an elasticated Method. This allows me to try the Method without having to set up extra rods. It is something that works here when the fish are more active. However, I think it will be unlikely to work today, but this setup offers the opportunity to try it and, as I said, spring is all about hedging your bets.
The Baits
I have brought a variety of baits with me, my staples will be maggots, pinkies, casters and groundbait. I carry both live maggots and 'stunned' ones as well as pinkies. I prefer stunned baits instead of deads, as they retain their colour better and don't turn black. All I do to make them is bag up leftover bait and chuck it in the fridge for the following week. The bait looks lifeless, but if you leave it out it will come around after a few hours. To prevent this happening on the bank, I just take out what I need, twisting the top of the bag back up to keep as much air out as possible.

My choice of groundbait is two parts Dynamite Skimmer Mix to one part F1 Sweet Cool Water, which is mixed on the dry side so that it releases from the feeder easily. This particular combination makes a nice dark mix, ideal for clear water conditions, which we often face at this time of year. I keep it in a zipped top groundbait bowl, only adding what I need into a bait tub on my side tray as the session continues.

This helps keep the main mix in perfect condition, while allowing me to alter the mix's consistency with a little water to reduce the cloud and to play about with how much bait goes through the feeder. It then allows you to throw away the bait on your side tray if you are introducing too much bait or want to return to a drier cloudy mix and start again with fresh groundbait.

I have also brought a few other baits with me as 'just in case' options. These include a few soaked 2mm F1 pellets for the Method, some 4mm Durables and 5mm yellow Washters, as more positive hook baits to my maggots, casters and pinkies.

The Session
I started the day by introducing eight large feederfuls at 30 metres. I included around 50 stunned pinkies, a few casters and a few stunned maggots. The first four I counted to the bottom (a count of eight) and these held the majority of the bait I have included. The second four have been nearly neat groundbait and after a count of four, I struck the bait out. This will spread my groundbait a little and create a cloud in the clear water.

I then started on the longer line with a medium slimline feeder cast every five minutes, to try and slowly build an area with minimal feed. I expected to wait a while for a bite, but the rod went around on my second chuck with a nice accident (a carp). I remained on this line for an hour adding another carp, a small hybrid and a nice roach, but none of the hoped-for skimmers!

After an hour, I decided to try the shorter line and had a nice skimmer first chuck, followed by another soon after. A few biteless casts had me putting on a slightly larger feeder, as the fish had clearly responded to the initial feed. Another couple of fish soon followed before another lull, so I had another look long.

The fish were clearly responding to bait, but seemingly still a little lethargic. After 30 minutes of inactivity I decided to put some bait in and four large feeders were put out again, two on the bottom – carrying the bait – and two more to put the cloud in. A spell on the short line added a couple more and I even gave the Method a couple of unsuccessful chucks before returning to the long line.

This was rewarded with a fish first chuck, so it seemed they had been tempted into feeding with a little bait. I pinched a few more before the end of the session, switching between both lines. Today has been a perfect example of how unpredictable spring can be. It has been a really cold day with an easterly/northeasterly wind making it feel more like winter than spring. The fish however, have responded to feed. It's never been hectic, but you have definitely had to feed to get the fish to have a go. Taking that springtime gamble has certainly paid off today, with a nice net of fish on a cold day.