Who Dares, Wins!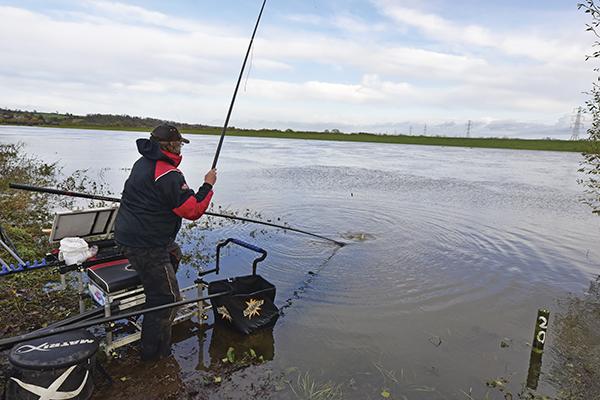 My fishing revolves around team fishing and always has. Over the years, I have fished numerous leagues on rivers and learning how to cope with flood water was always a requirement – believe me when I say that I have fished in some shocking conditions. But there is still a job to do on team matches and there is usually a chance of a bite or two even in the harshest of conditions.
The methods involved have gradually changed as well as our inclination to cancel and transfer matches, which is understandable as safety should always come first. But there are still times when the rivers are out of sorts but still fishable. A flooded river can be a daunting prospect, but the fish still have to be sat somewhere. This is usually any slacks or steadier sections of river; the obvious places are behind trees, bushes and reed beds. Less obvious are steady areas created by deviations in the river upstream or even obstructions out of sight on the riverbed. Even if your peg doesn't offer any slack water, there's still a good chance of catching. Years of chucking a clock lead and lobworm around on the Trent has shown me that fish will still sit in the flow and feed. The following principles will still apply, although you'll probably need a lot more lead to cope!
Laying The Foundations
The first thing I do when I get to my peg is sit down with a cup of coffee and watch the flow and how it swirls and churns about. It's worth taking a little time to take stock of the conditions before you start looking at rigs etc. Even small things, like where your box will sit and where you place your keepnet have to be taken into consideration. It may be a case that your only steady water is directly under your feet and you don't want to plonk your box or keepnet in on your best chance of finding a fish! Generally speaking, the places to target will be relatively close in, so wading is not usually necessary. Today I am on the Trent at Burton Joyce, on the road stretch, and the river is that high that I am sat on the grass where you normally park! The peg I have chosen has a large tree above it offering refuge from the torrent beyond. Knowing the stretch well, I have plumbed around to find the area where you would normally sit as it is an area that has been worn relatively flat by anglers. Fishing either side or beyond would put you in among rocks with a greater potential to snag. More importantly, it would be harder to lay down an attractive bed of bait for any fish to find. Today this area is about eight to 10 feet deep at 10 metres, whereas normally you'd be able to stand there in a pair of wellies!
Floodwater Pole Tackle
Regarding tackle, it's all about being positive. There is no place for light lines, small hooks and delicate rigs when the river is this far up. The pole feeder is most people's go-to method these days, but there is still a place for running rigs and even chucking a feeder or clock lead into the main flow. For my pole feeder rig, I carry shockleaders made up for rod and line work and just shorten them down to the required length. I carry two different types of feeder rig: a double loop rig, which I would use in heavier flows, and a helicopter style rig for slacker water such as today. I think in slack water the hook bait has more of a tendency to waft about enticingly on a helicopter rig, whereas the double loop rig sets the hooklength closer to the bottom and offers a more static presentation in heavier flows.
Terminal tackle-wise, I use 8lb Technium as my main line and a 3ft, 0.18mm Aspire hooklength tied to a size 12 VMC 7005 hook. I have a red Matrix hollow elastic in the pole and under this is my indicator. I make mine with an 8in length of No2 elastic alongside an 18in length of 10lb line. Both are passed through a Preston puller bead, which is my sight bob, and tied to a feeder bead. I then attach elastic and mono to my connector with loops, then set it so that the orange bead is just above the water and I am basically watching for the bead to disappear under the water like a float. Feeder-wise, I bring a selection with me. My choices for 'slacker' water pegs are feeders that will stand fairly upright, which makes them less clunky to strike through. I have been using the Guru X-Change system, which allows for quick changes of lead, and their cage style feeder is also very quick emptying. I also like the Preston Window Feeders, in the cage style, if I want to introduce plenty of bait. When faced with heavier flows, I use side-weighted feeders, like the Nisa models, as they are less inclined to roll and bounce down the peg. To swing the feeder out I either use a cable tie or as I have today, just wrapped the rig over the side puller for my elastic.
Float Away
I have also set up a running rig to fish over the top, today this is a 3g DH13 and again positive is the watchword for terminal tackle, with 0.18mm Aspire attached to a size 14 VMC7004. Trundling a bait around slowly over your feed can often be the best way of finding a fish on difficult days. I have had a number of occasions on the Soar where inching a large sail float (up to 20g!) has produced that one bream needed for good points. While I use big round-bodied floats (up to 8g) for trundling around slacks, I once won my section with a big chub and a couple of dace by fishing an 8g rig in 18 inches of water behind my keepnet on the Tyne!
Loose Feed
I aim to lay down a bed of groundbait with a scattering of worms, casters and dead maggots in it, and then centre the peg with the feed introduced with the feeder. My groundbait choice is Dynamite Skimmer Mix, mixed 50/50 with Swim Stim Silver-Fish. This mix has a high proportion of fishmeal along with a strong sweet scent, which should help the fish find your bait. I also add some Marine Halibut groundbait to give a more intense fishmeal aroma. I mix up a small amount to use through the feeder to try and provoke a bite with its stronger scent. I have casters and dead maggots as holding baits along with a few halibut pellets. Again, I won't introduce these straightaway, but will use them to kick-start the peg if necessary. Worms are very important and I have dendrabaenas, reds and of course lobworms. The dendras are for chopping along with a few lobs and they all get used on the hook.
The Session
Today I have balled in eight balls of groundbait with just a smattering of worms and other baits to create my carpet to fish over. It has taken just half an hour to get a bite, a sharp little dig on the indicator probably from a roach or dace. Nevertheless, I take it as a good sign and several more similar little digs at the indicator lead me into trying the running rig. Second run down sees me attached to a good fish, which promptly pulls off! A lot of slime up the line indicates that it was a bream and probably foul hooked. So back on the feeder and a long wait before I decide to top up with two more balls of groundbait. This gets an instant response with a bream finally coming to the net. I make the change to the window feeder to introduce more worms and the extra bait soon brings another bream to the net. I top up a few more times through the day and manage to catch two more bream and lose another. Most have fallen to a little bunch of redworms tipped with a maggot, while lobworms, usually so reliable for a bite, have been strangely unproductive.
Four bream for 15lb odd in conditions where a lot of people wouldn't even get their tackle out is a good result. Next time the river is in flood go and have a go; it is a challenge but the rewards are there if you go with a positive mind-set.