Akios S Line 656ctm Reel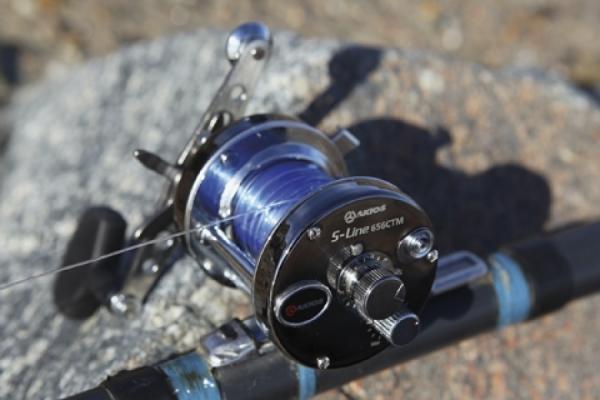 Chief tester Roger Mortimore has handled many reels over the years and is impressed with the build quality and performance of the new Akios range.


When three Akios multiplier reels arrived on my desk – the smaller 656CTM and the larger 757CTM and 757CS – my first impression was how solid they felt. When I removed the side plates for a closer inspection, I could see that they are extremely well made from quality materials.

There are currently six reels in the stable; three in the 656 size – the CS, CT and CTM for shore and light boat fishing – and three of the larger 757 size for boat or heavy shore fishing, also CS, CT and CTM. The CS version has centrifugal braking and a levelwind, the CT has the centrifugal braking but no levelwind, while the CTM has no levelwind but has both centrifugal and magnetic braking.

I decided to test the 656CTM model from the shore. This is Akios' flagship reel. It boasts hard-wearing brass gears, carbon drag washers and corrosion-resistant, chrome-plated, brass side plates. It also features an upgraded stainless power handle and a powerful spool-release spring to stop the reel re-engaging during a cast. Overruns should be a thing of the past thanks to centrifugal braking plus a fully adjustable magnetic brake on the left-hand side plate by the turn of the chromed knobby. This model has no levelwind so you can get a really good grip on the spool and put more power into the cast knowing that the two braking systems will take care of the spool revolutions.

My first session started with the magnetic braking set on full and two brake blocks in operation to give full safety as I had the spool filled with 15lb mono to within 2mm of the spool lip.

The reel was in the 'up' position and I started with a couple of easy ground casts in order to get a feel of how the reel was running. 'Sweet' was the answer so it was time for a fishing pendulum to get the spool spinning faster. I backed the mags off to number 7 and let rip with a more powerful cast – still no problems so I backed off a little more to number 5. A couple more very powerful casts didn't produce any line lift at all so I had complete confidence in the reel.
There's nothing worse than trying to fish with a reel that's running too fast and getting crack-offs, which just wastes time, line and rigs.
My next session was full-on fishing at range for whiting. Despite fishing in a crosswind, I was still able to blast rigs way out to sea without any trouble. The large power handle provided good grip even with wet hands, which is handy when you're winding in double and treble shots of whiting. In addition, the gearing and drag were very smooth.

After three sessions on the beach the reel still looks as good as new. All I do when I get home is give it a quick rinse under the tap to remove any saltwater, shake the excess off and leave it to dry.

With the performance the reel gives and the price tag, I can see the Akios 656CTM becoming extremely popular with shore anglers!

INFORMATION
Bearings: Three, plus one Anti-reverse bearing
Gear ratio: 5.3:1
Spool capacity: 300 yards of 15lb mono
RRP: £124

TSF RATINGS
Appearance: ★★★★★★★★★★
Casting: ★★★★★★★★★★
Fishing: ★★★★★★★★★★
Value for money: ★★★★★★★★★★

Contact: Akios on 0161 355 1975
E-mail: [email protected]
Website: www.akiosfishingtackle.com