Up Close: Daiwa Matchwinner MW1 Power Margin Pole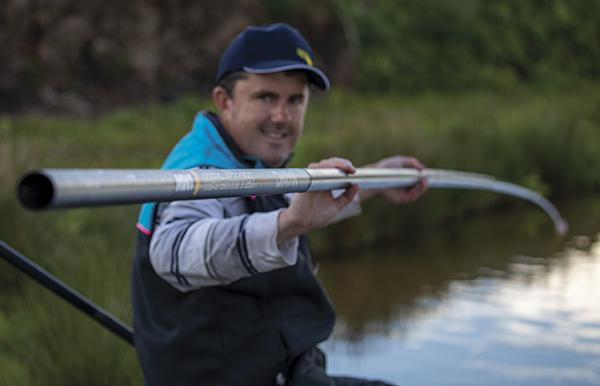 When you say "margin pole" it conjures up certain expectations. For me, there are two properties that I expect a margin pole to have. The first one is strength – after all, they are designed primarily for hauling large carp out the edges. The other one is weight. I expect them to be heavy, as generally the strength of the pole is achieved by adding to the sections with extra resins and reinforcements.

I was a little bit surprised therefore, when I took the MW1 Power Margin out of its holdall, as it doesn't really feel like a margin pole at all. Let's be honest, nine metres isn't exactly pushing it in terms of length, but at its full extension the pole is exceptionally light and usable. Even with a 17H elastic threaded through one of the top kits that it is supplied with.

I did wonder whether this lightness would ultimately mean the pole wasn't as strong as it perhaps should be, and there was only one way to find out… an early evening workout with some Heronbrook chunks! I fished the pole at its full length, and the plan was to feel the way in, Kinder potting groundbait, and present a piece of Fjuka or a couple of maggots over the top.


A large F1 was first to the party, giving a lightning fast bite that I was able to strike into even despite the heavy elastic and pot on the pole. Very impressive responsiveness, it doesn't feel like a margin pole at all!

When it came to the netting stage, I saw that the pole incorporated Daiwa's famous Interlastic system. I must admit, I'm not a fan of this as I find it wears light elastics quite quickly, so I tend to swap to a rolla pulla where possible for my own fishing. That said, with bigger elastics in an edge fishing situation, it isn't as much of a problem.

A few more F1s followed, before I latched into something much bigger. Time to give the pole a proper workout! An angry common charged off towards the middle of the lake, and I applied maximum side strain to really test the power of the pole. It was very angry; I'd really upset this fish, and soon it had bottomed out the elastic giving me one of those hair raising moments where you wish you had more sections to add.


The pole never felt like giving an inch, and I soon had the fish coming back towards me, and to the waiting landing net. I'm confident there is nothing that a standard commercial fishery can throw at this pole that it cannot handle.
A UK Design
I had to look twice at the graphics on this one, as it bears the same Union Jack as the UK-made Daiwa models. The text on this one is a bit different though – it is 'Designed' in the UK, and the pole itself is made abroad. On further investigation, it seems the kits are all UK made too, and being on the same mandrel as the other MATCHWINNER and more expensive poles, they interchange with them too. So if you have any UK made Daiwa Pole, or model from the new MATCHWINNER Series, your kits will fit this pole.
This is a great feature, but if I was the owner of a UK-made Daiwa pole, I might well be inclined to look at the Multi Margin or Tournament Pro X Margin. Why? Because they are completely interchangeable, so every section could double up as a spare for your pole proper if needed.
A Storm Coming
The fishing really is great at Heronbrook, and I soon had a netful of hard fighting fish for the camera. We had to cut the session a bit short, as a storm cloud moved over from the west, and big drops of rain were soon falling on us. Even when wet, the finish of the pole meant it flew through the hands though. It handles every bit as well as any pole I have ever picked up.
So this MW1 Power Margin pole has it all. Lightness, stiffness and strength. It is one of the best I have ever felt, and great value for its £549 price tag.
It is also fully interchangeable with other poles in the MATCHWINNER range, so could well serve as a good second pole alongside one of the longer models .
A must-see if you are in the market for a margin pole.