Dave Williams Gives Us His Review Of Green Lane Ponds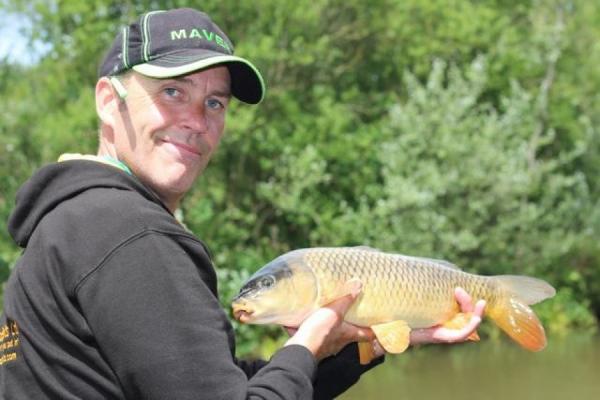 A group member, Darren Tracey, who commented on a post that we put on our Facebook page asking to show us your fisheries, suggested our next outing for a review day. So we contacted Darren and arranged a date to meet up and fish with him and another group member, Barry Smith, who also asked if we could review the venue, Greens Lane Ponds.
Greens Lane Ponds is a one-acre water with 27 pegs and one island. Average depth is four feet and the pond provides consistent and excellent fishing all year round, with match-size carp and plenty of silvers to go at. I was confident of a really productive day.
Arriving at the ponds, the weather was against us from the off. There was driving rain and a howling wind blowing but seeing the pond I was surprised to see how well covered it was, with numerous trees and a high grass bank protecting the water from the elements that we faced.
We decided to fish the right side as you look from the car park and fished Pegs 9, 8 and 6.
I decided to fish the pole (the venue is also very fishable on a number of methods that will catch you a few fish), setting three top kits up – shallow, bottom rigs and a margin line. The lads informed me that the fish will take a shallow bait for the first couple of hours.
I started by fishing with the shallow rig set around 16 inches deep, shipping out to around 10 metres using a 6mm hard banded pellet. I began to turn the float over, slapping on the surface, and I was soon into my first fish, a common carp of around 2lb. Spraying 4mm feed pellets around the float every 30 seconds I began to notice swirls around my float, so I shallowed my rig down to around eight feet and continued firing out the loose offerings and I started to get bite after bite. Not off carp but a very nice stamp of roach up to around 12oz and a few pushing the 1lb mark. With nice rudd in the frame too, the action was fast and furious on this line for the next hour or so with carp, roach and rudd all falling to 6mm pellet on the hook.
The weather front was getting worse by the hour so I decided to fish my deck rig at six metres to move out of the very strong wind that had got up by now. I had kept this swim fed for the first couple of hours by potting in a mix of micro pellets, 2mm pellets and corn on went a 6mm hard banded pellet. Within seconds the float had buried and a nice mirror carp was in the net, followed after each put-in by more carp and more silvers. Swapping my hook bait from pellet to corn, the bites were instant. As soon as the bait hit the bottom the float was under; sometimes the bait was taken on the drop by the roach and rudd; this was fantastic!
Shipping out to the feed zone, it didn't take long before the float was away with yet more fantastic roach and rudd. The carp were coming thick and fast too. Continually feeding 4mm pellets, the surface of the pond was alive with fish and I continued to catch until the very last put-in with the pole.
Darren and Barry had a very similar day similar tactics and methods. Barry was changing from time to time from shallow pellet to shallow corn and was still catching. Darren set up a Method feeder using groundbait and fishing on a Ringers orange banded boilie in the margins and also casting mid-pond. Again bite after bite and fish after fish came to the net, even catching a small tench, which finished the day's fishing off in great style for all of us.
I finished the day with around 70lb of carp to 4lb and around 30lb of silvers, Darren and Barry having similar nets.
I would like to thank Andy and Helen for their hospitality and looking after us while doing the review, and also thanks to Darren and Barry for suggesting the fishery.

Tactics

Method: Pole
Tactics: Shallow, on the deck and margin
Shallow rig: Dino F1 pole float, size 16 LWG Guru hook (bait band), Maver Genesis 0.16mm line to 0.14mm hooklength.
On the deck rig: Dino York pole ploat, size 16 LWG Guru hook (with or without bait band), Maver Genesis 0.14mm line to 0.12 hooklength.
Margin rig: Dino Paste float, size 12 LWG Guru hook, Maver Genesis 0.14mm line straight through.