Fishing A New Venue - Nick Speed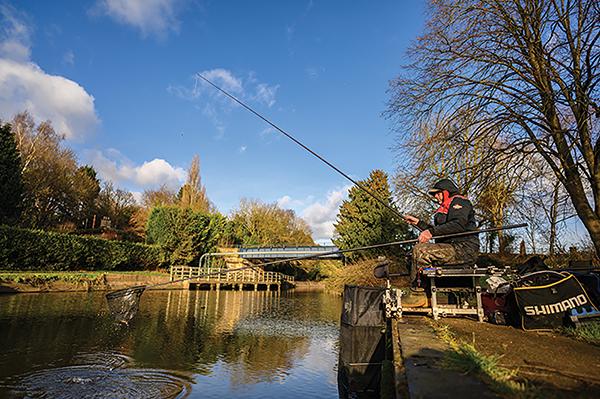 Read Between The Lines
A change of venue and methods can be just the thing to keep you refreshed and on the ball. We asked Nick Speed to take a break from commercials and big reservoirs to see how he would fare on a venue that's completely alien to him these days, a canal cutting off the River Don at Sprotbrough.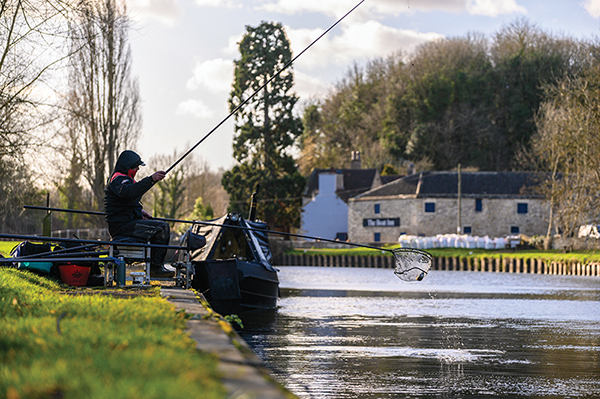 Especially during the winter months, when bites are so rewarding, I can't honestly think of anything better than a session targeting the abundance of silvers on the River Don.
However, with all the leagues I fish during the winter these days on commercials, I never seem to have the time to visit other venues.
Although I rarely fish around the 'Don' circuit nowadays, there was a time when I was on the river match length at Sprotbrough on a very regular basis, with Super Leagues and AT Winter Leagues being hosted on this beautiful stretch of the river throughout the yearly match calendar.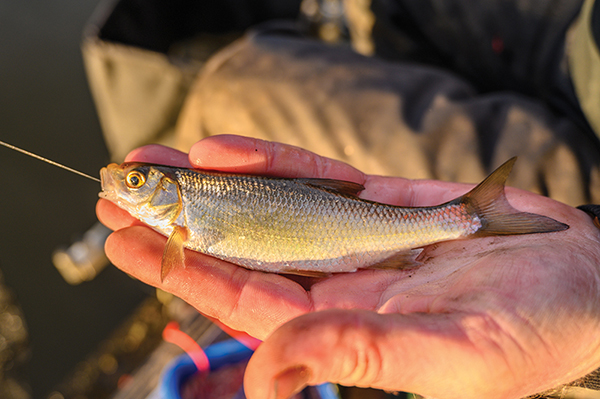 The abundance of fish in this system is quite impressive, to the point where even the tributaries leading off the main river are also teeming with fish, especially when the river rises, and the fish seek calmer water in these offcuts.
Time this right by keeping in tune with the water levels, and a proper red-letter day is on the cards.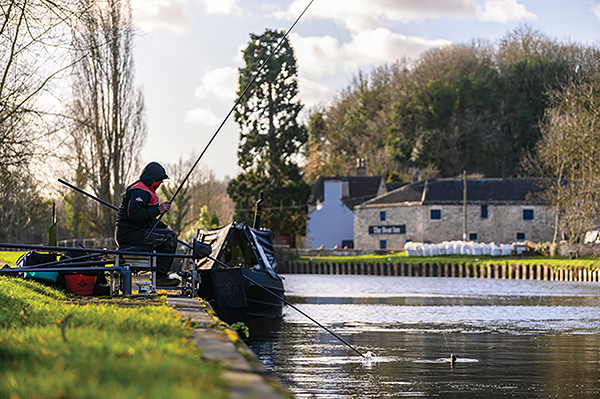 In order to fish the match length of the Don here there are a couple of access points, but the main one is situated outside the Boat Inn, next to Sprotborough Weir.
Looking back all those times while pushing my tackle along 'canal' stretch, before reaching the main river, it always made me wonder how many fish this canal section actually held, and a session on this rarely used match length would be quite interesting.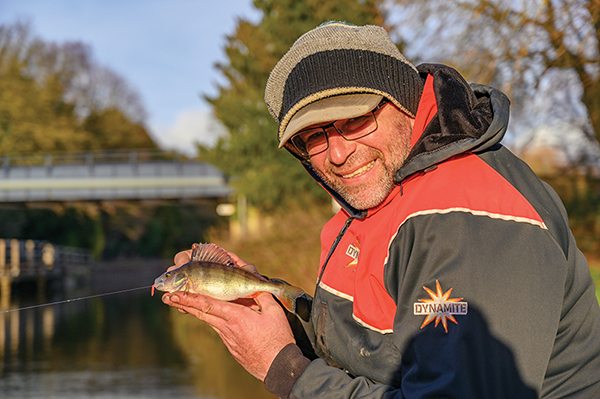 So I met up with Dave Wesson for a session on this beautiful stretch of the canal, to hopefully have a great day's fishing, but more importantly, explain how I was going to approach a stretch of canal I've never fished before.
Although the day was quite bright, the wind was freezing and to top it off it was very strong, which meant it was going to be a gusty day as this system is situated in the valley bottom.
When I arrived at the pegs, I was limited with choice when it came to finding a peg where I could present my float properly, due to the strong winds. Regardless of whether it's match conditions or pleasure/practising, the decisions you make before you begin to set up are in my opinion, crucial.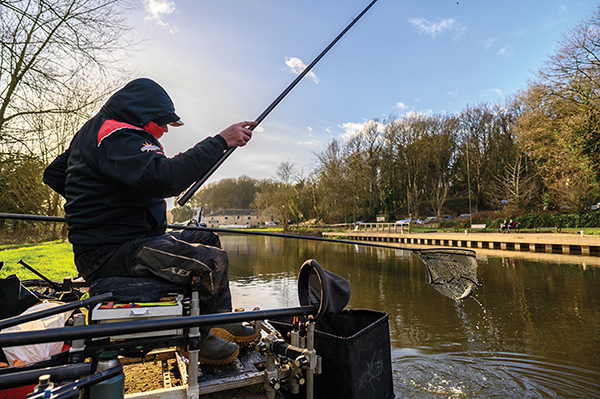 Even more so on these types of waterways because it's all about feeding and presentation, so choosing somewhere (especially when practising for a match) where you can feed and present your bait correctly is vital to help figure out important factors such as correct feeding patterns and what species are present.
And, above all else, you need to discover how the fish want to be caught, not how we want to catch them. For all the reasons above I've decided to place myself next to the bridge.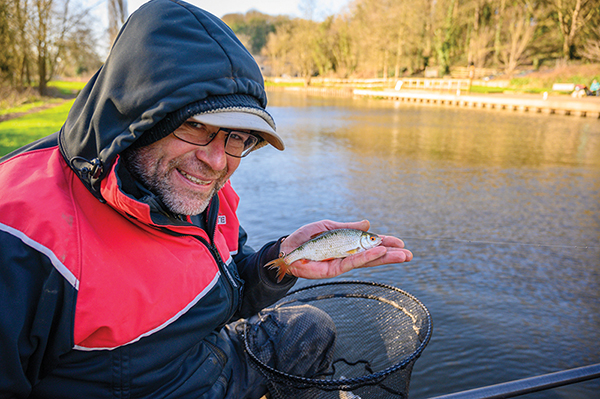 Although this area is a narrow section of the canal, this is one of the deeper areas of the stretch because of the boat traffic. Especially during the winter months when the water clarity is at its highest, areas like this with depth and cover are the ideal habitats for holding all species.
My plan for the day is to keep things simple by feeding maggots short, for literally anything that swims, and also feeding groundbait down the track with the intention of feeding pinkies over the top to target the roach/perch and hopefully a few skimmers along the way.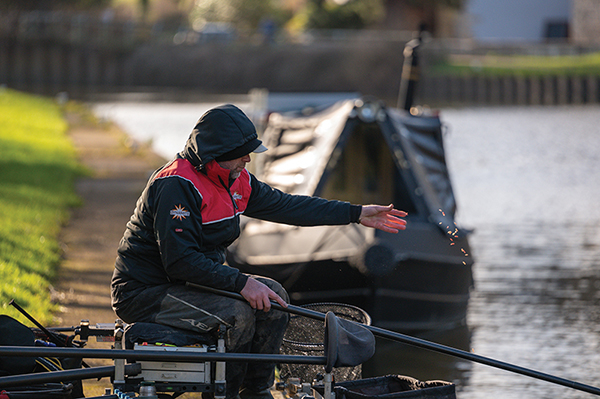 My rigs for the day consist of a float pattern that works really well on these types of waters, where water movement needs to be considered and by using the correct body to control how the float works against elements such as tow and skim is paramount. The pattern I like is the PB Silver float; this has to be one of my favourite patterns as they are so versatile.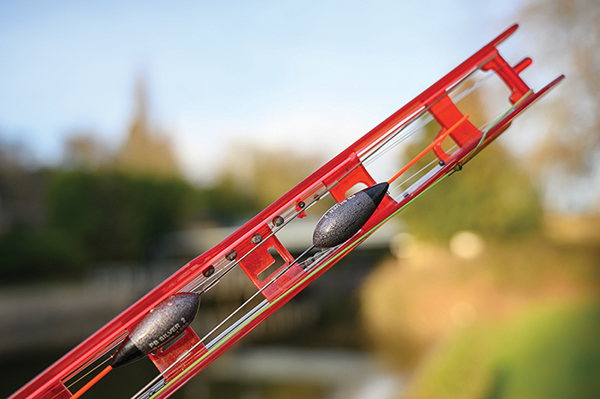 Plumbing up I've found there is a level depth of nine feet of water from 11 metres, coming back to five metres before the inside shelf suddenly rises.
With the wind being too strong to fish any further out than 11 metres efficiently, I've chosen to concentrate on just these two lines. Taking into consideration the conditions, I've opted for two rigs incorporating those PB Silver floats, the first a 0.6g with 0.13mm Aero Slick Silk main line to a 0.08mm Aero fluorocarbon hooklength finished off with a size 19 Drennan Red Roach hook.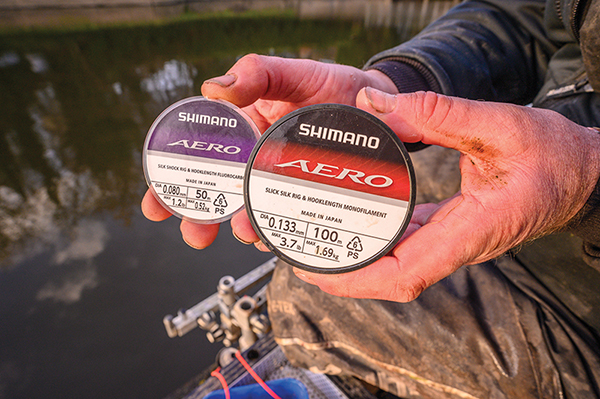 This rig has a bulk of No9s with No10 droppers, but this is my 'play about' rig for experimenting with different shotting patterns to find the best presentation on the day, and possibly the better stamp fish.
My other is same setup but heavier at 0.8g and I've shotted this with No8s as bulk and No9s as droppers to create a bit more stability, especially if the water movement decides to pick up or I want to lay some extra line on the deck to create a static bait.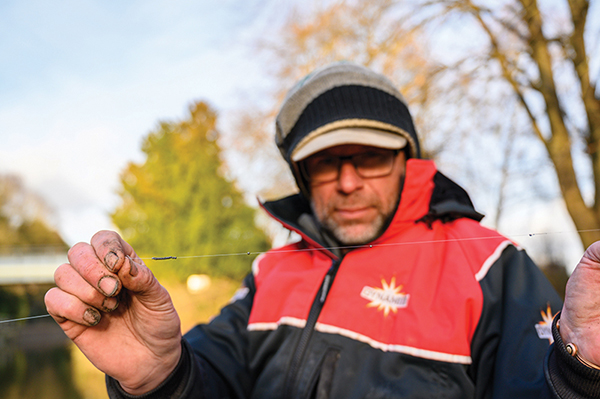 Feeding
Again this is crucial, and I suppose like many areas of decision making in your match plan, it always comes down to confidence. So, for this reason, I'm using a groundbait mix that has stood me in good stead for many years on the natural circuit when targeting silvers.
I like to use Frenzied Match Black, Silver X Bream and Black Swim Stim in a 40/40/20 ratio respectively.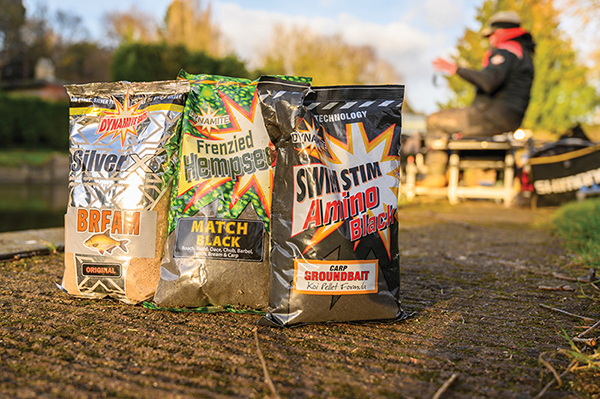 Mixed together, this concoction works perfectly regardless of the species I'm targeting on these natural waters, as the Frenzied Match Black contains a large amount of milled hemp, while the Silver X Bream contains cereal, and the Black Swim Stim adds a slight amount of fishmeal to the mix, which often works when skimmers are present.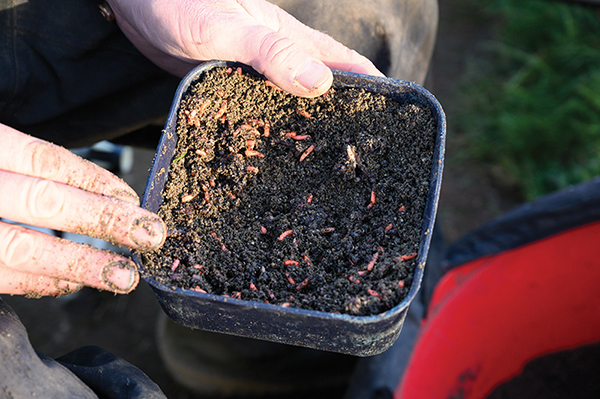 At the start of the session, I kicked off with four balls, topped up with a pinch of pinkies and a very small amount of mushed up worm, as I was quite sure perch were going to play a big part on the species front, and that little boost of worm works wonders for perch and skimmers. I then started feeding maggots occasionally on the short line to hopefully build it up for later when there might be a few perch lined up.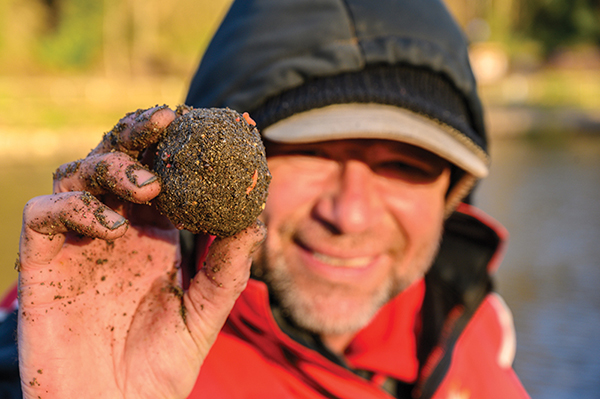 The Session
To be honest the day started very slowly and as we got to the 90-minute mark I was still bite less, but as usually happens in fishing, that first bite was soon followed by another and gradually my groundbait line started to produce the odd small perch on a single pinkie.
However, by this time, and after trying the short line a couple of times to no avail, I was still relying on one swim for bites. By feeding pinkies over the top, this swim gradually got stronger and stronger, and I finally managed to catch my first roach of the day, which is always a good sign, as it shows that there are more fish are moving over the bait.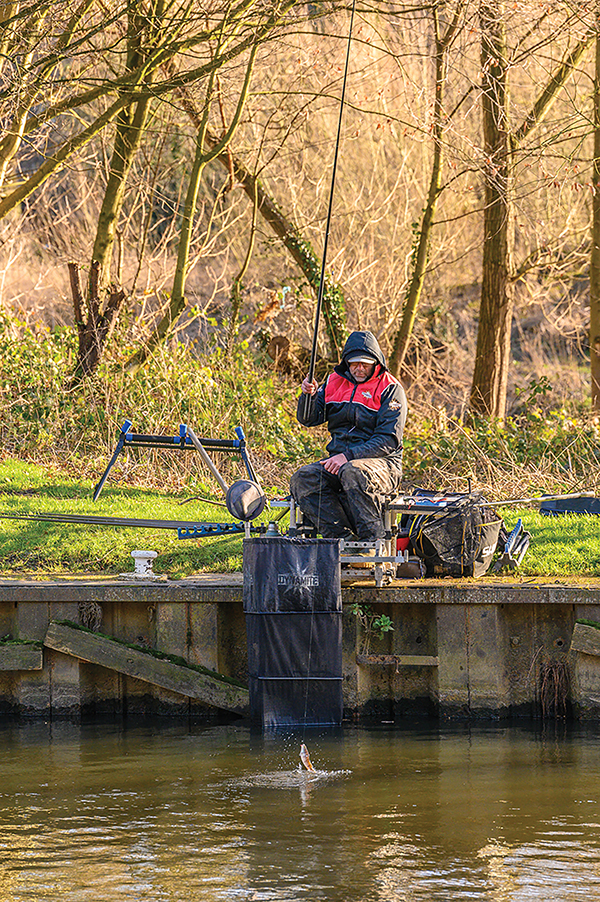 Without doubt rig choice was paramount as the lighter rig was producing the most bites by far, and with a slight adjustment of the shotting pattern to create a spread bulk, thus a slower fall with less resistance, this immediately produced a steady procession of roach bites.
Now these are only small roach, but these are the target species as they weigh well and they're what you want to catch to build a good weight. So, we're into the last 90 minutes of the five-hour session, and I reckon I might have 5lb of roach of perch from this line, but I really need my short line to kick in as this will allow me to rest the groundbait line.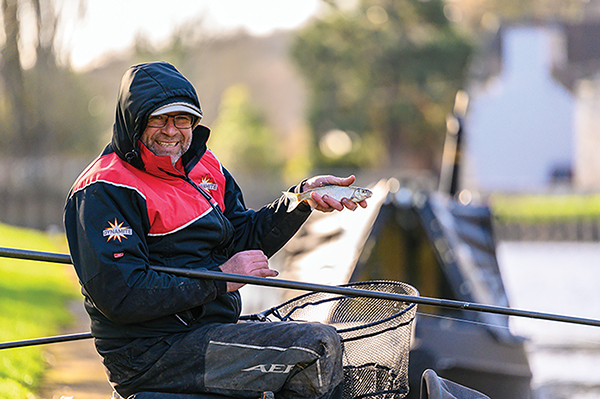 This in turn will help instil confidence in the fish, and by resting it means when I finally decide to drop back in over the top, I should catch a better stamp fish.
So I then decided to feed a small ball of groundbait with a few pinkies to hopefully give the swim a boost and sit on the short line for longer to hopefully get a bite and bring this short line into play but as I said, this will also crucially rest my long line.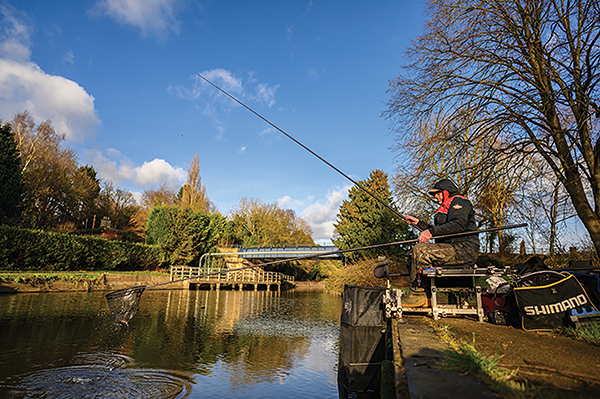 After a biteless 10 minutes short, my float suddenly slides away and I'm into my first perch of the day from this short line, happy days, we're off! Now I can start thinking about alternating and catching on both lines. What is noticeable is the perch from the short line were of a bigger stamp, so I need to stay on this line just a little bit longer, to see if I can tempt any more bites.
Virtually straightaway I'm rewarded with another decent perch of around 6oz and after landing it my next intention is to rest this short line because plundering it could easily kill the swim on such a fickle day. I want to make the fish feel confident and I've got a feeling this short line is going to get stronger if I build it up for a little longer.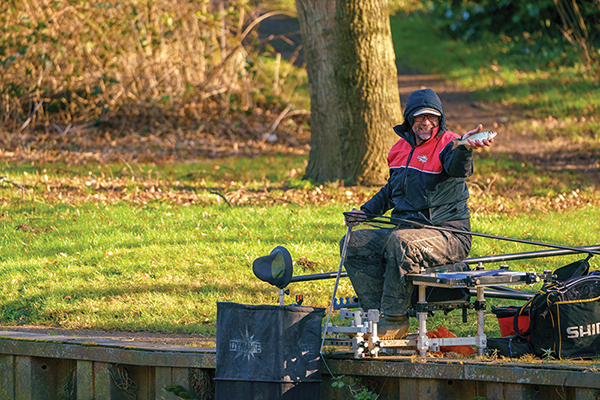 So, after a short rest, I dropped back on my groundbait line and was instantly greeted with a slightly larger stamp roach and the occasional dace, and now this groundbait line is producing a bite a chuck!
However, in the back of mind I'm now thinking about my short line, as I'm convinced this is the line that's going to produce those all-important better stamp fish, especially after resting it when I know there the odd fish coming to the loose fed maggots.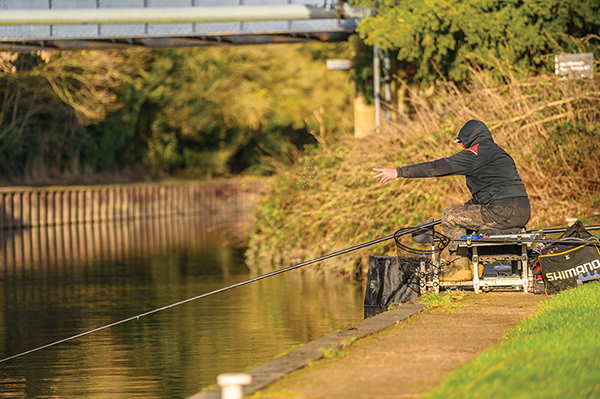 After 30 minutes of getting a small roach nearly every drop in over my groundbait, I decided to come back short to see what was present and first drop in I was rewarded with a lovely roach of about 8oz.
In my opinion, especially on natural waterways, your first drop in on a rested line is crucial as it's often this moment that produces the biggest fish of the day. Next drop in and I hook another decent perch and now I can tell there are enough fish down there for me to concentrate on fishing for longer here, as there seem to be a few fish competing now for the loose fed maggots.
Gradually this short line becomes stronger to the point where my long line is now out of the equation because the 5m line is producing a completely different stamp of fish.
What is interesting on this short line is the importance of laying my rig in correctly, because it had a big effect on how quickly I got a bite. Laying the rig beyond the pole tip, so the rig arcs back towards the shelf, was by far the best presentation and not only produced quicker bites, it was also key to catching the better stamp of fish.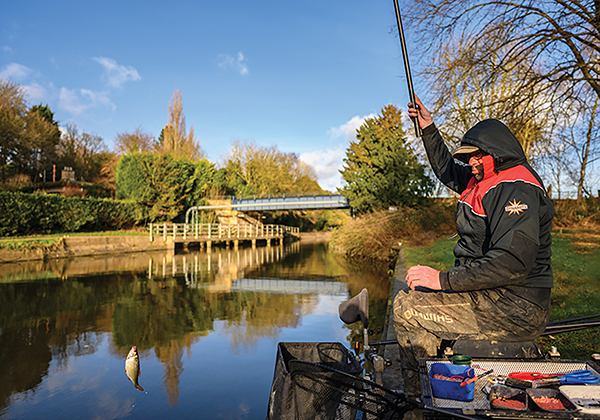 By the end of the session I'd got them queuing up for the maggots at five metres and considering how the session started with no bites for over 90 minutes, I've ended up catching a fish every drop in and it just reinforces the importance of rotating and persevering between the lines.
Considering the time span I caught most of the fish in it has been an awesome day's fishing and highlights how enjoyable and challenging these types of waterways are.