The Irish Angle Variety Is The Spice Of Life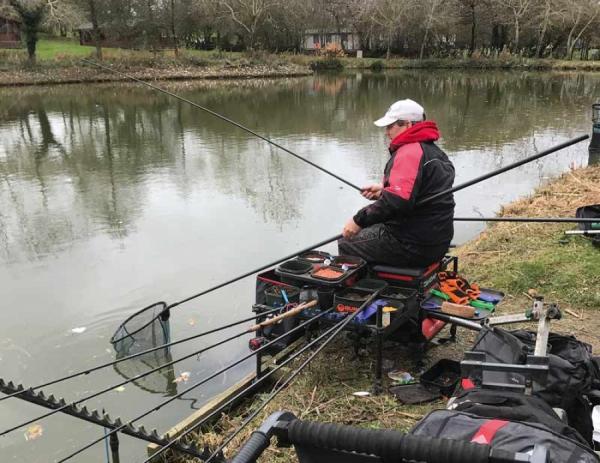 Our resident Irishman Cathal Hughes travels to Cornwall to see what all the fuss is about at White Acres.
Having done very little fishing over the past month, I really thought that I'd be writing about yesterday's charity match in this month's magazine. But if it wasn't for bad luck I'd have no luck at all, and in typical fashion I blanked, and in doing so scuppered any chance of scraping a feature about the miserable two hours I stayed on the shores of Lough Garadice playing with my new SLR feeder rod.
Not for the first time in my life I found myself in a bit of a pickle and on my way home I was racking my brain trying to think about what I could write about. With the deadline less than 20 hours away, I needed to think fast.
One thought that kept re-entering my head was a recent conversation I had with a top angler. During our chat he mentioned to me that he was finding it increasingly hard to get motivated and that he felt the buzz he used to get from match fishing was dwindling to the point that he considered giving up! Maybe not to the same extreme, but I'm sure that this is something that many anglers go through at one stage or another and is something that most likely coincides with a bad run of luck in the draw bag or when temperatures plunge into the minuses, and sitting out in the cold becomes a chore rather than being enjoyable.
Thankfully (going back to my man) we concluded that his lack of enthusiasm was most likely down to the fact that most of his recent outings resulted in sitting in the cold for five hours catching very little and, let's face it, this wouldn't do anyone's sanity any favours, let alone increase the desire to head out on a regular basis.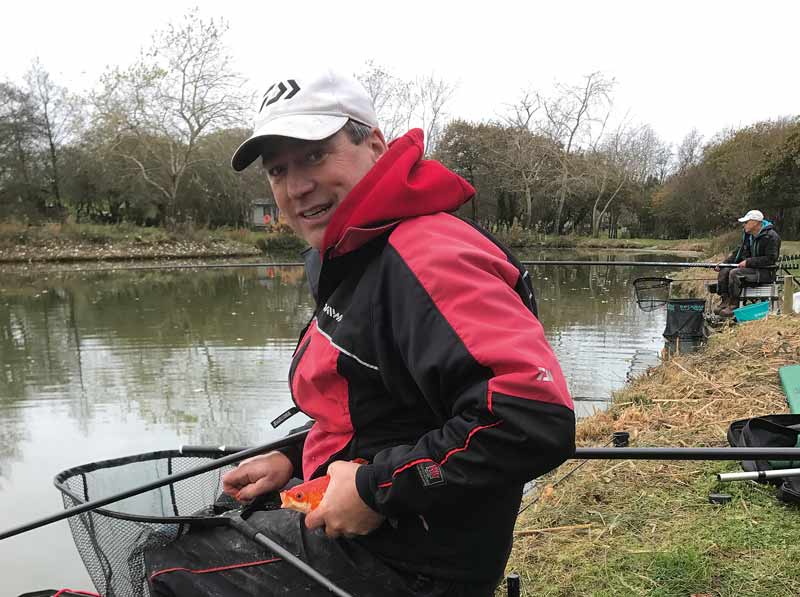 Although the conversation obviously finished and we moved on, I couldn't stop thinking about what was said and in general what keeps my enthusiasm up after what seems a lifetime in the sport. For me I believe it's about keeping things fresh and mixing it up.
Because of where I'm living, I usually have a minimum of a two-hour drive to most of my matches. Believe it or not, this gives me massive options of where to go and I don't fall into the trap of fishing a local venue week in week out, just because it's the handy choice.
It's clear to see from reading my magazine features that I like to travel and regularly fish different venues. For me this is the key to keeping things fresh. It also keeps me on my toes and gets me mixing with different groups of anglers, which is always a good thing.
This leads me nicely on to a recent trip I made to White Acres to fish the Drennan Silverfish weekend. It was said that I was mad going and that it was a long way to go to get my ass kicked. I never thought of it like that. For me, I was excited about tackling somewhere new and experiencing a completely different style of fishing to what I'm used to. The timing was also perfect as the festivals were over and my year was winding down and coming to an end.
For company on the trip I had Richard Caplice, who had some media engagements regarding a revised Muckno festival calendar and with the journey taking 17 hours from door to door his company was greatly appreciated.
We arrived on Thursday morning with the intention of having two good days' practice before the main event. However, having driven through the night and been absolutely exhausted, Thursday's practice was never a starter and instead I walked around the lakes hoping to learn something of value.
Unfortunately there weren't many anglers about and those that were off work seemed to be all fishing the Match Lake, or Pollawyn as it's also called. Thankfully those that were fishing were top class and very open with information, which was greatly appreciated as I really hadn't a clue about the place.
Later that evening our lodge mates Tom Scholey and 'Boy Wonder' Jordon Holloway arrived and showed me around the complex. The knowledge they have not only about the individual lakes but about every peg was mind-blowing and made me wonder if I'd made the right decision accepting the invite.
The plan was to fish Jenny's Lake on Friday, which I was more than happy with as it's a venue that has played host to some huge, big-money finals, so it'd be nice to say that I'd fished it. After a good breakfast the lads put me on Peg 16, which I was told was the best peg on the lake (so no pressure then), while Jordan and Tom fished Pegs 17 and 18 respectively.
The next 90 minutes were a huge eye-opener and a little humbling, as while Jordan basically caught a fish a chuck beside me, I couldn't get a bite! Now I'm not sure if it was out of sympathy for me or the fact that I threatened him with two broken arms, but he dropped tools and came to see where I was going wrong.
The first thing he did was take off my 0.10mm hooklength and replace it with one of his 0.08mm versions with a size 16 Gama Green hook. Surely this wouldn't make that much difference, as to me it was blatantly obvious that there was nothing in the swim? He also felt the need to abandon my carefully fed swims as he believed that I'd probably completely fecked them up and starting new ones would be the best option.
Anyway, after basically changing everything I'd done, he then sat on my box and started to empty it, making me feel like a complete tool. It gets worse, when I evicted him from my box he sat beside me and proceeded to ask me why I wasn't striking at the bites. What bites? I couldn't see the float move and finally came to the conclusion that these F1s twist the bristle rather than pull it under and they were doing my head in.
Oh, then he came out with a classic, that the fish in these commercials can sometimes become wary of feed and that if I fed more than a thumbnail-sized ball I could ruin the swim. I was starting to feel homesick.
The good news was that I had learned something and after pinching some slim Mick Wilkinson floats from Tom I felt a little more confident going into the draw on day one of the festival.
As luck would have it, I drew end Peg 19 on Jenny's, which was close enough to where we practised so at least I would have an idea of what to do. Unfortunately on arrival at the peg there was an angler on Peg 20, which blew my chances of a much-needed advantage.
My plan was rather simple and uncomplicated, I fed two swims at the maximum limit of 13 metres, one to the left and one to the right. I also fed a worm swim straight in front of me at 11 metres and, just in case, a caster swim for roach at four metres.
On the all-in I fed a tiny nugget of groundbait containing a few pinkies on my main swims and a golf-ball-sized ball with lots of chopped worm at 11 metres, which I never had a bite over so forget about that.
It took about 10 minutes to get my first bite, resulting in a small skimmer which, as far as I could see, was the first fish caught in the section. After a steady first hour it looked as if the section was fishing very hard and I was well in front, and if I'm honest was really enjoying myself. I was catching a proper mixed bag, having landed skimmers, tench, goldfish, roach, perch, carrassios and an F1, with every fish falling to either pinkie or maggot.
As the day went on the peg slowed significantly but by alternating between the 4m line and my long line I kept the odd fish going into the net. With an hour to go I knew I was under pressure for the section as the angler on Peg 16 was regularly catching carrassios on the waggler and I knew that it would be tight.
On the arrival of the scalesman, it was revealed that the angler on Peg 20 had fished the wrong peg, therefore giving me a valid excuse of being able to blame him for taking my end-peg advantage should I need to. As it turned out I finished second by 10oz to the angler on 16 with 20lb odd, which deep down was a disappointment as I would have loved to have won the section, but at least I'd held my own and not bombed out.
On day two I think that I was drawing from the blue bag, which contained some of the bigger weight sections. Andy Power had won the match from this zone the day before with over 100lb of big F1s, so I figured that his peg would do me, so I drew it.
A quick chat with Andy about how to fish the peg left me a little confused. He caught over 100lb by feeding two maggots at a time and used 0.09mm lines – the world's gone bloody mad! Anyway, with his advice on board I headed off through the back roads trying to find Twin Oaks.
As most of Andy's catch came from the margins that's where I based my attack. I also plumbed up two lines at 11 metres both left and right, just in case things weren't working close in. At the back of my mind I was aware that it was unlikely that the fish would be still in the mood after receiving a hammering the day before, but all I could do was hope.
At the start I fed one of my long lines with groundbait and pinkies as I'd done the day before, while I fed the other with chopped worm and groundbait. The close-in margin swims were fed with only a few maggots.
It took an age to get a bite but I finally caught a F1 in the margin and a bloody big one at that. At about 4½lb it gave me a proper scrap on the light hooklength and yellow Hydro, and it didn't take long before F1 number two was added to the net. Unfortunately that small burst of fish was the only real action in the first two hours, and regardless of what line I tried the float would not go under.
Finally out of the blue I got a bite on my pinkie line, which resulted in another big F1 and by alternating between my long lines I started to put a few fish together. The worm line seemed the most productive and I found that by feeding a tiny ball of chopped worms and leaving it for 10 minutes I could usually go over it and catch.
I have to say that I really was enjoying the fight these boys put up and was amazed how such powerful fish could be landed on such light, delicate tackle. I even managed to land one that was hooked in the tail! I did catch a couple more in the margins late in the match and finished with 12, which although was way off what Andy had caught, was pretty good for the day.
Grant Albutt easily won the section with over 60lb from the end and I finished second again by the skin of my teeth, only pipping Tom Potter who was on the next peg by 8oz.
Well done to Andy Power on another brilliant performance, winning the festival with two section wins beating Jordan and Steve Hutter into second and third place on weight.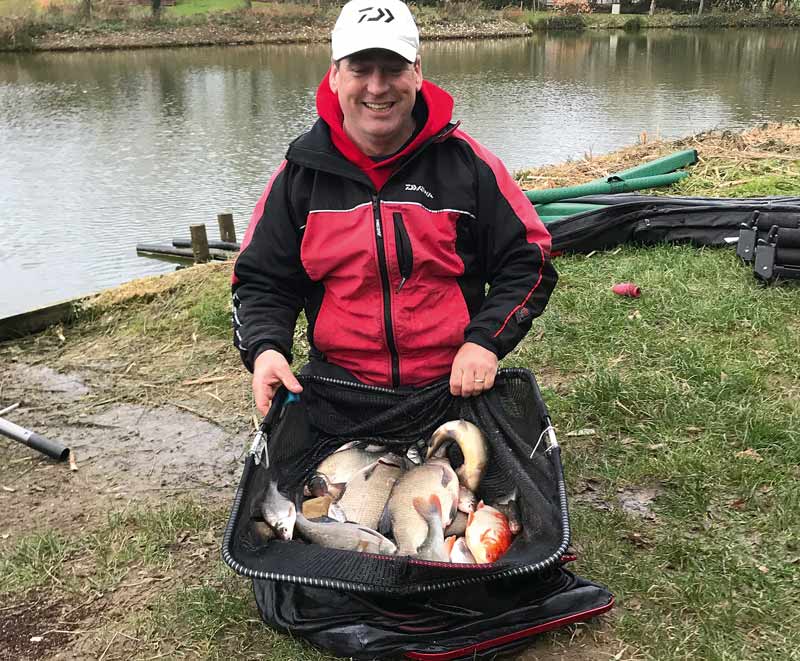 All in all, I enjoyed the weekend so much that I can't wait to get back. The company was excellent, Dick and I were treated like kings and made feel extremely welcome. While the fishing was challenging and completely different from what I'm used to, it was enjoyable and I learnt loads. Whether or not my new-found knowledge will work in Ireland remains to be seen, but hopefully it will be of benefit next time around.
Even though I enjoy the wild, natural fishing I usually do, I find mixing it up a bit and fishing new venues creates new challenges and that's what it's all about for me. As some wise man once said: "Variety is the spice of life", and I tend to agree.