Joe's Weekly Musings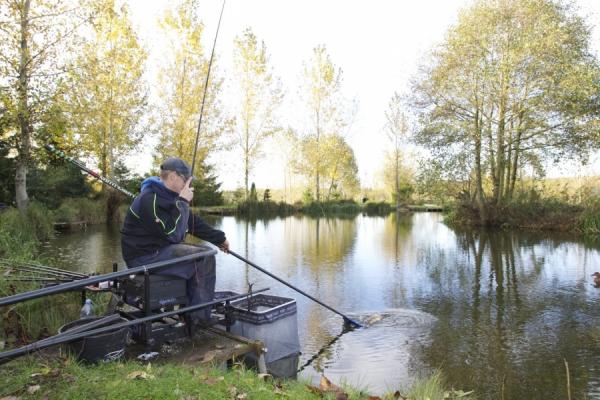 Match Fishing's Joe Carass just had to get the laptop out and tell you about his latest exploits!
I would love to say to you that this week has seen me achieve levels of success that I have never seen before. Sadly I cant, and quite frankly my results this week were pants.
Now I certainly don't claim to be a top angler, more a competent one. But readers of our magazine or these very blogs could be forgiven for thinking that the top guys never have bad matches. Well let me tell you they do, its just they are usually pretty selective when it comes to shouting about their weekends angling endeavours. I prefer to be honest and if I have done crap, I don't mind admitting it!
Preston Innovations Pole Fishing Pairs
Now the first round of this match was fantastic. Credit must go to Tom Scholey and Matt Godfrey for getting this event up and running and also for the guys at Preston for getting behind it.
With a potentially lucrative sum of money up for grabs, my partner Lee Kerry and myself were pretty up for the challenge. A practice/feature was arranged in the week and we both felt we were up to speed with Barston.
Well my draw saw me at Packington, Peg 42 on Molands to be precise. This can be a great peg but with the cold weather I expected the F1s to be packed into pegs 43, 44, 45 and 46 where there are dense reed beds that seem to hold the fish.
The problem I had was those little red devils bloodworm and joker. They throw a massive spanner in the works and alter your thinking as to how to approach the venue. On a normal match at Packington I would no doubt attack it with maggots. But yet soon as joker is allowed, we all go down the 'loads of groundbait' route. This is rarely right yet time and again we get drawn into fishing like this.
I decided on a B&J line at 11m to hopefully catch a few skimmers, a 14m line with fishmeal and leam and finally a couple of maggot swims (I felt these would be my main swims).
To cut a long story short, I never caught many F1s, which were definitely the target fish. There were more fish to my left for sure, but I still cant help feel I overcomplicated things.
I should have approached the match with three pints of maggots and that's it. By being patient with maggots I'm sure I would have snuck 15 F1s for a good weight.
The result was desperate as I only beat one in the section… boo. My day didn't get any better when Lee told me he too suffered a poor draw at Barston and only beat one… double boo.
It was very frustrating, pretty much out of the league at the first hurdle! Still we will be battling hard to make the grade on the next one.
Rats
Is it just me or are fisheries being swarmed by 'Rodney's'? Maybe I have just been unfortunate but the little buggers are everywhere. On a recent feature at an unnamed venue, I sat watching 6 rats just a metre away from a certain ginger anglers holdall. They were totally oblivious and happily munched on whatever it was that they had found.
I understand they are hard to manage, but come on. These things carry all kinds of disease and I for one don't fancy any of that! Anglers are probably at fault for throwing bait onto the bank, but I don't think fishery owners do enough.
The Master
We get to go on features with loads of different anglers over the course of a year. Many are star names; others are brilliant anglers who slip under the radar to a degree.
My good mate Stu Palser is one of those guys. I've never known anyone who wins so many matches, yet it largely goes unnoticed.
Tunnel Barn is always my winter venue these days and Stu is without doubt the man to beat there. He has helped me no end in the three years I have been going there and has got me 'up to speed' so to speak. This was proven in last years winter league when we finished first and second in the individual league.
The only problem is, no one can get near him! There are some awesome anglers who fish the winter league at TBF yet Stu always seems to be 30lb better than them. Des Shipp was the latest scalp. Des had a brilliant match catching a fish a chuck for over 120lb of F1s and silvers, yet on the next peg (granted they were opposite each other on the narrow top pool) Stu weighed 156lb for the match win. Did he catch two a chuck?
The blokes a machine. I quite want to draw near him to see how far I have come since starting at the venue, but I know it won't be pretty for me!
The Late, LATE show
The last time I checked, matches were five hours long. Yet the amount of anglers I see giving up hope is surprising.
Sure a win may not be on the cards, but why not try for a section win, or try something different that will help you in the next match?
A great example of this was the last round of the TBF winter league. I drew Peg 12 on the Club pond with pegs 11, 13 and 14 also in. It can only be described as tight up there and everyone had a good old moan.
The fishing wasn't good, there were clearly a lack of fish and bites were few and far between. One thing Stu always taught me was to keep the faith and I just had a niggling feeling that at some point of the match I would get a chance, a window of opportunity, despite the bleak situation the four of us were in.
Sure enough with 90 minutes to go the swim went solid at five metres and I put an estimated 85-90lb in the net in those final 90 minutes.
The final weight was 107lb, which although wasn't enough for a section win; it did get me good points in the 20-peg section. By remaining positive I had got a good result. I'm pretty sure we can all learn from this kind of situation.
My YouTube
If you haven't seen them already, then check out my YouTube channel. The content is shot using my mobile phone (with a little help from a GoPro) so you will have to excuse the 'rawness', but it is worth a look.
I want to get videos with all the anglers I go out with but also have a few nice little projects of my own.
If you haven't already, and you have a spare few minutes, then be sure to have a look here https://www.youtube.com/channel/UCmJ_P2j90Krd5_g-lncGenA.