Maver Signature 800 Pole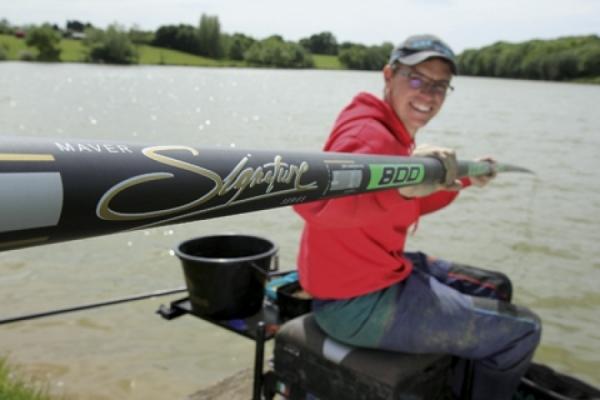 I had a little play with the Signature 1000 pole on a recent day out with my good mate Matt Godfrey, who was testing it at the time and was mightily impressed. Consequently, I was eager to get my hands on the Signature 800, which I had been assured was almost as good, so hopes were high of it meeting my expectations.
Pre-Bushed Kits
The Powerlite kits may not be my cup of tea but they do tick a lot of boxes. They are supplied pre-bushed and also come ready prepared with side slots for puller kits.

Black Core

The finish on the Signature pole is simply awesome. It ships like a dream and ultimately makes it a joy to fish with.

Teflon Joints

One of the biggest success stories of the Maver poles as a whole have been the Teflon joints. They are superb and seriously prevent wear and tear on the key sections.

I don't think there has ever been a tougher time to choose a pole. There are vast numbers on the market and, to be honest, they are all great!
Nevertheless, there are key brands that have been around for donkey's years that keep producing the goods. Maver is a prime example and the fantastic poles just keep coming from its Italian Reglass factory.
The Signature series are the company's more refined offerings. There is the four-strong Elite Carp series, which offers the commercial angler stunning performance and strength, but for the angler searching for something a little more refined the Signature series could be just what you are looking for.
You know what you are getting from a top-flight Maver pole; they are always very light and stiff and almost always the nicest poles to hold. However, the Signature 800, along with its stable mates, has had a big boost thanks to the input of some terrific technology. In fact, the list of carbon technologies is endless and all sound very special, but I won't bore you with the technical details. Basically, they have helped to reduce weight and increase strength.
That brings me nicely onto the pole's weight. The scales say it weighs a featherweight 750g at 13 metres, and when you ship it out you wouldn't dispute that fact. With more and more poles being geared towards commercial work, this one feels incredibly light in comparison; possibly the lightest I have fished with.
As expected, it was nice and stiff and very pleasing to use at all lengths.
In the strength department I would say that, with sensible use, you could use this for nearly all situations. I'm not going to tell you that it is super-strong, because it isn't. However, in the right hands it could easily cope with most carping situations.
As ever, the spares package is excellent, eight Powerlite top kits, one mini extension, one cupping kit, the Signature Fighting No5 and No6 and a deluxe holdall and tubes. There is enough there for even the most hard-core match anglers.
My only gripe is the Powerlite top kits. I am not 100 per cent sold on them, to be honest. Elastics seem to stick a little but that could be the elastic that I chose to use on our test session. After all, they are nice, slotted top kits that should be perfect for commercial anglers.
All in all, the Signature 800 is a nice bit of kit. Maver fans will absolutely adore this pole and anyone picking one up in a pole alley will be amazed at its weight. Get to your local Maver dealer and check it out!
RRP:£2,399.99