Up Close: Middy Xtreme M3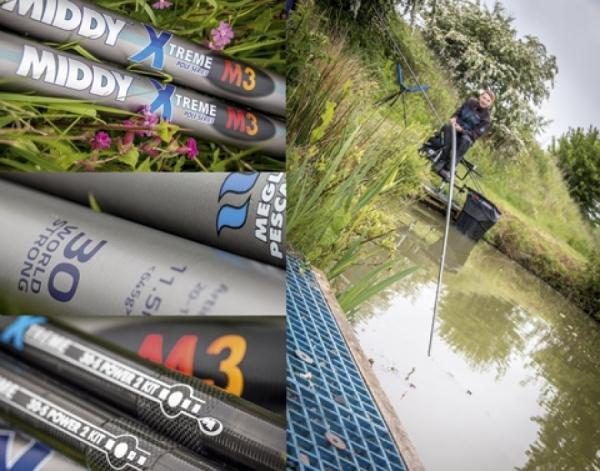 Our editorial assistant, Jake Fowles, takes Middy's new Xtreme M3 out to test it. Can it really handle a No30 elastic?

When I arrived in the DHP offices to find the Middy Xtreme M3 pole sat on my desk I wasn't too sure what expect. A pole rated to a No30 elastic (I wasn't aware elastics went that strong), dubbed the 'Animal Tamer'. I almost certainly expected a near-unusable piece of kit. How wrong could I have been?
The Middy Xtreme M3 is supplied as a 13m package. This comes with two power top twos, both with reinforced sections ready to insert a side puller bush, which are provided in the package along with a full elastication kit.
This means it is nearly ready to go as soon as you get it home, with no cutting back of the top sections needed. A match kit is also provided in the pole, so when your arms get tired after hauling out beasts you can set up a kit with some light elastics for smaller fish to give your arms a rest!
Now I needed a venue that would really put the M3 through its paces. After all, Middy was claiming that this pole was capable of housing an elastic I am pretty sure it has made up specifically to put in this pole!
Barby Banks Fishery, a venue known to be absolutely full to the brim with fish, namely big carp, was where the team and I came up with to see what this pole was made of.
Never Judge A Book… I sat on a peg that was really going to ask questions of the M3; snags for the fish to dive under in almost every direction, meaning I would be giving them some stick once hooked. This is something I am known for, regardless of the swim I am fishing!
I was instantly taken aback by the performance of the M3, in particular with how light and responsive it was. In fact, it weighs just 645g at 11 metres! Bites were easy to hit as well. Often, poles that fall into a similar category – power poles – lose elements of the other qualities that make a good tool: weight, balance, responsiveness and rigidity being some of the most important.
I decided on fishing multiple lines close to some of the swim's most snaggy-looking features. A bridge between an overhanging tree and a bramble bush 11 metres to my left-hand side looked particularly inviting. Hopefully I would snare some Barby Banks trolls from under here!
To complement this I had a margin line to my right and a line tight over the island. To keep foul-hooked fish to a minimum I settled with a hemp and corn approach, feeding with a Cad Pot.
I was almost instantly into some hard-fighting Barby Banks carp, and these fish knew exactly where the lake's obvious, and hidden, snags were. Diving under bridges, into overhanging brambles and through reed beds, I knew the venue was perfect for testing the M3.
I have mentioned responsiveness as being an important aspect to any pole. The reason I am stressing this here is because it is an area that a lot of similarly categorised poles really struggle to impress me. You can have a thousand fish in your swim and get a thousand bites, but what use is that if you cannot hit any because by the time you've lifted the pole at one end it takes an age to register at the other? The Middy M3 does not suffer with this problem.
To say the pole was up to the job would be an understatement. At no point did I not feel in control. I could turn fish that were heading directly towards potential snags with ease and with no fear of any breakages, yet at the same time the M3 didn't feel uncomfortable or cumbersome.
I was often finding myself striking hard into fish and instantly steering them away from the lake's abundance of snags, really piling the pressure on the fish, something a combination of the pole and the strong hollow elastic dealt with excellently.
After a short, yet action-packed session I had managed to put a good net of mixed sized carp together, the Middy Xtreme M3 performing admirably throughout.
The Verdict - To my surprise, the M3 has managed to be a super-strong pole yet maintain complete usability, giving it the feel of one you would expect to pay a lot more money for. It was right at home when wrestling fish out of and away from snags and managed this with ease, and with a degree of subtlety at the same time.
The pole's ability to handle heavy elastics makes it perfect for catching big fish in the margins.
Tech Spec:
Stated length: 13m
Actual length (with match kit): 13.05m (No1 removed): 12.44m
Actual length (with power kit): 12.58m
Top-kit length: 2.74m
Top-four length: 4.04m
Top-five length: 5.45m
Puller kits fitted: Yes
Holdall supplied: Yes
Butt-section length: 1.76m
Butt diameter: 0.16m
The Package: • Two extra power two kits and mini butt • Two free elastication kits (30 world strong elastic provided!) • G-pulse carbon technology with slik-slide finish • 30 elastic rating • Pull it wrap on 3rd and 4th sections • 645g at 11m RRP £369.99