North V South At Tunnel Barn Farm Report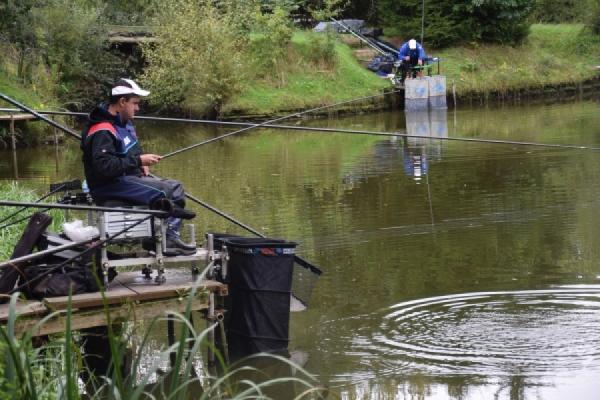 How time flies when you organise an event and I still can't believe it's been 15 months since the first one. Well here we are back at the prolific Tunnel Barn Farm Fisheries in Warwickshire, this is the venue of choice simply because its centrally located attracting as many anglers from both sides to attend, it has the required facilities such as a shop, café and accommodation and it can hold our required number of anglers with room to spare. Last year was our first year and it attracted 130 anglers from all over the UK this year we boosted numbers by just over 50% taking the number of anglers to 200, we also had exclusive use of the fishery giving us 9 lakes to use.
We have kept the same draw format as last year which we felt was right for a large number of people to draw in a short space of time and this year was no different and I was told we got all anglers in and out of the door in just 15 minutes; it's a great system which allows each angler to draw and not have to stand and wait to put their name on a list or find section boards, they quite simply put their draw ticket in an envelope which has their allocated number on it and drop it into a bucket and head straight for their peg. The downside to the system is I don't get to fish as it requires each envelope opening and placing that angler on the relevant section board, but it does have its advantages that we can go around and take photos, ensure people are doing ok? Especially the disabled anglers amongst us.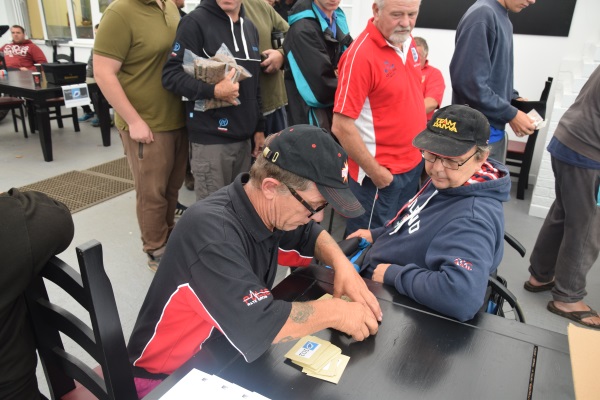 I must say it wasn't without fault this year due to no shows which always causes the biggest headaches, especially when it's a team event and a 2 team event too it becomes even harder, we also had an issue with a couple of pegs which needed to be switched so this can cause confusion with the system of equal pegging of North South North South and so on; and something I am working to remedy in time for next year's event.
So what is the North Vs South all about? It's basically a fundraising event to support our national teams that require the desperate funding that should be provided from our sporting and governing bodies but sadly they receive very little or none at all. Rather than just fish another standard match which will attract all types and experience of angler Gary wanted to do something a little different, and after asking me I gave a few options for which he settled on a 2 team event incorporating as the match is called Northerners Vs Southerners, anglers from the Midlands have the choice of who they want to side with which has created personal battles amongst mates too. The event has grown from last year in the support we have received from some of the major tackle and bait companies along with a few friends that have also been very generous to contribute prizes, it's the hardest part of running a fundraiser as many are sceptical about giving out prizes especially to something that is relatively unknown and still in its infancy; but something we rely on to ensure that as much money raised is donated to the chosen cause. I am dumbfounded that something that started as a bit of a laugh has grown so much that we can even appear on the likes of Match Fishing Live and Tom Scholey & Matt Godfrey's very own Bagging Bro's until the past 2 weeks I didn't realise how much people were talking about it all over social media, can a fishing match really cause this much competitiveness' not on an individual level but from one where pride really does count.
The venue itself wasn't fishing at its best which is always a debate amongst anglers, after all we want to go to one of the UK's premier waters and everyone to bag up, but as with fishing at any venue this can sometimes prove difficult. The fishing was varied with some proving how good it can be whilst others found it really tough but most had an enjoyable day from what I have been told. There were many anglers from both teams who said they needed to do a bit more homework to get the most out of the venue while others got their methods and tactics spot on and one thing I have since found out is most of the Southerners are not taking it lightly this year and most are using it as a stepping stone to really take it to us Northerners in 2017.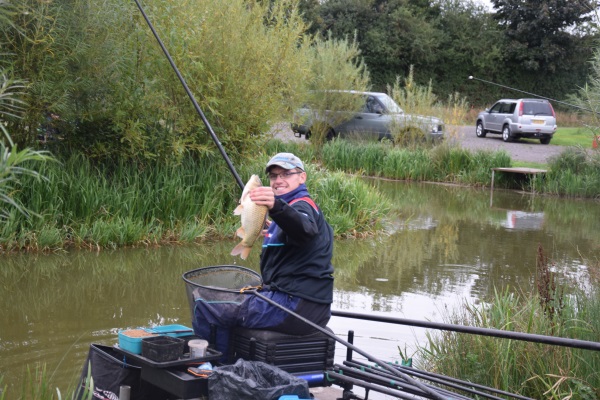 I was expecting certain lakes to produce the top weights but once the weigh-in was done they came from all over the complex, some sections were close all round others was very varied; even talking to the staff and Gary there were certain anglers who we all fancied to frame in the top 5 and for me one angler in particular was Jordan Holloway who drew on Extension and wasn't left disappointed when he came 5th from Extension 38 with 114lb 7oz. Maver Midlands Adam Rumble was the overall winner on the day drawing fancied peg 22 on Extension to put 153lb 9oz of mostly F1's caught shallow, Last year's runner up Ryan Shipp was ever consistent again to finish 3rd overall from new pool 38 with 115lb 9oz; In fact there was only 1lb 2oz separating 3rd through to 5th so 1 more F1 would have swung it for them.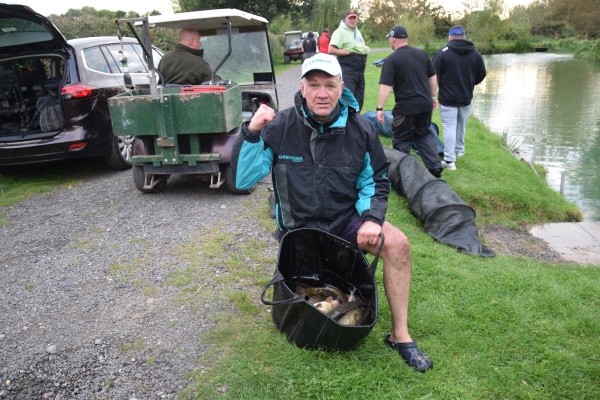 The pay-out consisted of the top 5 anglers and each of the section winners by default, and it was well a note that it was good to see some of our disabled anglers taking section wins with Tez Naulls most notably from peg 24 on Club Pool with a weight of 91lb 7oz, but also framing was Jon Weedon and Dick Clegg also taking some good weights 82lb 2oz and 76lb 2oz; and I couldn't go without mentioning the South's team captain scoring the lowest section weight of just 20lb 9oz well done that man Mark Eves.
As we always do also we make sure the Juniors are catered for too and this year it was a much more tightly contested affair with just under 13lb separating the top 4. Again for the second year running little Miss Maver Sarah Taylor took the top prize and winning yet another pole with a winning weight of 54lb 1oz, second again in the frame was Jake Alden running her close with 50lb 10oz, 3rd and 4th from a hard fished High Pool was Andrew Cranston 43lb 13oz and Josh Newman with 41lb 4oz Josh also claimed a section win too against some stiff competition.
The draw and the results is always the hardest part of the event for myself as I need to ensure it goes as smoothly as possible, and it doesn't always help when you have over 150+ anglers peering over your shoulder; but between Gary and myself plus the fishery staff we managed to work through the results quite quickly. I did the section placings whilst Gary worked out the points within each section, and members of the staff totalled them up and it was close, very close in fact only 3 points separated both sides something I wasn't expecting; I knew it wouldn't be a walk over like last year for us Northerners but to be within 3 points was unbelievable.
Well I had the honour this year of presenting the trophy, but in true NvS fashion of the where the banter never stops I called up Mark Eves to hand the mutual handshake trophy to him only for him to give to my own team captain Emma Pickering as once again us Northerners remain victorious and undefeated in the much acclaimed epic battle of the year. We remain the victors but I must say its only spurred the Southerners on to come back fighting harder in 2017, something we will make sure is even more hotly contested as we are looking at improvements and one thing I am being told to do is run it over 2 days which will not only make it more interesting but also give the local pubs a bigger headache listening to the friendly banter, but more importantly to raise even more for the teams at the same time.
I would like to say a big thank you to Gary Bull for starting all this, a match with a difference something our sport desperately needed, also a huge thanks to my travelling partners Tony Ralph and Matty Tuttle for keeping pretty much everyone who stayed over at Tunnel entertained over the weekend.
I can't leave without saying a huge thank you to our supporters this year, we have had some fantastic prizes donated and each of them we will be sending personal thank you from all of us at the NvS and the anglers who make this event possible. And a massive thanks to Jon Hilton and his team who support us with medical cover and lifeguards that constantly walk the banks throughout, although I think he might have to cam up one side of the van so it doesn't put the fish off in his swim as clearly only 5lb of fish weren't scared of the big yellow ambulance.
- Shimano/Normark UK (Graeme Douglas)
- Browning UK (George Kenrick)
- Dynamite Baits
- Dennis Lee (ZT Hooktyer)
- Maver UK (Sarah Phoenix)
- Preston Innovations (Frankie Gianoncelli)
- Bait Tech (Hayley Goldsmith)
- Frenzee (Andy Oldham)
- MAP (Mike Robinson & Matty Pillay)
- GURU (Pemb Wrighting)
- Bob Nudd (Coaching Day for 2)
- Amer Jawad (Coaching Day)
- Emma Pickering (Coaching Day)
- Ringer Baits (Phil Ringer)
- Gold Medal Groundbait (Clive Branson & Anthony Sneyd)
- Darren Millis & Michael-and Lola Homer @ Angling4Heroes
- Jake Alden
- Stinky Stuff (Mark Potter & Warren Douglas)
- Kevin Jury
- Alan Lee (Miracle Baits)
- Fishing Republic
- The staff at the Durham Ox pub in Shrewley for not kicking us out!
And finally Mike, Sarah Underwood and the staff at Tunnel Barn Farm Fisheries
Details of next year's event will be published once we have sorted dates with Tunnel and will be found at www.nvs2015.wix.com/mysite or on our Facebook page www.facebook.com/groups/www.nvsfishing.co.uk/ so stay tuned.
Top 5 Individuals
| | | | |
| --- | --- | --- | --- |
| Pos | Name | Weight (lbs) | Lake & Peg |
| 1st | Adam Rumble | 153lb 9oz | Extension Pool Peg 22 |
| 2nd | Brad Parks | 133lb 10oz | High Pool Peg 48 |
| 3rd | Ryan Shipp | 115lb 9oz | New Pool Peg 38 |
| 4th | Mark Malin | 114lb 8oz | Bottom Pool Peg 30 |
| 5th | Jordan Holloway | 114lb 7oz | Extension Pool Peg 38 |
Top 4 Junior's
| | | | |
| --- | --- | --- | --- |
| Pos | Name | Weight (lbs) | Lake & Peg |
| 1st | Sarah Taylor | 54lb 1oz | Extension Pool Peg 9 |
| 2nd | Jake Alden | 50lb 10oz | Top Pool Peg 8 |
| 3rd | Andrew Cranston | 43lb 13oz | High Pool Peg 8 |
| 4th | Josh Newman | 41lb 4oz | High Pool Peg 16 |
Section Winners
| | | |
| --- | --- | --- |
| Section | Name | Weight (lbs) |
| A | Noel Wright | 68lb 8oz |
| B | Aiden Mansfield | 86lb 10oz |
| C | Emma Pickering | 74lb 6oz |
| D | Alex Harper | 82lb 1oz |
| E | Tony McGuire | 98lb 4oz |
| F | Frankie Gianoncelli | 58lb 11oz |
| G | Jon Weeden | 82lb 2oz |
| H | Dave James | 96lb 15oz |
| I | Joe Carass | 71lb 2oz |
| J | Darren Hewitt | 76lb 5oz |
| K | Sam Sim | 73lb 9oz |
| L | Paul Brandrick | 93lb 5oz |
| M | Dick Clegg | 76lb 2oz |
| N | Pemb Wrighting | 96lb 11oz |
| O | Tez Naulls | 91lb 7oz |
| P | Geoff Edwards | 73lb 10oz |
| Q | Ben Townsend | 81lb 12oz |
| R | Josh Newman | 41lb 4oz |
| S | Mark Eves | 20lb 9oz |
| T | Dave Burley | 78lb 9oz |
Team Results
| | |
| --- | --- |
| | Total Points |
| Northern Team | 436 |
| Southern Team | 439 |
WINNERS NORTH VS SOUTH 2016:
The Northern Monkeys