One Line To Catch Everything!
Jamie Hughes explains how a single-minded, catch-everything approach can be the key to match wins this winter!
For this month's feature, I'd like to talk about something that is becoming increasingly popular on commercial fisheries, and a method that I really look forward to using once the weather begins to cool.
Approaching a commercial with a 'fish for everything that swims' approach can lead to an awesome day's sport and is also a brilliant way of remaining consistent during matches when the carp aren't feeding quite as well as during the summer months.
Over the years there have been many pieces written about combining a carp and silvers approach during matches; usually a case of catching a few lumps to begin with then topping up with a weight of silvers and finishing with a few more big lads late on.
While this is undoubtedly the correct way to approach some venues (generally those where the carp are a large average size), at most fisheries that I visit regularly, such as Weston Pools and Lingmere Fishery, simply fishing one or two lines and catching whatever fish come along for the entire session can be almost unbeatable!
Now, I must stress that for a mixed species approach to work you need to be fishing a venue with a good stocking of different fish. Both of the venues I mentioned are home to a huge amount of carp and F1s but they also have an extremely high population of what I would like to call "alternative species" such as tench, barbel, crucians and, most importantly, ide.
In general, these species are a good average size so catching them for an entire session can still lead to a good weight and with the addition of a few carp a match-winning net can be caught in the easiest possible way.
For demonstrating this tactic I've come back to my usual haunt of Weston Pools and the awesome Canal Pool, where I intend to fish just one line for the duration of the short session.
Now before I go into the usual rigs, bait and feeding details, I would like to go over my reasons for choosing just one line of attack.
Firstly, and possibly the most important factor, is what I wrote about in the October issue of this magazine: COMPETITION between fish is vital if you want to get the most from any peg, so by feeding just one line I should have a much larger group of fish in my chosen area than if I was to feed several swims and split the fish up into smaller groups all over the swim.
Secondly, by having all of my attention focused on the one area it is much easier to gain an understanding of what fish are present in the peg, how they are feeding and the best ways for me to catch them. My theory is that different species of fish will enter the peg at different points in the session and each must be fed and fished for in the correct way.
The Session
With the weather still being good my chosen line for the session was at seven metres, for the sole reason that I could feed casters that distance accurately by hand, meaning I can group my feed much tighter than if I were to fish longer and require a catapult to reach the area. As the temperature falls and the colour drops out of the water I would have no choice but to feed my lines further out, as fish would be reluctant to venture close to the bank.
I believe that the tighter I can group my bait the better, as there is less chance of missing out on fish that are hanging off the main feed due to stray baits landing elsewhere. Also, competition between fish is increased as they tussle to feed in the tight area.
Choosing what bait to feed for this method could not be simpler – maggots, casters and worms are pretty much the only three options and I will choose a bait depending on the conditions and how I expect the fish to feed.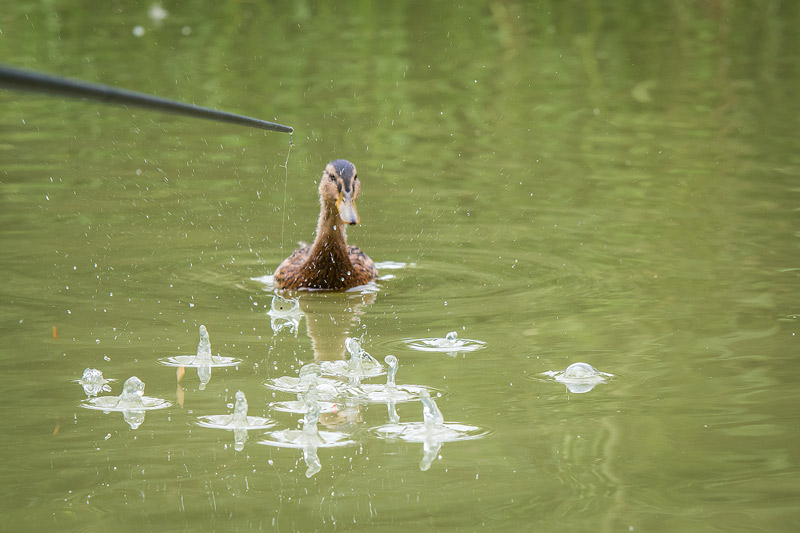 The fish weren't the only ones attracted by Jamie's bait!
Maggots
Possibly the most common choice for feeding short, maggots are my choice in the coldest weather or when fish are likely to feed at all depths. Due to their slow-sinking nature, they work brilliantly in attracting new fish into the peg and help to bring fish such as ide off the bottom on warmer days, where they can be caught faster.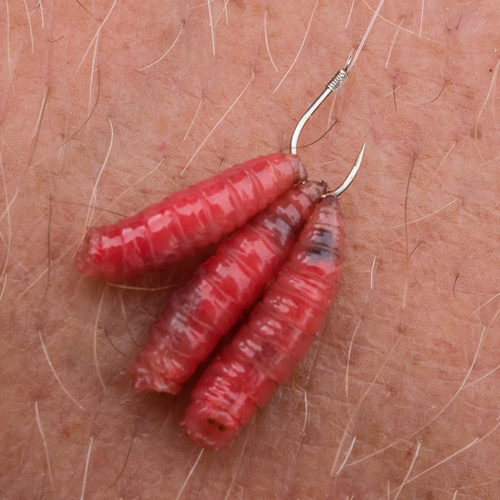 Three maggots make a brilliant change bait.


If I intend on cupping my feed then maggots are my only choice, but when loose feeding they can be a little difficult to group tightly at distance or in windy conditions.
Worms
This tends to be my bait choice during the summer when I want to catch fish on the bottom. While they can be brilliant for catching F1s shallow when thrown in a slop, for other species they are best fed in a soil mix and by a pole cup.
Casters
These are my choice for today's session. Casters have all the same properties as maggots, with the added bonus of being heavy. They can be fed very accurately by hand in all conditions and make a lot of noise to attract fish; they also sink faster than a maggot, which helps to keep fish on the bottom.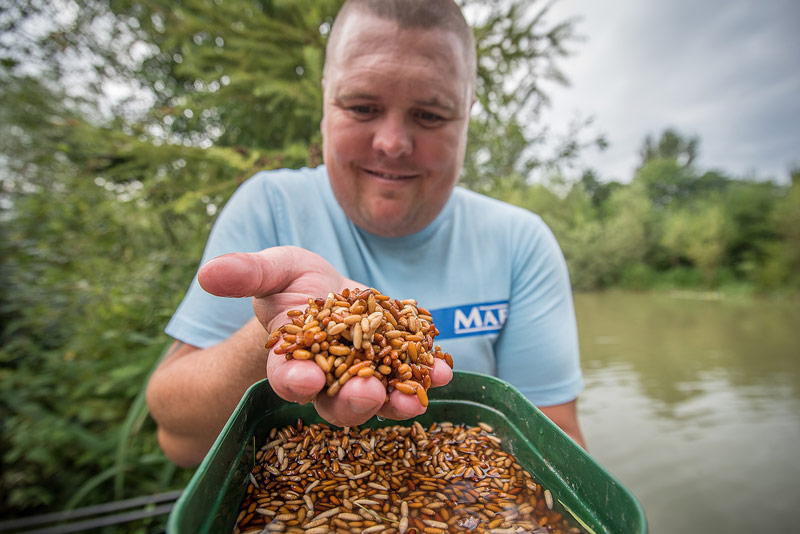 Fresh casters, and plenty of them!


Rigs
As always, I have as few rig options as possible but will always have a couple of options to present my hook bait in different ways. In a similar way to how I fish hard pellets for carp, I have a slow-falling rig for when fish such as roach and ide are present in the swim and are feeding through the water. In today's case, with the peg being five feet deep, this is a 4x12 slim carbon stemmed float shotted with No11s spread throughout the entire rig.
My second rig is a heavier 4x14 float, shotted with a bulk 15 inches from the hook and two No10 droppers. If I am waiting for bites and there are no signs of fish feeding off the bottom, then my time is best spent on this rig as it settles far quicker than the light rig, which saves a lot of time each cast and also is a lot more stable and keeps the hook bait still on the bottom.
Hooks, line and elastics need to be tailored to the size of fish and conditions on the day. Generally, a light hollow elastic combined with a 0.10mm to 0.12mm hooklength and light-gauge wire hook is perfect.
The Session
The key to making the most of my peg is to be using the correct rigs at the correct times, depending on what species are present. The amount and timing of my loose feed also needs considering carefully. For this session I planned on feeding everything by hand and began feeding around 10 casters every 30 seconds; this allowed me to pull lots of fish into the area without giving them too much feed.
For the first period my light rig was ideal and several chunky ide were caught just after the rig had settled. I find that at most venues ide are first on the scene and just like perch, gorge themselves on as much bait as possible. This seemed exactly the case today as after 45 minutes I have a good weight but bites quickly slowed, the ide disappeared and were replaced with some crucians, carp and barbel.
Swapping rigs allowed me to make the most of this change, as did cutting right back on the regularity of my feed and a pattern quickly emerged, showing the ide were continually re-entering the peg in small groups throughout the day. Their arrival was signalled by several missed bites on the heavier rig, but by swapping over to the slow-fall rig I could catch several before they backed off and the other species moved back in.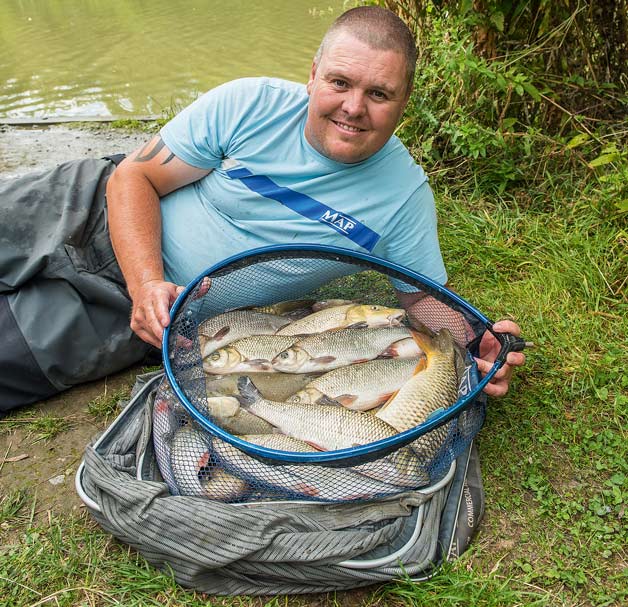 A nice bagful of ide, with a good helping or barbel F1s and carp mixed in.


On the day it was also vital that I fed in the correct way, depending on what rig I used. Ten casters every 30 seconds was right for the light rig, while changing to 30 casters every two minutes was far better and stopped any false bites when using the heavy rig.
In just a couple of hours, I put together a decent weight that would be well on the way to a winning weight here at Weston. I swapped rigs several times over the session, which I believe has maximised my fishing time and also made the most of the short feeding spells of each species. Of course this method isn't the way when large weights of carp are needed to win, but in the tricky days of autumn you will more often that not outscore those applying a more selective approach and without doubt have a much more enjoyable day's fishing.

Angler File -

Name: Jamie Hughes
Age: 32
Lives: Wirrell
Sponsors: Map, Bag 'em Matchbaits


Venue File -
Venue: Tri-Cast Weston Pools
Location: Weston Pools, Oswestry, Shropshire, SY10 9ER
Number: 01691 671812
Website: www.weston-pools.co.uk
Like what you see?

Or buy a single issue