Punching With Perch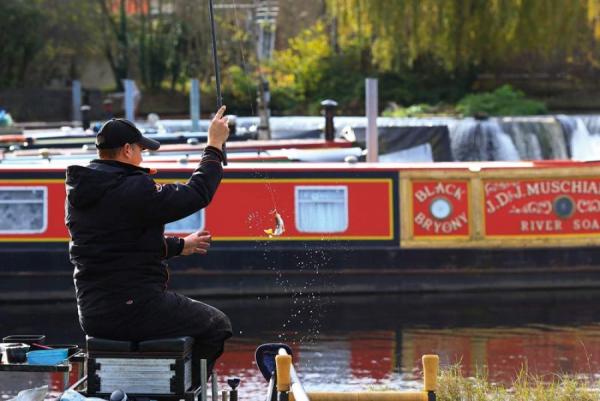 Words and pics: Steve Haywood
River master Joe Oakes visits the River Soar to demonstrate how to put together a match-winning weight of perch.
Perch are abundant in natural venues and regularly take part in the weighing-in ceremony, sometimes in the starring role or maybe a bit part in a well-rehearsed silvers' onslaught, but on some days they can be the saviour of a very difficult day.
But how much attention do we give the perch? The role they play is definitely forced by the matchman's hand and it's the specifics of the venue and a careful nod to the conditions that will determine their appearance.
Today we are on the River Soar in Leicestershire and here the perch will always figure to some extent in match weights, and Middy's Joe Oakes is certainly a fan. Over to Joe…
I'm sat on a probably not-so-typical Soar peg today in respect of its geography above the water; it's wide to my right and there are boats in front, but under the water I think the quarry will be very similar to that in many pegs along this river. For this session I am going to solely target the perchy residents that from experience I know are in here.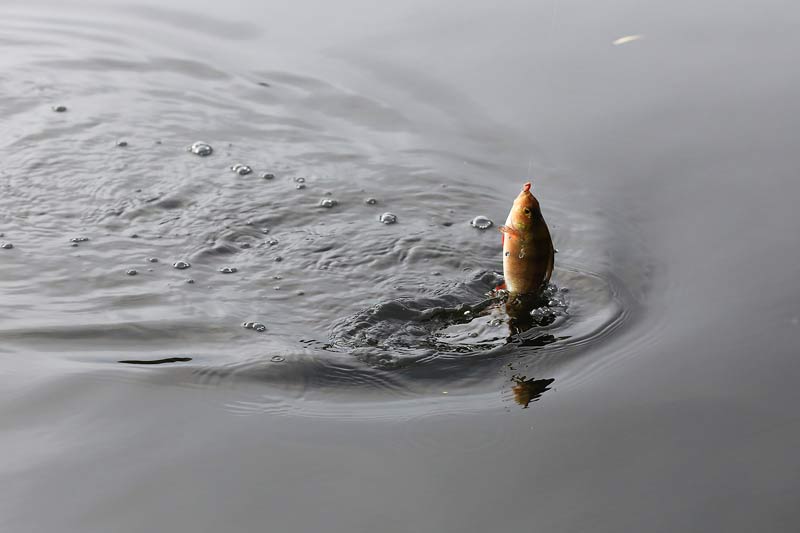 It is unlikely that this sort of blinkered tactic would be a stand-alone match plan, but by doing this today it will give me the opportunity to pull apart the tactics and apply some logic and hopefully get a better understanding of this popular species.
I've got plenty of water to go at today but a good initial hunt around with the plummet reveals the options may not be as plentiful as at first seemed. We have had a few frosts to date but temperatures haven't really plummeted for any length of time and this means there is still weed present on the bottom of the river, so the mission is on to find some clear, weed-free areas.
For me these clear areas are important in all respects when presenting a bait, even a great big worm, and if you can do this on a clean river bed you will get more bites. As I bounce the plummet around I can feel the soft impact revealing the weedy areas, and after a good search around I've got three main areas to target. The water is clear as there hasn't been any rain for a while and the other effect of this lack of rain is the absence of any real pull on the water, so this will make fishing and feeding in the chosen areas much easier.
My lines are at 14 metres in front of me over to the boats, 14 metres to my left in the deep water and 11 metres to my right, and with an occasional drop in on a 5m line that's got most of the swim covered. Then it's just a case of rotating around these areas and getting a feel for what's on offer.
With the short 5m line, if I'm catching on the others I won't touch this until the last half an hour, when this line is renowned for throwing up some bigger fish. I think this is always more likely if it's not been fished throughout the day. In normal match conditions it's unlikely you will adopt an approach like this in its entirety, at the expense of other species, but certainly a couple of viable perch areas need to be identified depending on the venue, conditions and form.
Baitwise its obviously worms, with a few worms, and of course some more worms just in case! These will be in the form of both lobworms and dendrabaenas, and I will have some casters to add to my loose feed as well. For my hook baits it's normally a section of dendrabaena as this will catch me not only the bigger specimens but hopefully keep a steady stream of smaller perch coming as well. The option to go bigger with the lobworm is there and I normally leave this until later in the session when I've got a better idea of the sort of stamp of fish that are about.
With the worms I am a fan of giving the worm a nice clean cut with scissors to get my section and then hooking them like a maggot, as this is neater and leaves the hook showing nicely. Feedwise I will start each line with a pot of chopped worms, mainly lobworms with a few dendrabaenas and casters, and the reason for the pot as opposed to a baitdropper is mainly down to the lack of flow here today. The water is also quite shallow at about five feet, so no need for a baitdropper to deliver the worms to the riverbed as you would with more flow to stop them littering all over the swim.
The routine is simple: pot and fish. As a line starts to fade, pot a second line to get some interest before you switch and you are aiming to rotate between these lines. Once I think a line is fading I will make that switch rather than re-feed that line, and this gives it time to settle without forcing, as a forced line can often be counterproductive. You need to strike a nice balance with this feeding; just enough to keep catching and not too much so as to completely destroy an area.
This sort of regime is very specific to each peg you fish and every day is different, and experience does play its part, especially in knowing when to switch. That's the simple bit really and I think other factors play their part as well, namely things like air pressures and light levels are the prominent ones.
Perch fishing, as with all species I suppose, can be a very moody affair; just as bream feed better with colour in the water the perch will favour the light conditions and with the water being clear and moderately shallow the light penetration dictates mood, and this has been very obvious today. On more than one occasion as some cloud cover moved over a succession of small perch were finding the net, and this happens too frequently to ignore so for me it's a big consideration.
With regards to my rigs for perch it's very basic and I think that's all it needs to be, the only consideration being to nail the bait down. Here a 1g float shotted with an olivette and a couple of droppers is fine, and also a reasonably big float helps when lifting and dropping the bait. Giving the worm some movement will often arouse the fishes' predatory instinct and promote a bite when the swim appears to be empty, and today a good number of fish have fallen to this tactic.
Likewise for hooks and lines, there's no real need for stealth so Middy Lo-Viz 0.16mm to a 0.14mm hooklength and a size 16 hook is fine, and this gives a bit of a cushion if a bigger fish turns up.
I've had a good, productive day and ended up with double figures of perch; no specimens however, but on the matches here these would be very welcome and it's highlighted a few things along the way, mainly to stay busy moving around your lines and pay an unusual amount of attention to the light levels.
Today's session is pertinent in respect of the matches on here at the moment, and when you look at this net of perch it would nearly always be well up in sections so you have to pose the question: is this a viable method for a full match?
Also, when I factor in some of the frustrations on clear rivers in respect of pike activity, and the problems they are causing when I'm fishing for silver fish, this perch approach starts to make even more sense. I think you have to give reasoned consideration in a match when deciding when to have a go for perch – that is if you can fit it in with all the other considerations needed to get the most from a peg – but it is all in the timing. A switch in tactics at the right time will always trump a move at the wrong time anyway.