Reservoir Feeder Fishing - Sean Cameron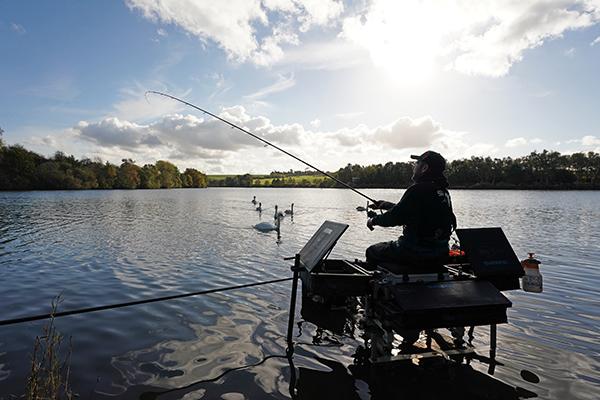 Reservoir Dogs
Over the past decade, feeder fishing has seen a real resurgence. I feel this really came about after the first Feeder World Champs. Things have also been improved due to Ireland coming back 'online' too in some sense. It seemed to lose its appeal for a while, but now more and more is going on festival-wise, and more anglers are travelling over the Irish Sea to sample the craic and the awesome fishing on offer.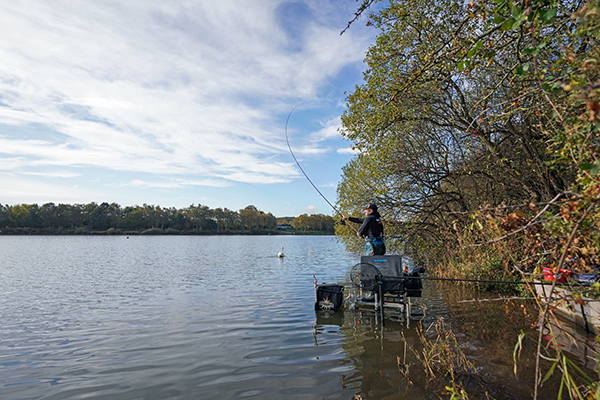 With that being said, when these anglers come back many are looking for UK venues where they can continue this style of approach. Venues like Southfield Reservoir, Dam Flask, Ferry Meadows and today's venue, Ulley Reservoir near Sheffield, have all gained massively in popularity over the last few years.
This is great news for someone like me as I love this style of fishing and, like many others, I also travel to Ireland every year.
The other part of the rise in popularity of feeder fishing is slightly bleaker, sadly. It is not like anyone wants to openly admit it, but there is a drop in the number of youngsters coming through in match fishing these days, compared to how things were when I was a kid. The lure of PlayStations and other online stimuli can easily turn their heads.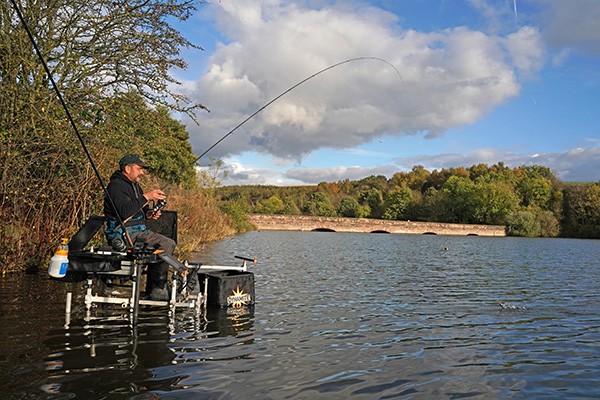 This means that, as a whole, match fishing tends to be made up of 'older' guys and feeder fishing is easier for these anglers to compete. Yes, there are a few anglers that excel in 'fish-race' F1 fishing, but most (me included) find no joy in this style of fishing and so feeder fishing offers something a little more sedate.
A great example is the lovely Geoff Ringer. He is a legend on Ferry Meadows as he's won dozens of matches there. This is because it is big water, big fish fishing, so it is at a much slower pace, and all can compete and compete confidently. All you need is two rods and you're good to go!
The Big Water Mind Set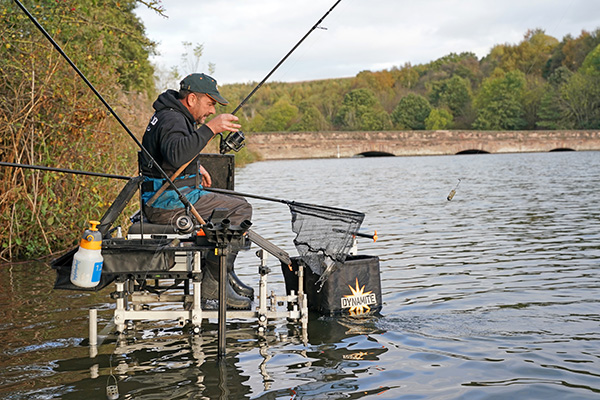 Ulley Reservoir is around 35-acres in size so in the scheme of big waters, it's not all that big. The main difference with Ulley is the depth which is on average around 46-feet or so! This means that you need to approach it in the right way to do any good.
It's not like chucking a Method feeder to an island at Lindholme, big waters like this bring a whole new set of problems. As the water is much larger and deeper, the fish are more spread out or tend to be in certain areas. Therefore, you need to do two things really. Firstly, look for the depth that the fish are feeding at and secondly, make sure that area is clean.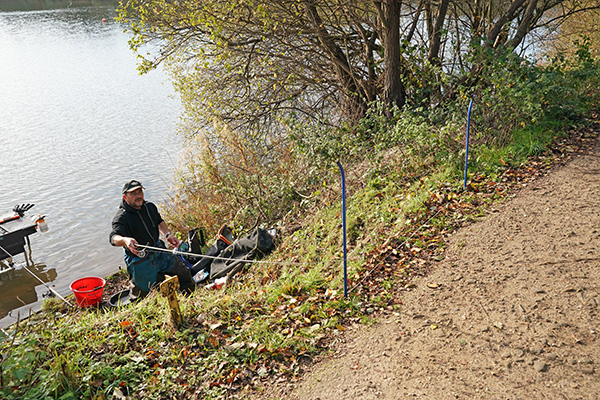 To do this I use a 1.5oz bomb. This will sink at a rate of approximately 1.5 feet per second, so if you have a count of 10 you know that you're in around 15 feet of water. Today, I have a count of 13 which puts my bait at just around the bottom of the slope.
The slope here is quite abrupt and to give you an idea, I have a count of 13 at 48 metres and a count of seven at 30 metres, so it does drop off quite quickly at this end of the reservoir.
Ideally, I'm after bream on the long line and silverfish on my shorter line and this style is very similar to the way that I fish in Ireland. I look for roach and possibly hybrids on the short line and bream on the longer line. The other reason that I'm fishing at these lengths is that experience has shown that at this time of year at Ulley, the fish tend to sit and feed between a count of 11 and 14.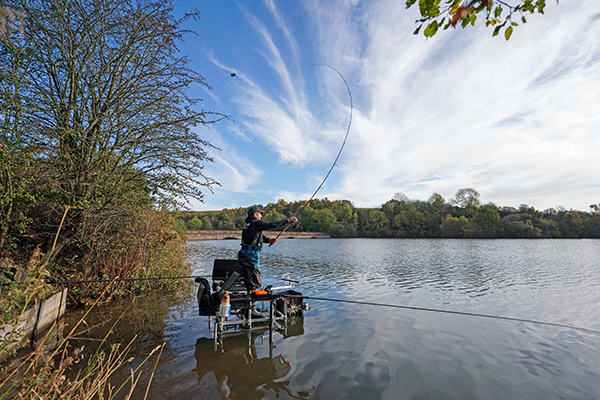 As I have a count of 13 at 48 metres, I have also clipped up my reel at 50 metres. When the bigger fish feed they waft loosefeed down the slope so if they do back off, I can add a couple of meters to my cast and reach the area where they are now feeding. My inside line is quite standard, and I treat it as a straightforward silverfish line, making regular casts to keep the fish feeding.
Kicking Things Off
On the short line, it is a simple case of casting every two to three minutes or so, as I'm looking to get plenty of bites from the off. This is usually with a mixture of groundbait with a pinch of dead reds, live pinkies and casters mixed in with the feed. I'm looking for roach, skimmers and perch on this line, so the bites are generally quite quick and aggressive.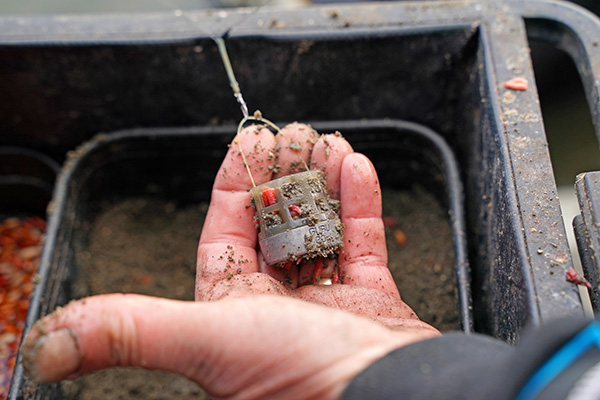 The long line however needs a slightly different approach. Here, it takes a count of 19 for the feeder to hit bottom. The feeder I'm using is a 40g Guru Bait Up feeder filled with groundbait only and the mix is 50:50 of Sweet Fishmeal and Dynamite Swim Stim Silverfish Black.
The next four casts I strike out the groundbait at a count of 17 and this allows me to form a slight carpet of feed for the fish to graze over but one that is not too large. The final cast is very particle heavy, consisting of dead reds, pinkies, casters and corn. This is struck out at a count of 14 so that the particles slowly drift down, hopefully pulling any fish that are mid-water and lower, down to the bottom to feed.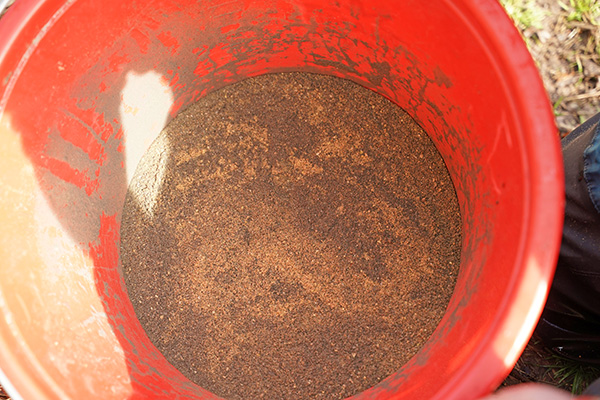 The Short Line Set-Up
For my short line I'm using an 11-foot Shimano X7 Precision feeder rod. This is paired with a 0.10mm Shimano braid on the reel. This might seem a bit overkill for short range silverfish fishing, but I find it really helps to exaggerate the bites, plus I can leave my tip a little slacker too. I do have an 8lb shock leader attached which is a rod length plus six turns of the reel handle.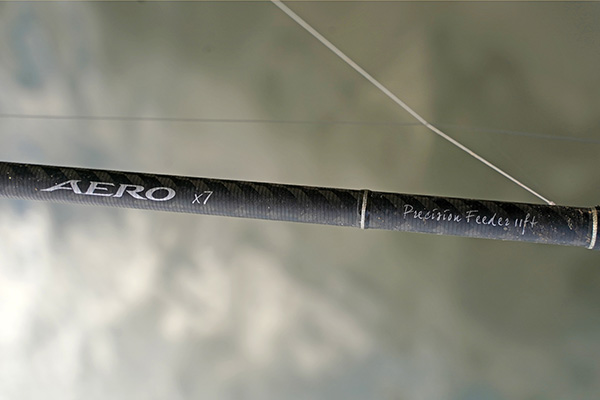 This means that when the knot goes through the rod's rings and onto the reel, I know I have exactly six turns before I can swing the fish to hand. This is something I have always done when fishing in Ireland.
The feeder is set-up on a Guru Feeder link, secured by two feeder stops down to a length of twisted line. The feeder itself is nearly always a cage feeder as this allows for a column of bait to come out as it's descending helping to draw the fish down.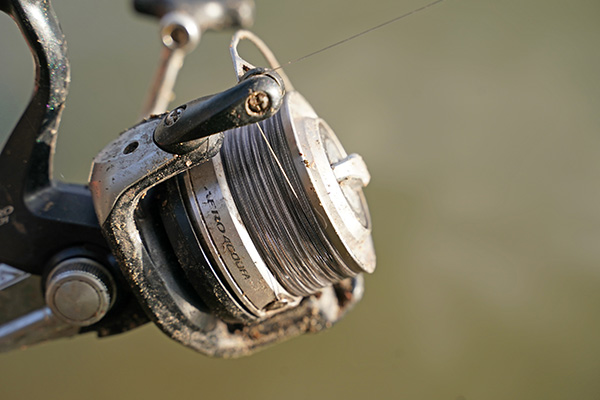 Generally, I'm looking to cast every two to three minutes, but on occasion I will sit on my hands to see if any bigger fish will come along assuming I've not had a small fish bite before then.
You will usually get a bite within three minutes, but if not, I'll extend it slightly so that I find a pattern of when the bites generally come. The feeder is packed with a mixture of groundbait and pinkies, dead reads and casters. On the hook I like to use a mixture of maggots, casters or pinkies in various combinations to see what works best. Normally, I like to fish on this line for around an hour to allow my 'big fish' line time to settle.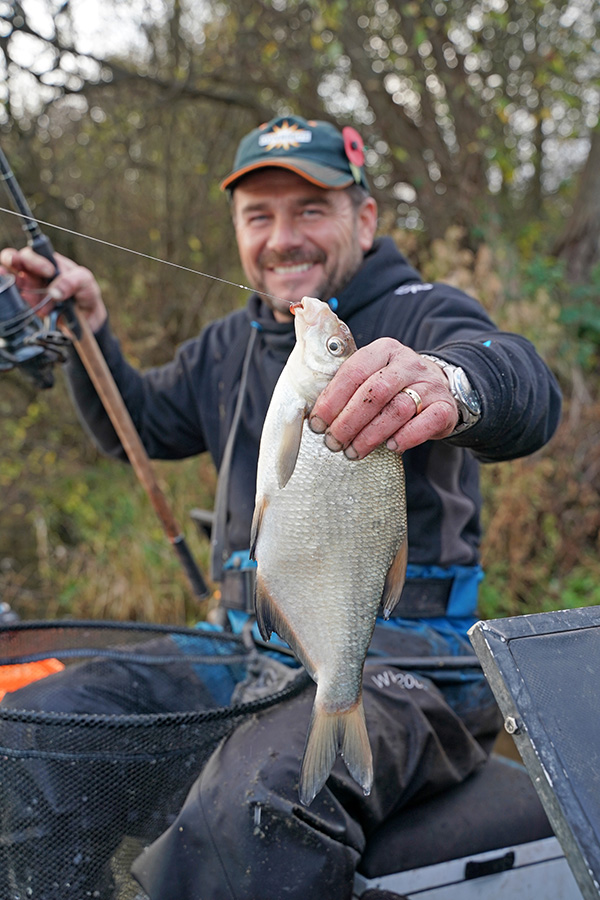 The Long Line Set-Up
As I'm looking to cast that bit further, I use a 13-foot Shimano X7 Distance feeder rod with a 5000 reel, again loaded with the same braid as the short line. Again, I have a shock leader, only this time I step it up to 12lb. The feeder is attached with a Guru link and stopped with feeder stops.
For years I was always a big believer that smaller and lighter is better, but over the last few years I've found that using heavier hook link and bigger hooks tend to put the smaller fish off. Also, the thicker line sinks slower, which is ideal in Ireland where you are often fishing with bunches of popped-up maggots.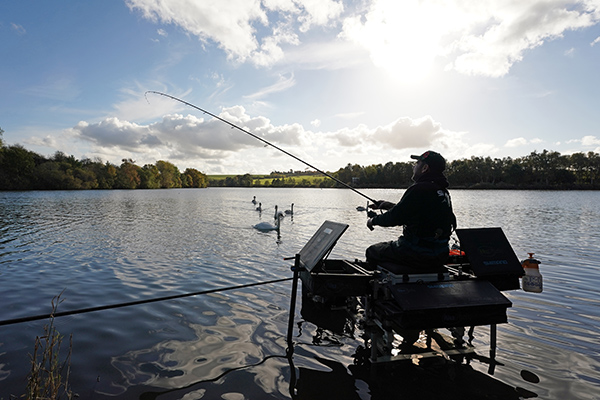 This gives you a longer hangtime in the water, so the fish have more time to see it. Also, the thicker line is more robust and less prone to tangles.
My hook link is 0.17mm Shimano Silk Shock to a size 14 Guru Match Special. These have a straight point, which I like for maggot fishing. If the bottom was rockier, I'd opt for a Feeder Special with an in turned eye that is less likely to blunt on the stones.
My feeder choice for the long line is always a window feeder, which I like to draw back a hook link length once on the bottom, so the loose feed is left in a concentrated area with the hook bait right over the top of it. A window feeder gets the loose feed on the deck very efficiently.
As the big fish didn't want to feed today, I swapped over to a cage to try and make something happen. But, if the bream had fed, I would have swapped straight back to a window feeder to get them hard on the deck. Feeder fishing is much more technical than many anglers give it credit for.
The type and style of feeder makes a massive difference to your catch rate on the day and even things like the noise they make when they enter the water can make a big difference on a certain day too.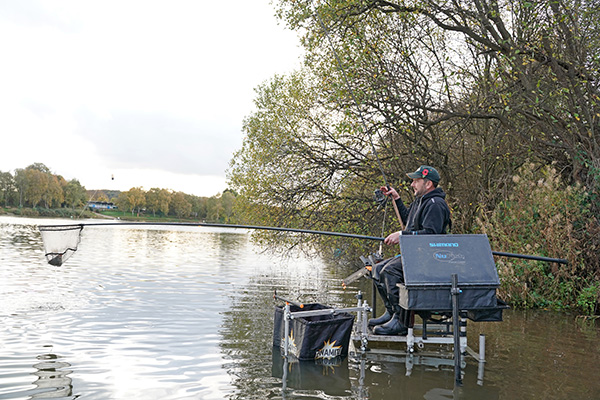 For some reason there seems to be roach at all levels today and it is proving hard to get through them. That said, it is very sunny with high pressure, so not the most ideal bream fishing conditions. As the roach are very active, it means I need to feed a lot of bait too as they will tend to eat a lot of it.
But, if the skimmers do turn up in numbers, they will soon bully the roach out of the way. This is why I like to put a few grains of corn through the feeder so there is always a few bigger bits of food around for the bigger fish. Regards casting, the longer line is fished a bit more sedately compared to the short line.
I look to cast every 10 minutes as a maximum, but hopefully I will have had a bite before then. Therefore, I use a stopwatch so that I can quickly identify any patterns regarding bite time. If the bites are all coming at five minutes or before, there's no point leaving the feeder out for more than six minutes until you recast.
With bream fishing, you don't want to cast too often as that could spook them, but you also don't want to sit on your hands for too long either as they could have eaten the loose feed and left the area.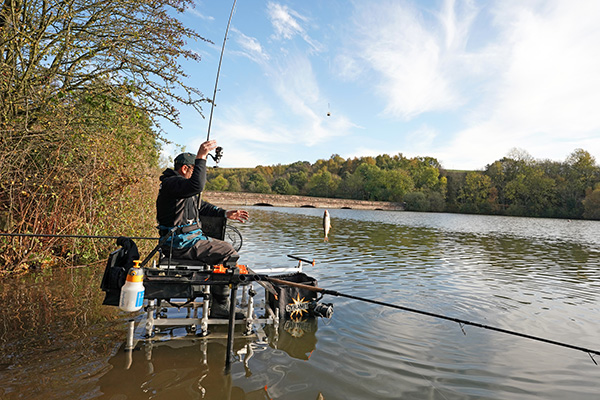 The Fishing
Regards the two lines, I start short after priming the long line, then after an hour I tend to have a 20-minute look on the long line to see if the fish have turned up. If not, I'll go back on to the short line for 20 minutes before looking again. This pattern is repeated until I get bites on the long line from the bigger fish.
Then if the bigger fish do turn up, it is a case of plundering that line as much as you can without spooking the shoal. In match conditions, it pays to look at what other anglers are doing to. If they are sitting it out, it might pay you to do the same? Every day is different regards feeder fishing, and the big thing is not to just sit there but make something happen instead.
Big waters look scary, but really, they are just another venue. If you fish them in the right way with the correct approach, you will soon get amongst the fish. That said, today, the bigger fish did prove me to be a liar, but that's fishing for you and not every day can be a Red Letter Day.
But following the tips and tactics that I've shown today, has seen me win more than my fair share of feeder matches over the years, both here and in Ireland.
You have to always remember that those 'reservoir dogs' are often just a cast away!