Review: Browning Sphere Silverlite Plus 14.5m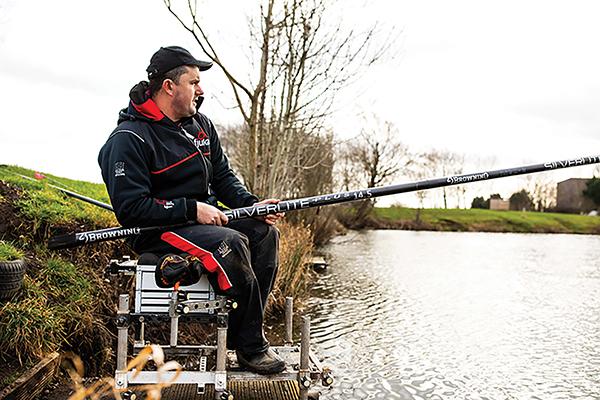 The Lite Fantastic
I have always admired Browning's willingness as a manufacturer to produce a niche product.
They know full well that sales probably won't break any records, but for the anglers who want a tool to do a specific job, then they pride themselves on making the best they can. Look at the Sphere whip, Hotrods waggler rod and of course their legendary Silverlite series of poles.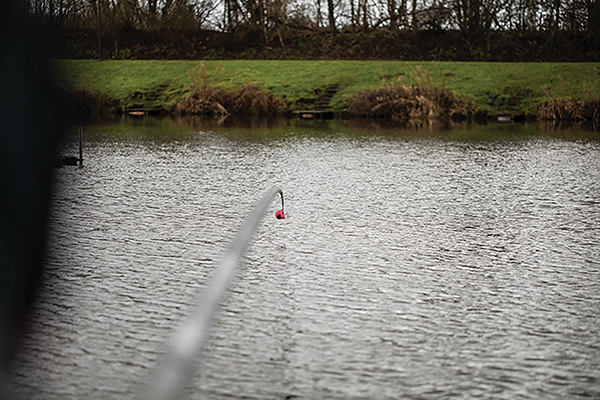 I remember getting out with the first model in this dynasty about seven years ago in my Pole Fishing days. I was blown away by not only its performance, but also its usability. For sure, it was a tool to do a job.
This new Silverlite is even better – and will be of particular interest to owners of Sphere poles, as this is fully interchangeable with all poles in the Sphere range. So if you owned a Sphere pole and wanted a sexy little something on the side for roach crunching then you know where to look…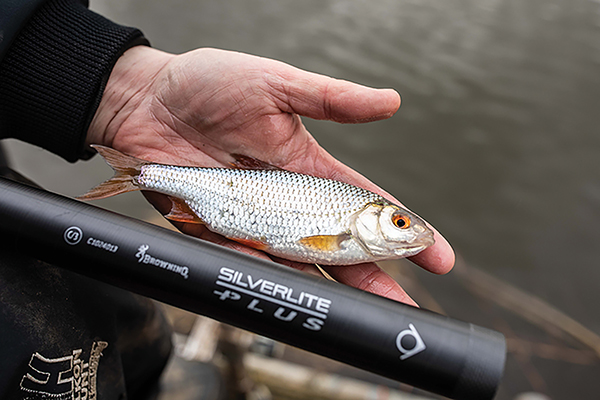 I took the Silverlite to Hallcroft for a waggle. A simple two-pronged attack at its full length of 14.5 metres. One side, I fished micros and a Natural Fjuka 2in1 Micro over the top. The other side I fed a nugget of joker and fished bloodworm.
Don't be deceived by the 'Silverlite' name – this is no namby-pamby French stick. As I put it together, I could feel the strength in key areas. Browning call these 'tactile precision points' – basically reinforced areas around the joints that give a reassuring grip when shipping and unshipping, or adding and removing sections.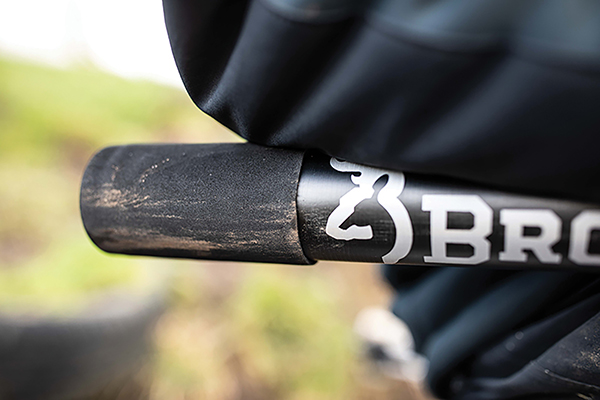 Then there is the SBP, or support bar protection, which is a new feature on this Silverlite Plus. This is around the base of the big sections and designed to make the pole better when fishing on bump bars.
The kit offering for the Silverlite Plus comprises three different types of kit. Firstly, there is a short, two-piece kit with a length of 2.75 metres. This is the perfect length if you just want elastic through one section, great if you want to swing fish to hand. The package contains five of these.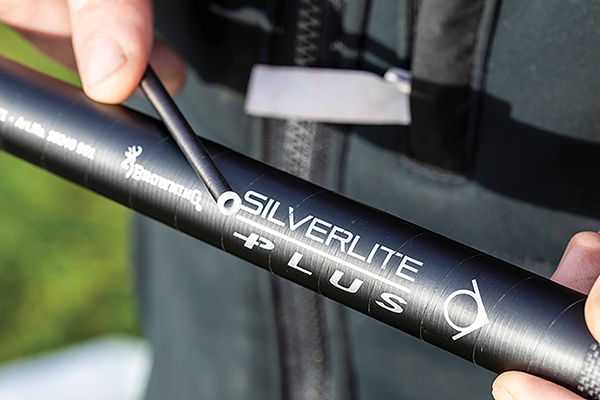 Also available are two different types of 5.7m kits. These are the Deepwater Kit and the Standard Kit. The Deepwater Kit is designed for power work (like fishing with heavy lollipop float rigs) and then the lighter Standard Kit, which comes in the pole.
All kits are fitted with a 3.9mm Teflon bush and feature reinforcement of both the A and B sections, allowing the installation of a Pulla bush. Light hollow elastics can also be installed without a problem.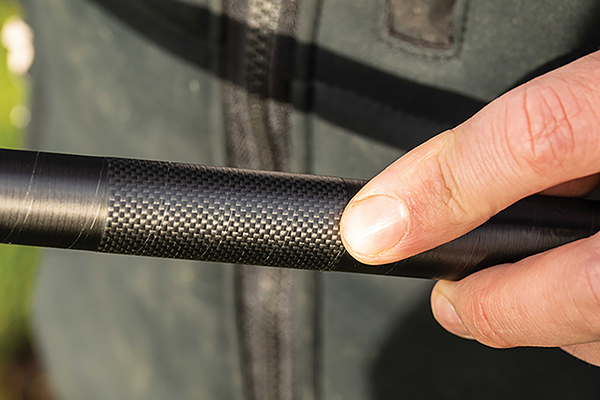 For me it was a standard kit with a single No5 elastic. At its full length the pole is as good as any I have ever felt. Light, stiff and ultra-responsive. I caught some roach first, deliberately striking hard and the pole recovered beautifully.
On the skimmer line, it was much more about using the stiffness of the pole to lift into the dinks and lifts on the float. Again, absolutely flawless. A joy to behold.
Package-wise, the pole is supplied in a trendy Browning red and black holdall, and comes complete with a cupping kit, a Uni C section (like a spare No4), the five two-piece kits and two 1m extensions. These can be used to gain extra length, or cut to size to make a true 13m pole in Continental rules situations.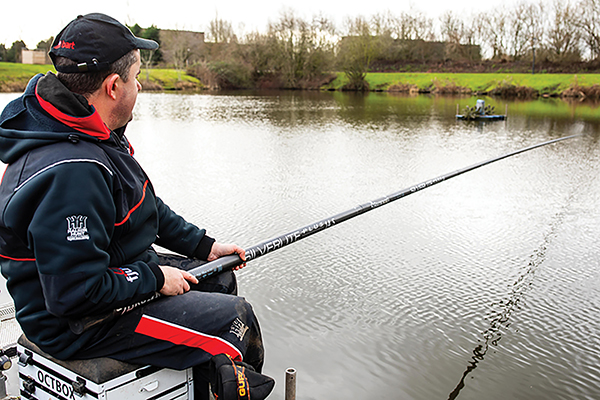 This really is a sublime tool, and if you are in the market for a 14.5m pole that is as good as anything out there then this is a great shout.
I almost feel the 'Silverlite' name doesn't do this pole justice either. It has more than enough poke to handle some F1 fishing, and with a 12 elastic rating it is in many ways perfect for this application.
Of course, for many people in the market a 16m pole will always be a preferred tool as it gives the flexibility of extra length when needed. It also has to be said that Browning's top-flight Sphere poles are stronger, and perform just as well at 14.5 metres, and they do, but they are over twice the price. So you really do pay a hefty price for that extra length and strength.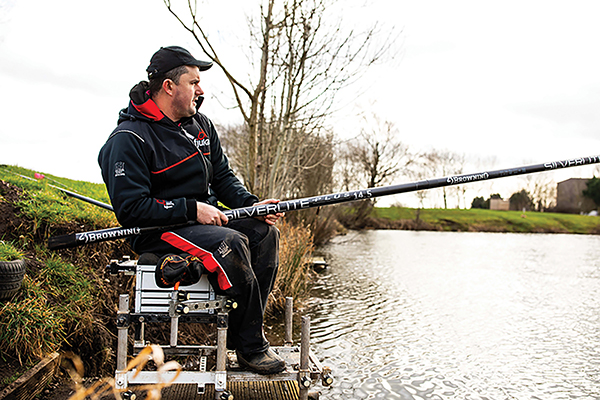 As I said at the outset, Browning has a unique habit of spotting a niche in the market, and releasing a beautiful product that perfectly fits the bill. This Silverlite Plus is just that. Make sure you check one out if you want a silver fish pole with a difference.
Package Includes:
5 x 2.75m Silverlite Plus Multi Top 2 Kits
Sphere Silverlite Uni C Section 2.75m
Sphere Silverlite Cupping Kit
Xitan Holdall
2 x 1m Sphere Silverlite 1m Extenders
SSP: £2,499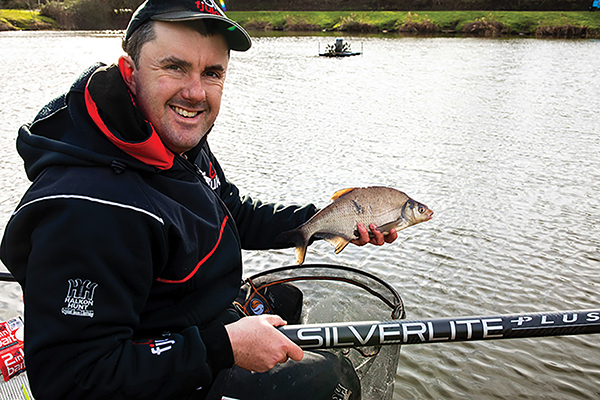 You can also see Bob Nudd in action using the Sphere Silverlite Plus in our recent video with the 4x World Champion!