River Bream On The Feeder - Darren Cox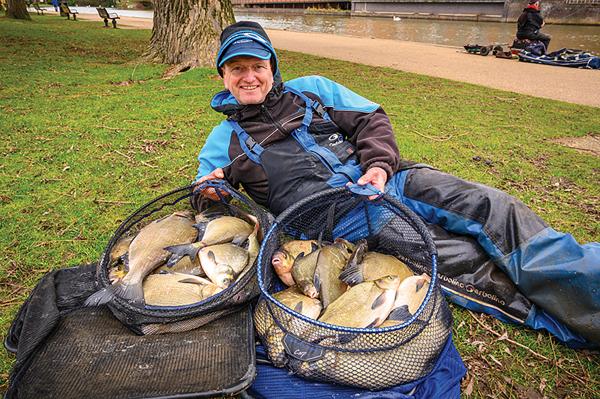 It's All In The Timing
As the river season progresses and the colder months approach, there are often 'windows of opportunity' in the weather. This can lead to some great fishing on rivers around the country.
If you can take advantage of any spells where the temperature is slightly higher than it has been, and even better there is also a bit of colour and pace in the river, then you can almost guarantee catching some fish.
Even on relatively cold rivers, with a bit of colour in you can normally rely on the bream and skimmers to feed if you can locate them. If you are on a match, and you know you are in an area which holds bream, then you would be crazy not having a swim set up to catch a few.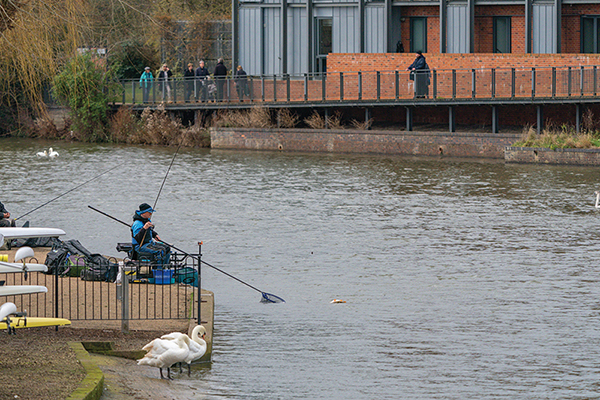 Today is one of those days. The weather had been freezing cold for some time, but strong south-westerly winds dragged rain in with them that was several degrees warmer than the air temperature had been for weeks.
The Warwickshire Avon had extra water in and the water temperature was 7.4ºC. For that reason, I headed to the famous Rec stretch in Stratford-upon-Avon. This is one of my all-time favourite venues in winter as it is so consistent with a huge head of roach, perch, and lots of skimmers and bream all around the Shakespeare Theatre pegs for several hundred metres.
Today the river looks perfect for bream so it is a one-rod job, and the feeder two-thirds to three-quarters of the way across. My setup is very straightforward with a Garbolino 12ft Essential Bream Feeder rod, which will easily cast the short distance, even in the horrendous wind today.
Because of the wind I have opted to fish with 0.12mm Garbolino Super G Braid main line. This helps me set the feeder up and keep it still on the bottom, even with the wind.
The flow on this part of the river is down my side, with very little movement across, but I use the flow to put a small bow in my line, which holds it nice and still in the wind.
I want to fish with the lightest feeder possible; this will help me get the feeder in quietly in the shallow four feet of water and not spook any fish. It also stops the feeder sinking into the silt.
Across this part of the river it is very silty as the canal drops a lot of sediment into the slack water here. I'm sure this is the reason the bream and skimmers love it here, along with the hundreds of loaves of bread that get thrown in for the birds!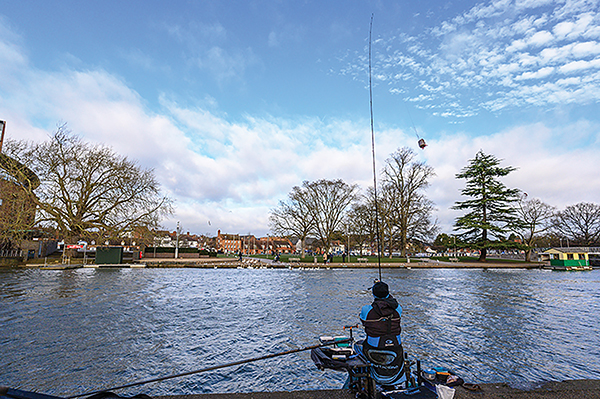 A careful plumb around with a 20g bomb helps me be sure the area I am planning to fish is relatively clear, but I can feel how silty the bottom is if I gently lift my rod as the bomb doesn't want to move initially. It is like that all over that side of the river, but the fish appear to love it.
There are lots of bream here, but it is very important to try to determine how well the fish are feeding at the start. Feed too much and you may blow the peg and spoil your day. By feeding smaller amounts at the start, I prefer to feel my way into the session.
A medium 28g Nisa plastic feeder is ideal to feed at the start. I prefer to put six or seven of these smaller feeders in rather than a couple of huge ones. This way I can spread the bait out a little and give the fish a bigger area to feed on.
In these initial feeders I add a good helping of casters and dead maggots, and then as I start to fish I will introduce chopped worms. This helps the fish find my feeder and hook bait, as well as increase the feed content according to the bite response.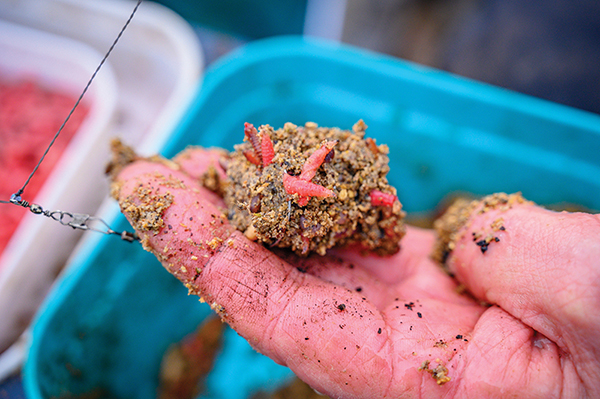 Chopped worm is really important in coloured water as it gives off a massive scent and lots of amino acids. It is one of the best baits in flood conditions, and so natural.
It is however, very important to vary the worm content according to the response. I tend to chop it very finely at the start to give the scent rather than a lot of feed, then if there are lots of fish feeding I will feed bigger bits to hold them in the swim.
My groundbait mix is very simple, I fish two parts Mainline Pro Active, which is a natural sweet mix, to one-part Mainline Sweet Marine, which is a potent fishmeal. Bream and skimmers love fishmeal, and I feel it helps keep smaller fish away especially on natural venues.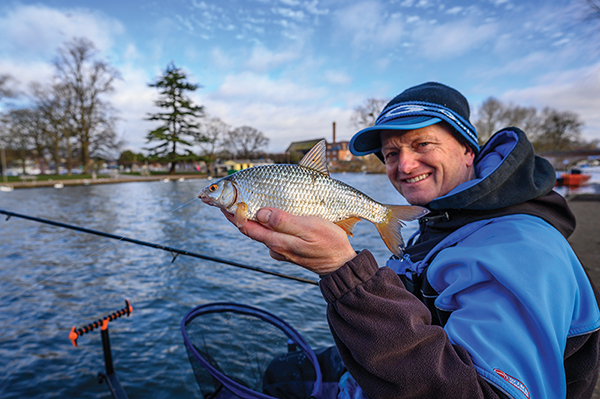 This protects my particles and keeps bait in the swim for the better fish to find it. My mix is quite dry because when I add dead reds, casters and chopped worm this will add a lot of moisture to the final mix in the feeder.
I can modify this as I feel is correct as the day goes along. If small fish are a problem I will wet the mix even more to deaden it. Feeder rigs are kept very simple, and whether I am on a river or lake I use the same setup.
My good old faithful 'twizzled boom' never lets me down. It's the perfect river setup whether you are fishing for proper bites or drop backs.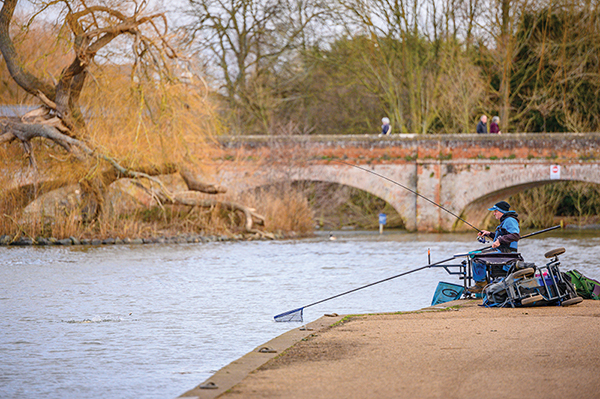 The feeder is attached to an American snap swivel, stopped by a Garbolino Glass Bead, which is fixed into the boom on the 8lb mono shockleader. The feeder runs freely on the outside of the boom.
I start with a 50cm 0.16mm Garbolino Super Soft mono hooklength, and a size 14 Garbolino Medium Match Wide Gape. It is very snaggy across with died back weeds and branches, and a heavier line helps here – there is no point hooking a good fish and losing it in the snags.
The colour also helps mask the line and hook size, and a big piece of dendra and a single red maggot soon cover the hook enough.
It is also worth mentioning the feeders. I like to use side loaded feeders on rivers as I feel they help keep the rig still, and I can often get away with a lighter feeder. I started on the medium Nisa, but soon switched to a four-square metal cage.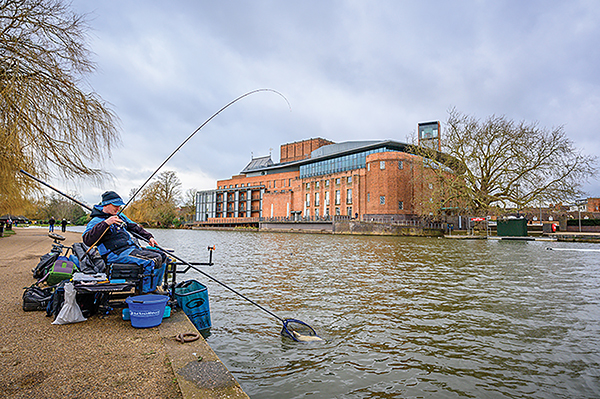 The water is so shallow with very little flow that I feel it is more beneficial to have the bait falling out of the feeder quickly as it hits the bottom, and a wire cage is perfect for this. I have added an extra strip of lead today in order to combat the nasty gusts of wind. In total 30g is plenty to sit steady today.
At any point if I need to add more particles such as casters and choppie I would not hesitate to put on a medium Guru window feeder. These are very accurate and go in quietly too. I will change my feeder size according to response.
If the bites are few and far between and I feel I have enough bait in the swim, I will put a much smaller feeder on. A tiny three-square cage or mini window just trickles enough in to keep a bit falling through the water. I still like to cast frequently, every four minutes or so if I am trying to attract fish to my feed.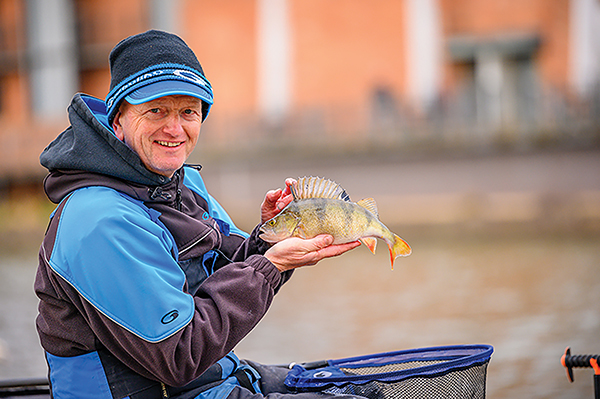 With bream there are distinct patterns that appear throughout the sessions, which are clear to identify. In this shallow water you tend to catch a few fish – you also get liners, so need to be patient and guarantee the fish is on – then they back off for a while, probably due to the disturbance from catching a few.
But when there are plenty in the swim they regroup, come back to the feed and you usually catch again.
It is very important to be patient in between these good spells. Don't push it by feeding too much bait or casting too often. Just keep enough going in to keep them there long enough to catch a few more before they back off once again.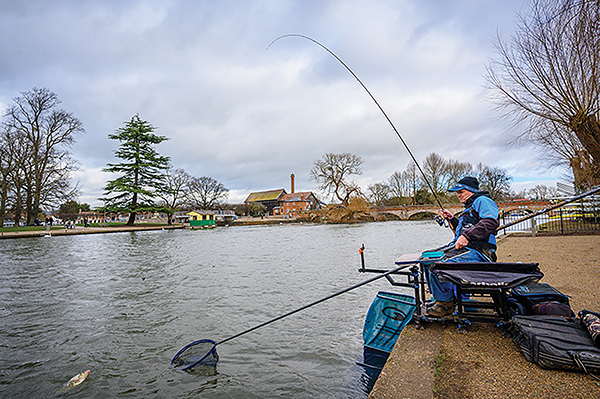 Get it right and you will catch steadily all day. And if there are fewer fish there, at least you will catch as many as you should rather than feed them off for the last half of the match.
Longer hooklengths genuinely work very well too if the fish back off. This is more important in deeper, or faster water as the fish do often back off from where the feeder lands and pick up the drifting particles, especially when there are just odd fish around and they don't have to compete.
This way you can fish down your swim a little but still feed in the original position. After that trick dries up, it is always good to try casting down your swim a little too. It's amazing how often the fish are sat down the feed trail, and you can pick a few extra fish off, especially late in the day.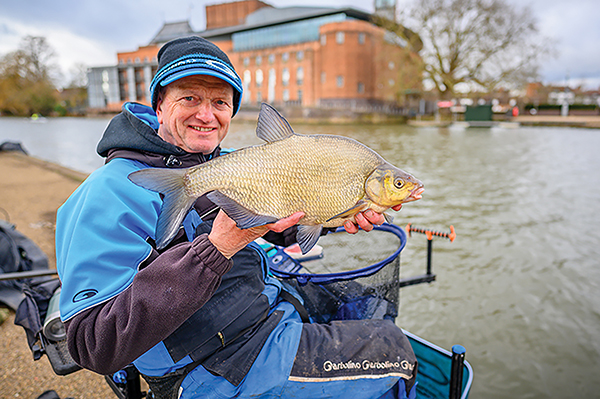 You can gradually move down the swim a metre at a time as you need to, in the same way that you would chase fish out on a lake later in a match to keep in touch with them.
It was evident very quickly today that the fish were hungry and feeding well. I have had a red-letter day catching 26 big skimmers and bream along with a few big perch and roach. I have been able to demonstrate exactly the things I have written about. It's days like this where you learn so much, and it helps put things into practice when you draw areas and swims like this in a match.
The stretch is controlled by Leamington Spa Angling Association, and day tickets are available at local tackle shops, or on the bank. For more information head to www.leamingtonangling.co.uk.
If you get a chance to have a day on your local river before the season ends, don't miss those warmer days, or where the river is carrying that extra water. It will be well worth it!