Shakespeare Superteam SC3 Rods & FL Reels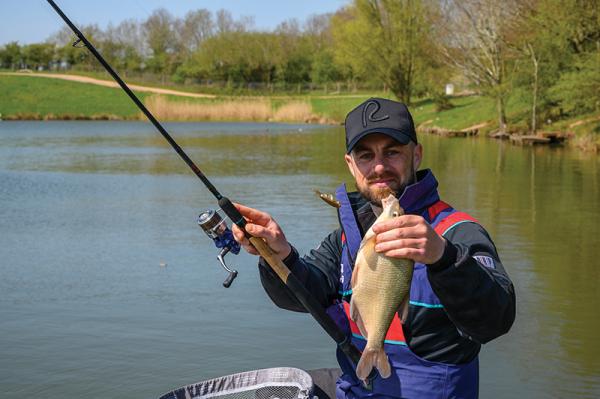 I absolutely love a short feeder rod and, in fact, 90 per cent of my feeder fishing is covered by a couple of 10ft rods because of the type of fishing I like to do. So, to me, this type/length of rod is my absolute favourite to test, and here we have the 9ft and 10ft Superteam SC3 rods to have a go with.
Having now fished with both rods for a session I can't find anything to disagree with Shakespeare's comment in the opening paragraph. So let's wind the clock back a little to the session at the brilliant Meadowlands Fishery, where I tested both the 9ft and the 10ft SC3 Bomb rods, each paired up with the Shakespeare Superteam FL 2000 and 2500 reels respectively.
So you're looking for a couple of short feeder/bomb rods to handle all of your short range (up to 35/40m-ish) commercial feeder work? Okay, there are plenty of options out there for you to choose from, so initially you're more than likely going to be considering the price point. These come in at £89.99 for the 10ft model and £84.99 for the 9ft model. For that you get a 2+1 configuration with each rod coming with two carbon quivertips – 1oz and 1.5oz versions.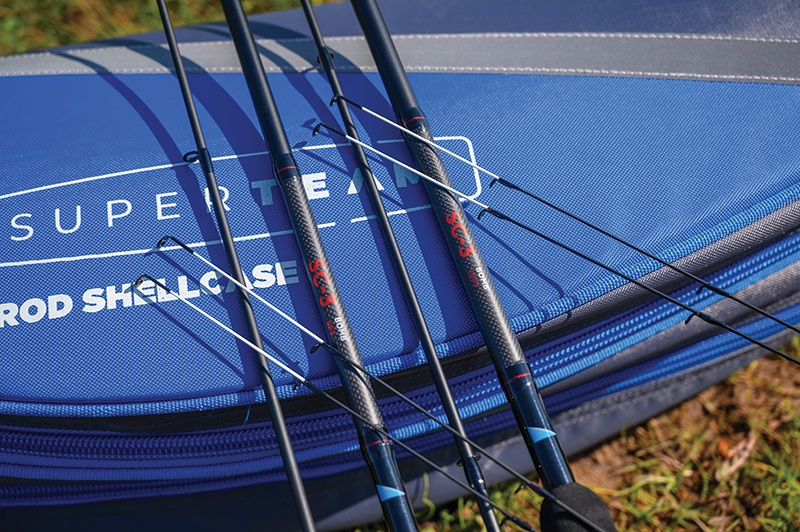 As soon as you pick these rods up you can't fail to be impressed with the weight and balance for this sort of price. The fish-playing actions of both are lovely and in use they deliver everything you could want or need for rods designed to handle this sort of work. I would even go as far as to say that if someone put one of these rods in your hand and asked you to guess the price you'd think they were valued much higher than their relatively modest price tag.
Why? The finish of the rod and details just look more premium than you'd expect for under £90. A nice reel seat, a flat section on the handle to aid stability against your forearm, a duplon and cork mix on the handle and the minimal graphics all lead to a rod that looks more premium.
The blanks are slim and crisp, yet have plenty of progressive power through the middle so you can really pull when you need to. By this I don't mean they're stiff, because they're not. They just have a reserve of power though the middle, which is exactly what you need for wrestling with today's larger than average commercial water carp.
The SL guides look great and there's Superteam detailing on the handle as well as carbon weave detailing on the lower section of the blank. Talking of blanks they're purposely nice and slim, lightweight and have a hook keeper ring on the underside. The lower sections of whipping also feature a nice, subtle red band to add a touch of colour as well as some nice blue graphic accents, too.
I'm sat on the larger of the two lakes here at Meadowlands, called Lambsdown. There are some big carp in here and lots of skimmers too. So a versatile rod is an important tool to have. I'm fishing a Method and bomb line around 25 metres straight in front of me, where I can catapult 8mm pellets accurately. And I have a margin line to the right next to the pallet where I can underarm either of those rigs later in the session as I'll ping 8mms there throughout the day.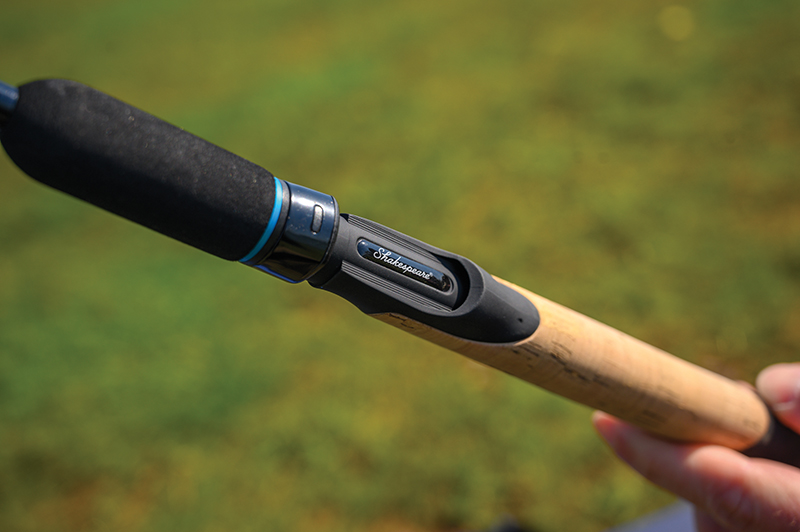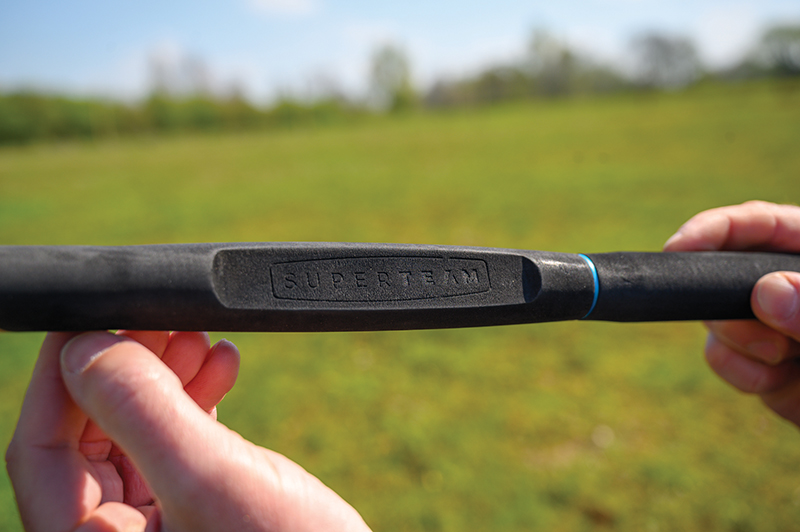 I've started off on the 25m line on the Method with a mix of groundbait and fishery micros and I'm into skimmers straightaway. They get larger as the bait continues to enter the swim and we end up with a few bigger hybrids and silvers as well as carp. The rods impress and I've chosen to use the 10-footer for the Method feeder and 9ft model for the bomb rig. Both setups are in-line and free running, so can be used at most venues. The fishery allows fixed/elasticated rigs but I have chosen to opt for in-line today.
The rods are soft enough for the skimmers, but when I've hooked carp they're plenty powerful enough to cope. The tips offer good feedback and are perfectly suited to the action of these rods.
The reels are Shakespeare Superteam FLs – a 2500 paired with 10-footer and a smaller 2000 model paired with the 9ft rod. Both are loaded with 6lb reel line, which will easily cope with the rigours of this sort of fishing. The line lay is good and the reels are lightweight thanks to the graphite body design. There is also a slightly larger 3000 size available and the handles can be switched between right and left hand sides.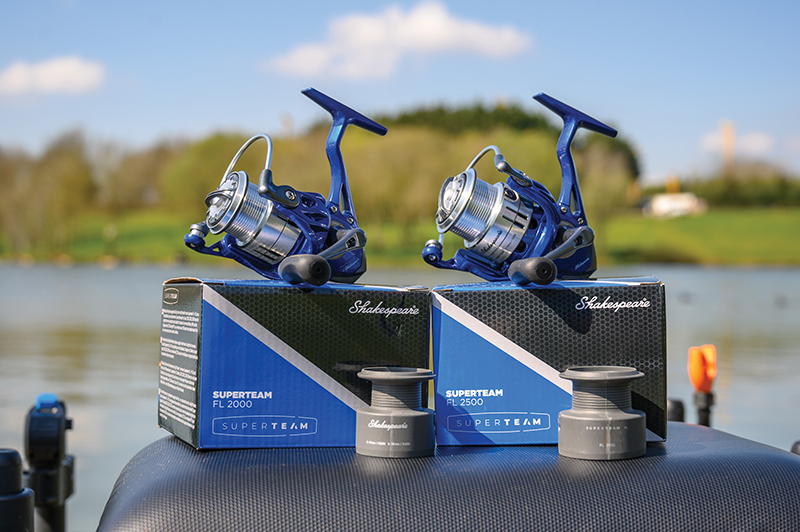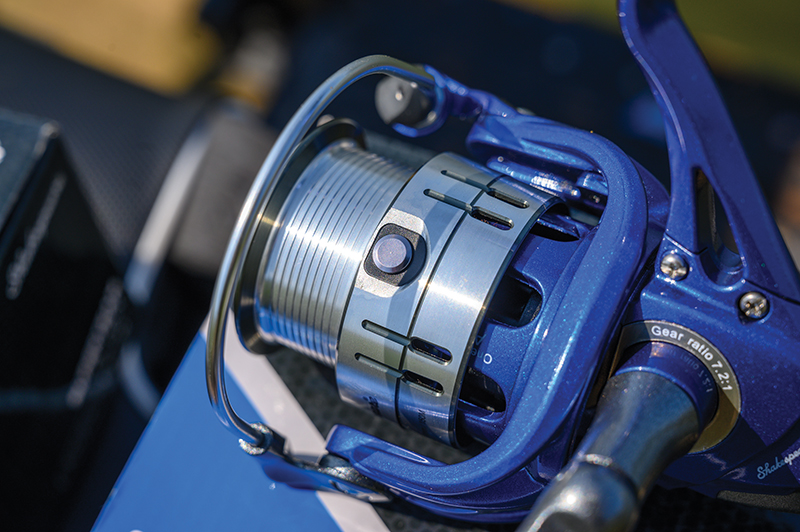 The reels are designed with a high gear ratio of 7.2:0 for fast retrieval, giving a 30 per cent faster retrieve rate than many other reels in this category; 3+1BB, line safe line clip and many other features all for… £49.99 and £47.99 RRP respectively. They come in cheaper than this if you shop around, of course. But you can really tell on the retrieve ratio and, in a match scenario, you'll spend less time winding your rigs back. That's good then because you can spend more time actually fishing.
So here you have a rod and reel setup for under £140 RRP and more realistically for only a shade over £100 at real world prices. Impressive really.
The session continues and the nets are filling with plenty of decent size skimmers and occasional carp. Time for a swing down the edge as the water has started to colour up there. First chuck, a big liner, second chuck the rod rips around on a Method feeder with a small 6mm wafter and a double-figure carp graces the net not long after stripping about 35 metres of line off the spool on its initial run. Another go and another big edge dweller before we decide to pack up for the day.
Brilliant fishing and I have to say, brilliant rods for the money. The reels get the job done and for sub-£50 you can't complain – but for me the rods are the real winners and well worth a look.
There are some other longer feeder and float rods in the Superteam SC3 range too, which we might get to review at a later point. You can find more information on these rods and the rest of the range over on the Shakespeare website. Also, check out the video we shot from this session on the Match Fishing YouTube channel for further footage and information.
Superteam SC3 Rod FEATURES
• Ultra lightweight blanks
• Super thin blank construction
• Carbon weave detailing
• Flat handle styling for fish playing ease
• Soft touch reel seat
• Cork/EVA handle composition
• Laser cut SUPERTEAM detailing
• Dedicated commercial rod actions
• 1oz & 1.5oz carbon tips supplied
RRP: 10ft £89.99, 9ft £84.99
Superteam FL Reel FEATURES
• 3+1 BB
• Soft touch rubber handle knob
• Graphite body
• Aluminium Spool (Shallow)
• Spare graphite spool (Deep)
• 7.2:1 Gear Ratio
• Line safe line clip
RRP: 2500 £49.99, 2000 £47.99
WEBSITE: www.shakespeare-fishing.co.uk