Stripped Bare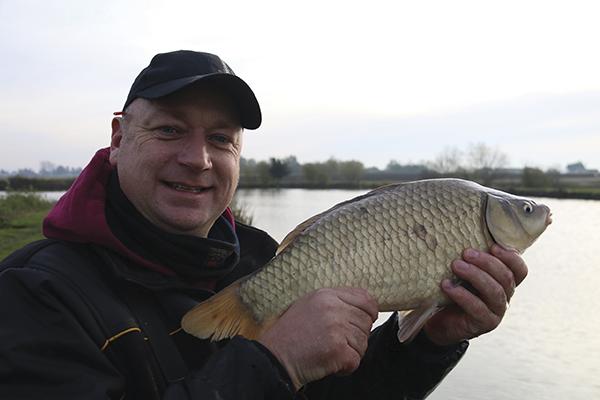 Jon Whincup is a force to be reckoned with on any venue, but one place he knows particularly well is his local Decoy Lakes, so was the ideal person to ask to give us the lowdown of what to expect on the Angling Trust WL Final. Today, Jon is revealing his tactics for the newer part of the complex: the five strip lakes of Damson, Elm, Cedar, Yew and today's choice of Oak. These can all be found together at the back of the complex by heading down the middle of the fishery past the café and tackle shop.
Go Long!
First thing out of the bag and Jon's opening gambit is the long pole. Due to the narrow nature of these lakes, the pole limit for matches is usually 14.5 metres, but make sure you check the up-to-date rules before fishing! Jon goes straight out with his full pole limit and starts plumbing up with a light 0.3g DT Slim Wire float. First thing I ask is why he goes to his full pole limit rather than starting short and chasing them out. His answer is that in winter, and particularly once we get to the time of the Final near the end of February, the vast majority of fish will be sat as far away as they can from the angler, so he doesn't see the point in fishing any closer in.
Another thing that Jon wanted to point out, which he thinks is especially important, is the blacked out tip on his float. Apart from the odd peg with trees opposite, almost every peg on the strip has white water from the reflection of the sky. "Many people will just carry on using a red tipped float in white water, thinking they can see it well enough, but the difference is huge. A black tipped float is loads better and you can see all the tiny dips that could be a big fish a lot better," Jon says. "The difference between red and black is huge." He starts this line by tapping in maggots from a pole pot. Exactly how many will depend of how good he expects the fishing to be and how well he has drawn, but most of the time it will only be around 10 maggots every time he ships out. Two maggots on a size 18 B911 are carefully lowered right into the column of falling maggots. Hooklength is 0.12mm Browning Hybrid Mono due to the chance of a few decent carp to start with. After that, he might drop to a lighter B911 F1 to 0.10mm, particularly on Elm and Cedar, which have a higher proportion of F1s.
"This line is so important. On a hard day or a particularly poor draw, it might produce the bulk of your catch. Pellets or corn could catch an odd fish and are a back-up in case it doesn't work, but generally for me, it's maggots all the way." After plumbing up his 14.5m line, Jon then starts plumbing up the same rig at the same distance but off to one side. The idea being that once he feels he has exhausted his first line or it needs a rest, he can start a new line. The direction of this second line depends on the pegging of the lake, as he will usually plumb it up in the direction of the most space, which will normally be to the side that has an empty peg. Jon tells me it is important not to feed this second line at the start, as he wants to catch the initial burst of fish, not split them over two lines. He will start this line and fish it in exactly the same way as the first one. I ask if he will ever go out with the big pot to try to bring the first line back to life. Jon responds with: "Never Danny boy, you've just got to fish for what is there, you will never draw fish in on this long line."
Plan B
Of course, even after using all of Jon's tricks to keep them alive, you're just not going to keep catching long all day on the long line. The next line is a top kit plus three sections maggot line, again with a DT Slim to 0.16mm Hybrid Mono main line and a 6in 0.12mm hooklength. Shotting yet again is spread shot over the bottom third on the rig and a 7-9 Pink Browning Microbore elastic.
"In fact, if it wasn't for the slight differences in depth, I could just use the same rig for everything!" Jon says. He did say that he will often set up a slightly heavier 0.4g rig for this line too, which offers a different presentation and can throw up a few extra bites.
With the deepest water on the strip lakes being from around three metres out, there are no shelves to look for so Jon just plumbs this rig up on the flat bottom downwind and slightly off to one side, away from where he will be netting fish. This line will be fed from the start with 20 maggots every few minutes. This will be a 'throwaway' line that on a hard day might not produce at all, but could produce some weight-building silvers, F1s or even a carp or two. There a few big ide of around 3lb in some of the lakes and a lot of skimmers on Elm and Cedar that can show up short. Unlike the long line, Jon lays his rig in on the short line and holds the float on a tight line while it settles, looking for bites on the drop and as the rig settles, which is better suited to the constant loose feed, greater spread of bait and the expected silvers
Dobbing
The margins can also produce on these lakes, particularly if there is any cover. Jon also feeds these very frugally. In the latter part of the match, he will just dob a corn skin or a double maggot looking to catch any fish that are sat there. "Bread would be mega here but it's banned, so don't bring it with you to the Final! If that doesn't work, I will just dink an odd maggot in to try to get a response, but other that, there isn't much else you can do."
Jon will also try dobbing in open water, which, oddly, he thinks works best on the good pegs. "The trouble is, when you're on fish on these lakes, you can be on an absolute heap and as soon as you feed, you just foul hook them. Double maggot set about a foot off bottom can be brilliant." Again, thinking that 14.5 metres is the only distance needed, Jon just searches around this distance working his way around in a big arc up to a minimum of 45 degrees from the bank. "Any closer to the bank that that is pointless and you just won't catch."
Unwanted Wind
Although also associated with anglers, it isn't flatulence we are talking here! The strip lakes are very open and the wind can really get up. When it gets like this, Jon won't fish a different rig and once he cannot control his rig with a 1.5ft lash between float and pole tip, he will reach for a bomb rod. Floating pop--up wafters work well on the whole venue and these are presented a foot off the bottom by using a 12in hooklength. Note that boilies are banned at Decoy, but wafters and pop-up wafters are allowed, which is a bit confusing. Rather than feed, this is just cast around the peg looking for pockets of fish. The only other baits worth considering are corn or maggots, which cannot be popped up of course. The maggot feeder can also work, but Jon will always try to catch by feeding nothing and searching with a straight lead first.
Noted Pegs
Four of the five lakes (Elm, Cedar, Yew and Oak) look almost identical to each other and all run alongside each other. What is odd that the same areas on each lake always seem to be best. No one knows exactly why, but the end nearest the car park isn't normally as good as the far end, with the bulk of the fish being about two-thirds of the way up each lake. If on the Final, you're most of the way up any of these four strip lakes but away from the end, then you should be in for a good day and plenty of points for the team!
The Exceptions
Although most of the strip lakes are very similar, there is one that breaks the rules. Damson contains a lot of newer smaller fish and needs to be approached a little differently. These small carp seem to regularly going on a first hour feeding rampage and can be caught straightaway on corn or pellets on a top kit top kit plus one out, as it's seven feet deep just four metres out.
Maggots can work but there are a lot of roach in this lake, so it's usually best to stick to bigger baits. After the initial silly hour of catching, the lake fishes very similar to the other strip lakes. What also sets Damson apart is the fact it has an island, with Peg 18 being a noted flier. A small hybrid or Method type feeder often scores well cast to the island. Peg 1 is also a very good peg as it is narrow with no peg opposite, and a pole can be fished to the far bank. Either way, draw this lake on the final and you should be in for a good day.