Time To Change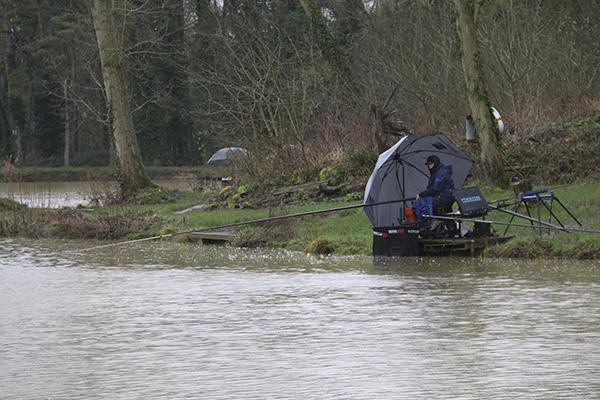 Since the beginning of January I've been fishing a league at the fantastic Biggin Lake in Oundle, just outside Peterborough. An estate lake nestled among a golf course, it is quite shallow and, like most estate lakes, is fed by a stream at one end and dammed with an overshoot at the other.

Biggin was one of the first ever commercial fisheries in the country. In fact, I can remember my then team-mate Rob Hewison mentioning that he was going there for a session with the legendary Ian Heaps over 30 years ago, so this venue is steeped in nostalgia. In summer, it's rammed with hungry carp, and big carp too, up to 30lb, with fish over 15lb being caught on a regular basis. I actually landed one that weighed 18-14-0 on a top kit last year. Although carp do get caught in the winter, it's the silvers we come here for as the lake is also full of roach and skimmers.

The league is an eight-round, silvers-only league, with six out of the eight results to count. After five rounds I was winning the league with four section wins and a third… then the storms started! Yes, the weather was mild, but the rain turned the gently towing, slightly coloured Biggin into a chocolate coloured flooded valley, running like a raging river! It was pulling so hard that my team-mate Rob 'Dizzy' Dzialak won one of the rounds using a 2g flat float! To be honest, the conditions completely threw me and in the final three rounds I returned a fourth, third and a second in section, resulting in nine points and third place overall, losing out to a brilliant score by Dale Perkins with seven points and pipped by the ginger warrior Grant Howie with eight points.




It wasn't until the final part of the last match where I think I'd hit upon a solution, when I had a good run fishing a feeder over my pole line. With some lessons still to be learnt about tackling Biggin in these strange conditions, a return visit was needed, and I also invited good friend Dan Webb to document it for Match Fishing magazine.
Our Day
I chose to sit on the same peg from the last round, Peg 50. On arrival it was bitterly cold, dropping to 1ºC overnight, and with freezing temperatures every night leading up to the day, the colour had dropped out and the water temperature was at 5.1ºC, three degrees colder than the previous Sunday. The forecast was for air temperatures to rise to 9ºC and patchy light rain for most of the day, although in reality it didn't actually stop!

The plan was to fish the pole at nine metres, which is the deepest part of the peg. With yet more rain coming and the lake inevitably going to start running again, I also set up two feeder rods, one with an ICM pellet feeder, the other the ICM cage, conventional style, for fishing over the top.

The pole rig was a 4x16 Shippy F1 Maggot, set up with No10 shot, so it gave me the choice of strung out or bulk down presentation. At the business end was a size 18 SFL-B straight off the Magstore stick to 0.11mm Power line, all hooked up to a No7 Hollo elastic. My chosen mix was the super-reliable Sonubaits F1 Dark mixed with 25 per cent Super Sweet and 30 per cent Thatchers Dark. I started off by feeding three balls at nine metres, two with a few casters, dead maggots and dead pinkies, the final ball being a food-rich ball with a big helping of chopped worms.

I needed to let that settle for 30 minutes, so had a quick chuck on the ICM cage with treble dead fluoro pinkie a few metres past my feed. By this time the rain was getting heavier, and as I looked across to where the stream enters the venue I could see that the water coming in was increasing, and so was the colour! With only one little skimmer on the feeder and the flow getting stronger, I quickly got on the pole to try and put some fish in the net. A flurry of roach and small skimmers followed and as the colour increased still more I changed from an 18 to a 14 SFL-B and added an extra three inches to my depth, so I could present a bigger bait like a piece of worm or double red maggot and slow it down a bit as it dragged along the bottom.

This worked wonders, catching hand-sized skimmers pretty quickly. Every time I felt the fish were backing off, I re-fed with a big ball of groundbait, again laced with chopped worm.
After two hours of heavy rain it really started to pull hard and the water level was rising quite rapidly. It became more and more difficult to present a bait on the pole line and my catch rate had slowed right down, so I cupped in another food-rich ball of groundbait, cast my cage feeder on to the same line and clipped up.

Because feeding a food-rich ball every now and again was working well on the pole, I wanted to try to emulate this feeding with a feeder, so I had two bowls of groundbait: one with just pure groundbait, the other food rich. This allowed be to feed next to nothing most of the time so the fish were straight on to my hook bait, then just give them an occasional hit of bait every five minutes or so.




By now the lake was really pulling and seeing bites was becoming difficult, and I kept getting smashed bait. It was time to employ a trick I learnt at Tamar when catching small skimmers, so I swapped to a tiny 6in hooklength with an SFL-B in a 14 to 0.13mm Power off the Magstore. With the twizzled boom on my rig, this put my hook bait a maximum of 10 inches away from the feeder. This worked really well as the fish weren't able to survey the hook bait in the coloured water and were coming right up to the feeder! Not only was I no longer missing bites, but they were coming so fast that I was now holding the rod! Put the rod down and you've missed the bite!

Choosing the right setup for this close-range feeder work is vital and the Supera SL 10ft rod has been designed for the job. I paired this up with an Inertia 320, which is actually one of Preston's budget reels, but more than up to the job for this sort of work. To really speed things up, I got into a rhythm of underarming the feeder out. I do this by holding the feeder in my left hand, putting a bend in the rod and springing the feeder straight out of my hand and into the lake, using the line clip to get the distance right.

I chopped and changed hook baits to see which the fish preferred and which brought the quickest bites. Although an inch piece of worm caught me slightly bigger fish it was the cocktail of a dead red and fluoro pinkie that got me a quicker bite. The bright coloured pinkie I think helped the fish find the bait in the now chocolate coloured water.

The lake had now risen by 12 inches and was lapping the platform, but the fishing was still tremendous with a skimmer every chuck and pretty quick too. So quick in fact, that Daniel videoed it for social media – check out the video on Match Fishing magazine's Facebook page.

I was now catching a fish every 45 to 50 seconds and yes, I could use a flat float and yes, some anglers will argue that the pole is quicker, but is it? An underarmed chuck nine metres out, holding the rod and with wind and changing depth and flow to contend with? The jury is out on this one!

This leads me on to big, open-to-the-elements venues such as Meadowlands Fishery and the mighty Tamar Reservoir, all superb feeder, pole and whip venues. Personally I have had great success catching on the small cage feeder over my pole line when the weather conditions dictate how we can present a bait. Today is the first time I've done it due to flow, however!
It also works both ways, trying to catch on the feeder and struggling, because that's the "done thing", yet drop a pole rig over the top going through the water and it's solid. Meadowlands is famous for it.

On a practice session a few years ago I fished the pole for three to four hours, I'd caught quite a few skimmers but it wasn't hectic by Meadowlands' standards. The lake was towing and I was using a 2g float, laying eight inches of line on the deck and edging it through slowly; however, a quick change to a small cage feeder over the same line was unbelievable! This turned a good day into an amazing day, just by making a simple change.

So back to today's feature, and as the day progressed the conditions dictated the outcome. I had an awesome day catching over 200 small skimmers, mostly on the small cage feeder for over 30lb and loads learnt for next year's league. So being prepared on the day has turned a good day into an excellent day, which leads me to the conclusion that sometimes, just making that small change to how you present your bait can make all the difference. So, when you're sitting there wondering why you're struggling, just ask yourself – is it time to change or just present things in a different way?