Abu Garcia Cardinal Reels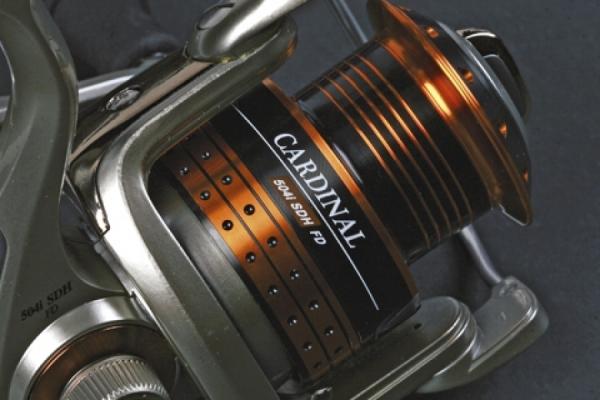 Abu Garcia is a name synonymous with quality reel developments. Dave Harrell checks out the company's latest two offerings…



Abu Garcia Cardinal 504i SDH FD & 506i SDH RD Reels
The first thing that struck me when I took these reels out of the box was how impressive they looked. In terms of cosmetics and finish they seemed like much more expensive reels, but of course it's what's under the cover that really matters.
Cardinal reels are famous for being reliable and strong and I reckon these reels will be able to take some serious punishment. They represent the top spec and performance in the new Abu Garcia range and both were specifically designed for the UK match market.
On the technical side, they feature double handles and come supplied with shallow and deep spool options. There are six main corrosion-resistant bearings, double-anodised aluminum spools, safe line clips and EVA handle knobs.
The rear-drag 506i SDH RD has a gear ratio of 4.8:1 and the shallow spool holds 110 metres of 0.25mm mono. The deeper spool will hold 240 metres of 0.30mm. Due to its size this reel is aimed at heavy feeder work. The low gear ratio gives exceptional winching power and will cope with the biggest feeders and fish. Also, the wide diameter spool will help improve casting distances. The shallow spool is perfect for braid when distance casting while the deep spool swallows a large quantity of 8lb-plus line.
The front-drag 504i SDH FD has a gear ratio of 5.1:1, the shallow spool holds 150 metres of 0.20mm line and the deep spool holds 190 metres of 0.28mm. This is a very versatile reel that will suit both commercial lake and river work. The line capacity of the shallow spool makes it perfect for the pellet waggler and short-distance feeder fishing, while the deep spool allows the reel to be used with heavier line for more powerful feeder fishing situations.
If you're looking to buy a new reel in the price points that these models fall into I'd recommend you to check them out – they could be just what you're looking for!
Abu Garcia Cardinal Reels

RRPs
• 504i SDH FD – £89.99
• 506i SDH RD – £93.99