April issue of Match Fishing out now – don't miss it!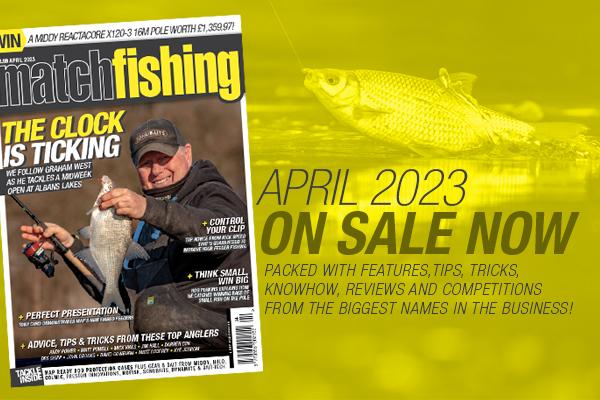 Graham West is featured on the front cover of the April 2023 issue and inside you can follow him from start to finish as he fishes a midweek match at Albans Lakes in Hertfordshire. In bitterly cold conditions, see how 'Westy' approaches his swim on a venue where tactics have to be spot on to utilise silver fish tactics where plenty of bites are assured, or whether to gamble on catching one or two of the venue's carp.
Also in this issue Nick Speed shows you how to get more out of your line clip at Hallcroft Fishery. This was particularly important for him recently when he qualified for the Golden Rod final on the venue and here Nick takes us back to the same peg to demonstrate how you hit your clip can play a huge part in your match plan. We have features from Matt Powell, who is demonstrating some of his deadly silver fish tactics, and Tony Curd at Decoy Lakes on the windiest day of the year to see how he fishes with the new MAP Embed Feeders. And there's plenty more besides from the likes of Andy Power, Mick Vials, Rob Perkins, Jim Hall, Darren Cox, Des Shipp, Matt Godfrey, David Cowburn, John Brooks and Kye Jerrom.
Tackle-wise we take a close look at MAP's new Ready Rod Protection Cases and there's plenty of tackle and bait in the New Gear section. Finally, we have a fantastic competition for you thanks to our generous friends at Middy where you can win one of their Reactacore X120-3 16 m poles worth £1,359.97!
EDITOR'S PICKS
AGAINST THE CLOCK
Graham West is up against it during a midweek match at a frosty Albans Lakes in Hertfordshire.
PRESENTATION GUARANTEED
Tony Curd heads to Decoy Lakes on the windiest day of the year! The conditions may be challenging, but good presentation is still achievable with the right approach.