Match Fishing September 2021 Out Now!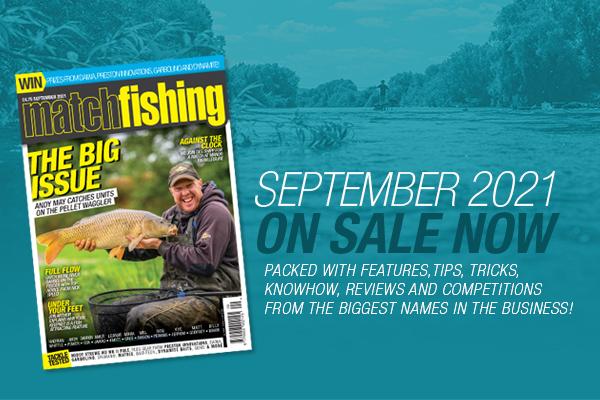 Andy May makes it on to the front cover of the September 2021 issue and looks pretty happy with this big carp, caught from the excellent Izaak Walton Fishery near Stafford during his latest monthly Venue Detective series. Although this fish was the biggest of the day, there were also plenty more caught in front of our cameras.
Elsewhere we join river ace Hadrian Whittle for an insight into his float fishing tactics on the River Wye, Des Shipp goes against the clock at Manor Farm Leisure near Evesham on a Wednesday open, Rob Perkins is fishing the blockend feeder on the River Trent and Will Raison shows how he fishes for F1s on the paste. There's also plenty more content from the likes of Jon Arthur, Andy Power, Darren Cox, Nick Speed, Leanne Knott, Mark Cree and Matt Godfrey, while Kye Jerrom is back with his monthly look at the team fishing scene.
We've also plenty of top tackle and bait prizes up for grabs from Daiwa, Preston Innovations, Garbolino and Dynamite Baits in our free-to-enter competitions.
EDITOR'S PICKS
FAST FLOWING FUN
We join top river angler Hadrian Whittle on his favourite River Wye, where even though sport is often prolific, there are still plenty of days when hard work is the key to catching.