Don't miss the March issue of Match Fishing, out now!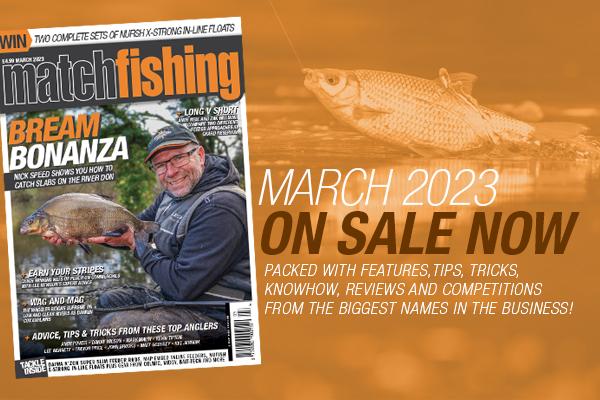 Nick Speed is on the front cover of the March 2023 issue and inside you can read about his session on the River Don where he targeting bream on the feeder. This river has come back from the dead after being highly polluted in years gone by, and now it's a thriving fishery with bream nets winning matches. Nick's approach is a simple one, which is the best way to go about catching bream in numbers.
Also, Lee Newson is targeting perch at Alders Farm Fishery – a generally unwanted species but a winner in the winter if you get your head down and catch a net of 'stripeys'. There's a knack to it, but by following Lee's top advice you'll be filling your nets with perch in no time. There are more great features, with Darren Cox fishing the Warwickshire Avon on the pole and waggler, Mark Malin using a maggot feeder to target carp when bites are at a premium and plenty more from the likes of Andy Power, Andy Neal, Zak Williams and Matt Godfrey.
On the tackle front, Tony Curd tests the new Daiwa N'ZON Super Slim feeder rods and we take a close look at a new range of pole floats from NuFish – plus we've two full sets of them to give away in our latest competition.
EDITOR'S PICKS
THE UNWANTED WINNERS
Catching big numbers of small fish can be a fantastic way of grinding out a result, and you can't afford to ignore them. We joined Lee Newson at Alders Farm for a demonstration in the art of catching perch.
THE DON'S BREAM REVIVAL
Big bream are match winners on many rivers and the River Don is no exception. With time running out before the end of the river season, we asked Nick Speed to investigate.