The December issue of Match Fishing is out now!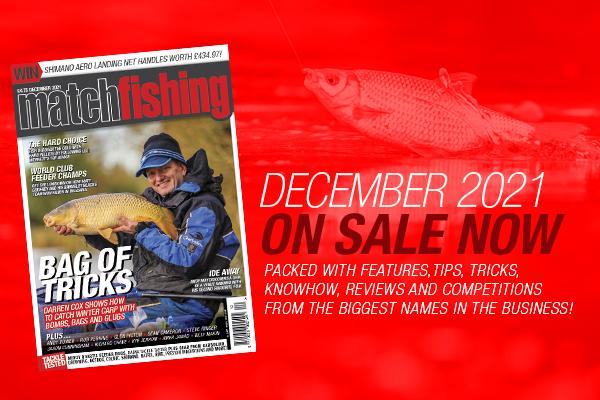 Darren Cox makes it on to the cover of the December issue and what a fish that is! He was fishing at Barston Lakes and inside you can read about how he uses PVA bags and glugs to tempt those wary winter carp. It's as close as match anglers come to using specimen carp tactics and on its day, this tactic can be the only way to get bites.
Also in this issue we have Rob Perkins fishing the tidal Trent using float fishing tactics and as usual with Rob, it's one for the purists. Steve Ringer gives us an in-depth look into the tactics his team used to qualify for the World Club Feeder Champs in Bulgaria, when they fished a qualifying event at Arrow Valley Lake, and Andy May visits a superb venue that's crammed with ide (his second favourite fish!).
There's plenty more from Andy Power, Glen Picton, Shaun Cameron, Jason Cunningham, Richard Chave, Kye Jerrom, Amer Jawad, Martin Stokes, Matt Godfrey and of course, Billy Makin, plus plenty of top tackle in our New Gear section and tackle reviewer Tom Scholey has a first look at some of Daiwa's new rods, reels and tackle for 2022. We also have three Shimano Aero landing net handles worth £434.97 to give away in our free to enter competition.
Editor's Picks:
The Hard Truth
Once winter arrives Lee Werrett turns his attention to the stunning Redhill Fishery at Monmouth, where he sticks with a hard pellet approach for the F1s and carp.
Turning Tidal
River expert and match legend Rob Perkins spends a pleasant day float fishing the tidal Trent for silvers.