Don't miss Match Fishing's May mag!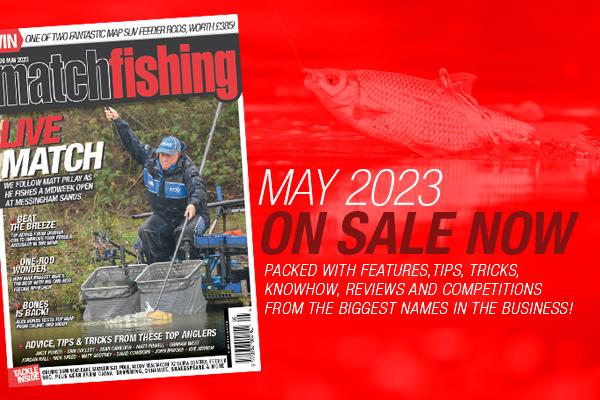 Matt Pillay has made it on to the front cover of the May 2023 issue and inside you can see how he fared on a weekday open match on the Islands Lake at Messingham Sands Fishery. Matt usually takes a casual approach to these matches but with the Match Fishing cameras watching his every move, he turned up the heat and left nothing to chance, and you can see exactly how he approached this prolific fishery.
Also in this issue we spent a very interesting and enjoyable session with Max Higgott, the first ever winner of our Shimano Aero Leger Cup. Max is a feeder/bomb angler and over the years he's taken some notable scalps and won some big matches – he finished third in this year's Golden Rod final at Larford Lakes and could easily have won it. What's interesting about
There's also plenty more top advice from the likes of Andy Power, Sam Collett, Sean Cameron, Darren Cox, Matt Powell, Graham West, Jordan Hall, Nick Speed, Matt Godfrey and more.
Tackle-wise, Alex Bones takes one of Middy's latest flagship feeder rods out on the bank. The Reactacore XZ Ultra Control is a 12ft 6in three-piece rod, but is it any good? Alex is also testing the new Silver Pack offering of the Colmic 16m Nucleare Sixteen S31, which as a top-of-the-range package for less than £3,000 really takes some beating. Finally, in our latest free-to-enter competition, you can win one of two fantastic MAP SUV Feeder rods, which together are worth £385!
EDITOR'S PICKS
AGAINST THE CLOCK
This month we travel to a very wet Messingham Sands to follow Matt Pillay on a Wednesday open match on the Islands Lake.
IBERIAN MASTERS 2023
Nick Speed has recently been to Spain with Tom Pickering and Alex Dockerty to compete in the feeder only Iberian Masters. Here's his account of a memorable week that was so close to being perfect!