The January 2022 issue of Match Fishing is out now!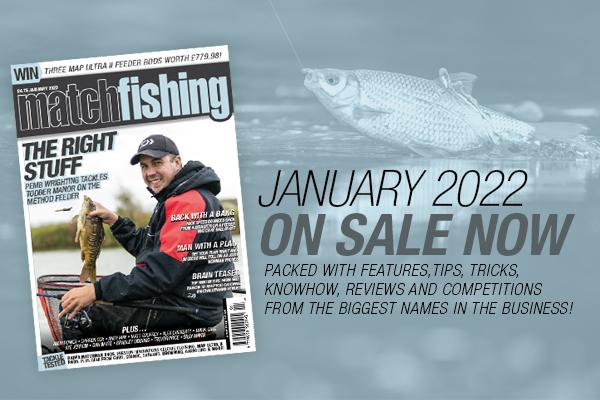 Pemb Wrighting has made it on to the cover of the January issue. Inside you will find him fishing the Method feeder on one of the most prolific venues in the country where big weights are guaranteed in the summer, Todber Manor. However, in winter even venues that are stuffed with fish can switch off (and they often do) so how do you approach these big weight commercials in the colder months compared to venues that contain fewer fish where weights are generally lower?
Also in this issue we follow Nick Speed during a match at Hallcroft where he was fishing a round of the Wickersley Angling/Colmic Bomb and Feeder League, Will Raison offers some great tips that will help you when the going gets tough and Josh Newman shows how he comes up with a plan to tackle a venue that's new to him where the competition is fierce. We've plenty more from the likes of Andy Power, Matt Godfrey, Alex Dockerty, Mark Cree, Andy May, Kye Jerrom, Darren Cox, Trevor Price, Bradley Gibbons, Dan White and Billy Makin too.
There's also plenty of top tackle and bait in our New Gear section and tackle reviewer Tom Scholey has a close look at Daiwa's new Matchman rod range and we also check out Preston Innovations' Celcius clothing. To top it off, we have three awesome MAP Ultra II feeder rods worth £779.98 to give away in our latest online competition and you definitely don't want to miss the chance to get your hands on one of those!
Editor's picks:
Against The Clock
This month we join Nick Speed to follow his match from start to finish as he tackles round three of the Colmic/Wickersley Angling Feeder and Bomb league at Hallcroft Fishery.