Jump into our jam-packed June issue!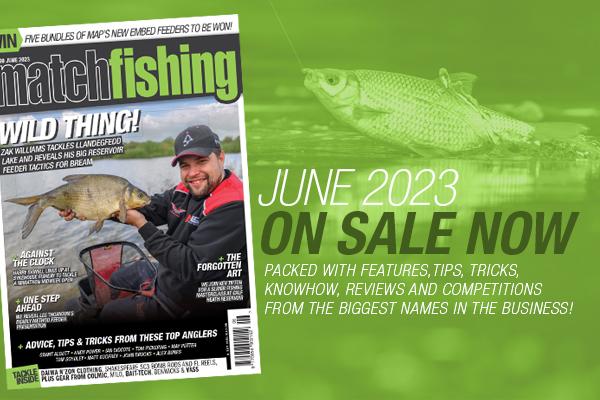 Zac Williams has made it on to the front cover of the June issue and inside he goes wild as he tackles one of his favourite venues, Llandegfedd Reservoir in Wales. It's a huge water so locating the fish is crucial, but then you have to have the skills to catch them! Here we learn Zac's feeder approach to catching bream on these large reservoirs and if you enjoy feeder fishing on the wild side, you can't afford to miss this.
Also in this issue we join former Fish 'O' Mania champ Harry Bignell as he tackles a midweek open at Sykehouse Fishery near Goole. It's his first midweeker of the year and although he was expecting a six-hour match, it turned out to be a marathon seven hours! Could he make the extra hour count and make it three Against The Clock wins in a row? And there's plenty more top content from the likes of Lee Thornton, Kev Tipton, Grant Albutt Andy Power, Ian Didcote, Tom Pickering, May Potter, Tom Scholey, Matt Godfrey and John Brooks for you to glean information and top tips from.
On the tackle front Alex Bones checks out two new bomb rods and reels from Shakespeare that are certain to find fans with those buying on a budget. Alex also checks out the new N'ZON range of clothing from Daiwa, which is smart looking and feature packed as he explains. We've also got some of the excellent and much hyped MAP Embed feeders to give away in another free-to-enter competition.
EDITOR'S PICKS
LEARN BY PRACTICE
Practising for a big match can seem hard work, time consuming and not really worth the effort on the face of it, but Drennan's Grant Albutt begs to differ.
SLIDING TO SUCCESS
The slider is a deadly tactic and one man who still uses this amazing method is Sensas-backed Kevin Tipton – we joined him at his second home of Calf Heath Reservoir for a slider fishing masterclass.