Match Fishing November 2021 Out Now!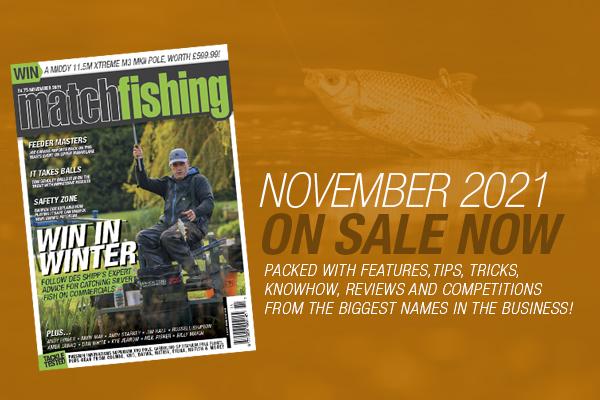 Des Shipp is on the front cover of the November 2021 issue as he visits Willow Marsh Fishery to show us how he tweaks his silver approach to adapt to certain fishery rules. As usual Des gives a masterclass on how to catch silver fish and with winter just around the corner, there's a ton of unmissable advice that's going to help you keep fish coming.
Elsewhere Tom Scholey is on the Trent to show why balling it in is such a deadly river tactic, Andy May visits Rudyard Lake for Venue Detective, Joe Carass has an in-depth report from the Feeder Masters Final at Upper Tamar and we also have coverage of the inaugural Preston Innovations UK Pole Championships final at Woodland View and our Subscriber Classic fished at Tunnel Barn Farm. There's also plenty more from Andy Power, Andy Starkey, Jim Hall, Russell Shipton, Amer Jawad, Dan White, Darren Cox, Kye Jerrom and Neil Fisher.
All this plus plenty of top tackle and bait in our New Gear section, we put Preston Innovations' new flagship pole through its paces, and we have a brilliant Middy Xtreme M3 MKII pole worth £599.99 to give away to one lucky reader.
EDITOR'S PICKS
Chop & Change
We join Des Shipp at Willow Marsh Fishery for an insight into how he tweaks his silver fish tactics to adapt to a certain fishery and their rules.
Venue Detective
Something a bit different this month for Andy May as he takes us to Rudyard Lake, a large expanse of water with plenty of history, heritage and fish.