Matrix Super 36 Seatbox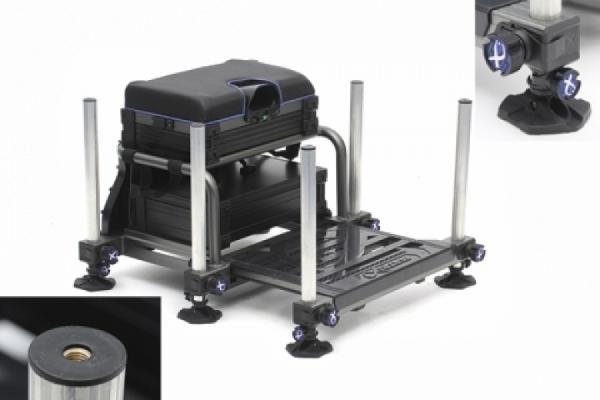 Joe Carass checks out the Super 36, the new flagship seatbox from Matrix.

We are spoilt for choice nowadays when it comes to choosing a seatbox.

There seems to be no end of quality offerings around at the moment and choosing the one for you has never been trickier – they are all so good!

I have long been a fan of the Matrix boxes. They took what I loved about the previous Fox MSB system and improved them by integration into the more modern frame-style boxes.

The original Superbox has certainly been a hit, and it was only a matter of time before Matrix looked to produce a flagship model. The Super 36 is precisely that.

Clearly the first main change is the actual diameter of the legs.

It is accepted now that 36mm legs are the pinnacle of stability, so that was a logical upgrade.

It's worked too, and this box is absolutely rock solid! But look a little closer at the frame and you realise it is not just the legs that give this box its solid nature.

The box section in which the legs are housed is two inches thick and the legs are in direct contact with it. This means that there is literally no movement whatsoever – it certainly is impressive.

The footprint of the box is also slightly larger than the original Superbox. To put this straight, it is a BIG seatbox.

But seemingly this is less of a worry than ever. Most venues have parking behind the anglers, and even if a walk is needed there are lots of quality barrows around (like Matrix's own Superbox Transporter) that make walking a doddle.

It may seem large initially but once you set it up, well off the ground or perhaps when setting it up in the water on rivers or large lakes, then you appreciate why – the box is just built like a rock!

There really is no movement and I can't see how this box can be bettered when it comes to stability.

This is a box that is built to last. It may not be cheap, but there is so little to go wrong on it that I can see it lasting for years and years – it's just solid.

The trays are the usual Matrix designs, which I personally think are the best available.

The drawers are excellent and house loads of bits and bobs with ease. My only critiscm of the previous Superbox is a relative lack of winder tray space.

That has been thought about deeply on this box and the main frame has been raised slightly to allow more trays to be housed beneath it.

So for all you anglers that like to carry several winder trays, you now can… comfortably.

The box is supplied in a simple layout: a deep side drawer above the frame and a deeper unit below. However, many customisations can be made simply by purchasing additional trays and drawer units from the extensive Superbox range.

I think this is probably my favourite of the big boxes that I have seen.

Don't get me wrong, there isn't a lot in it, but I like minimal fuss that is built well, and that is exactly what this is.

A nice addition for the tackle tarts would be black legs, though, and it wouldn't surprise me if Matrix does produce some at a later date.

If you are in the market for a box of this nature then you simply have to give the Super 36 a look. It's awesome.

RRP £679.99