Maver Classic Final 2011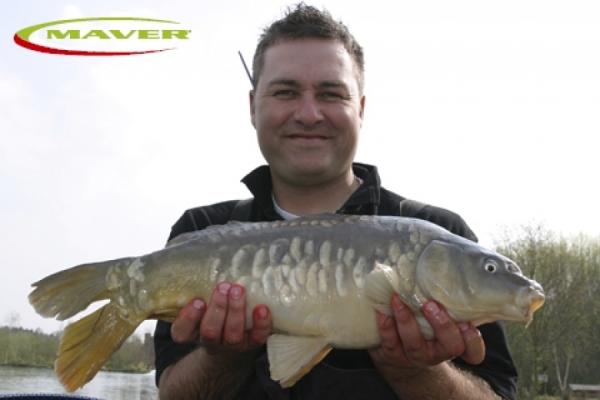 The long haul to the final of the prestigious Maver Classic 2011 took place on Sunday 1st and Monday 2nd May 2011.
In all over 60 qualifier matches commencing in October 2010 and finishing in late April 2011 took place. 104 finalists took part at Larford's Match, Arena and Specimen lakes.
Conditions were however far from perfect with a severe northerly wind making conditions near impossible for pole and float fishing. Needles to say most of the weights came to straight lead or feeder tactics.
The matches were decided by way of points with 1st in each section receiving 1 point, 2nd 2 points etc. In the event of a tie on overall points, the placing decided by overall weight advantage.
| | | |
| --- | --- | --- |
| DAY 1 | WINNER | WEIGHT |
| LAKE WINNER OVERALL MATCH/ARENA LAKE | ANDY KINDER | 110-060kgs |
| LAKE WINNER OVERALL SPECIMEN LAKE | LEE EDWARDS | 48-100kgs |
| | | |
| --- | --- | --- |
| DAY 2 | WINNER | WEIGHT |
| LAKE WINNER OVERALL MATCH/ARENA LAKE | TOMMY HILLIER | 62-260kgs |
| LAKE WINNER OVERALL SPECIMEN LAKE | ADAM WAKLIN | 69-700kgs |
OVERALL:
Winner of the 2 day event was decided by points and in the event of a points tie; weight would be the deciding factor.
Overall winner was Lee Edwards with a perfect points score of 2. Lee caught well on pole and pellet fished to dept on day 1 from the Specimen Lake. Lee later switched to the margins to land quality carp for a total weight of 48-100kgs from peg 33 on the burr. Lee's overall day 1 weight was also enough to secure an overall lake win. Going into day 2 Lee needed a god draw to keep up the challenge and drew section 'D', peg 68 on the burr of the Match Lake. This particular section fished pretty hard but Lee did enough to secure a further section win with 32-300kg of F1's to pole and pellet and a total combined weight of 80-400kg.
In second overall position was Maver's Andy Kinder who fished a brilliant 2 day challenge. Andy's points score was 3 points and a total weight of 154-920kgs. Day 1 saw Andy draw end peg 43 on the Match Lake shallow bank. Fishing at just 6m with meat and corn, Andy quickly netted quality F1 carp then later switched to the margins to find quality carp and bag up an incredible 110-060kgs. That was easily enough for Andy to win his section and enough to win the lake overall. Day 2 put him on fancied peg 67 on the chalet bank of the Specimen Lake. Fishing a method feeder short with hard pellet, corn and meat, Andy caught quality carp and bream. Andy's last 2 fish in the final 15 minutes weighed around 30lbs. It looked like another section win but Adam Waklin on peg 79 used the end peg to his advantage to pinch a vital point and lift the lake and section win with a superb 69-700kg.
Third placed Sean McCarthy joined Andy Kinder on 3 points but could not match the runner-ups weight. Sean put 80-100kg on the scales over the 2 days. Day 1 placed Sean in 'A' section on the Match lake and it was a tussle between him and Darren Cox for the section. Drawing peg 21, Sean managed a close second with 45-500kg and Darren piping him at the post with 50-540kg.
Sean caught on pole and pellet shallow and later switched to the margins to find some quality carp. Day 2 saw Sean draw section 'G' on the Specimen Lake drawing peg 15. Sean fished the method feeder and pole short to land quality carp to 15lbs and some decent bream for a section winning 34-600kg alternating between corn and meat, but Sean's overall result was enough to secure him 3rd overall.
Fourth placed Adam Waklin recorded 112-400kg in total over the 2 days and a 4 point score thanks to his overall Specimen Lake win on the second day with Fifth place awarded to Geoff Valance who caught 68-780kgs and a 4 point score.
OVERALL PLACINGS
:
FIRST LEE EDWARDS 2 POINTS 80-400kg
Lee collected £2,000 in prize funds plus tackle prizes and £160.00 in section prizes.
SECOND ANDY KINDER 3 POINTS 154-920kg
Andy collected £1,730 in prize funds including section wins plus tackle prizes.
THIRD SEAN McCARTHY 3 POINTS 80-100kg
Sean collected £1,130 in prize funds including section wins plus tackle prizes.
FOURTH ADAM WAKLIN 4 POINTS 112-400kg
Adam collected £900 in prize funds including a lake win.
FIFTH GEOFF VALANCE 4 POINTS 68-780kg
Geoff collected £600 in prize funds.