One Line Winner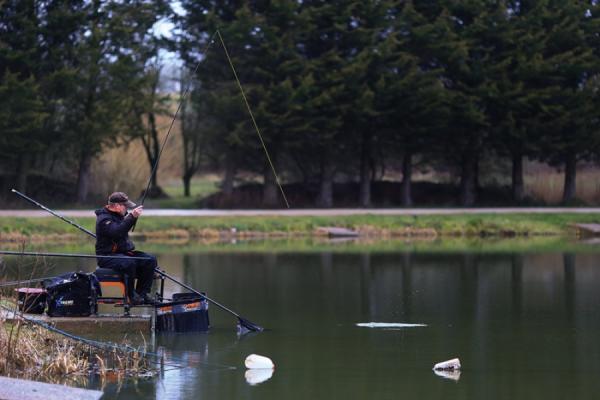 Chris Cameron thinks simple is best in the hunt for match-winning nets of F1s!
There is an abundance of theories on the pursuit of our commercial F1s, and this is of course inevitable as they are so widespread and there will always need to be an evolution of tactics to stay ahead of the game.
There is a vast complexity to how you approach F1 fishing and there are the obvious forerunners to the tactical parade, but it's not always relevant as a universal blueprint to success as the variables are vast – water temperature, target weights and the specifics of any chosen venue, to list just a few.
It's the latter of these that Middy's Chris Cameron will offer a bit more scrutiny to and an insight into his experiences at the popular Manor Farm Leisure in Worcestershire.
The normal perceived approach to F1s is to get busy, and that's REALLY get busy in respect of how many lines you will be planning to move between in any particular match to stay in touch with what most of the time can be a finicky species.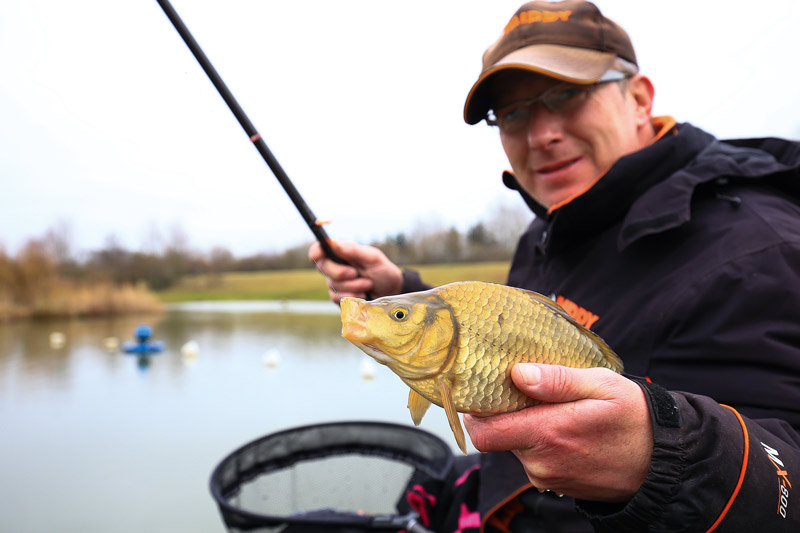 On the harder and more regularly fished venues this will see the angler a constant blur of rig swapping to keep the fish coming. This sort of scenario, and the efforts required, is probably the most relevant in what can be best described as the finicky seasons for F1s.
The colder the water temperatures the more effort is normally required, as the warmer months generally look after themselves with shallow fishing or a shipping frenzy to amass massive F1 weights.
Chris explains that the F1s at Manor Farm contribute a good percentage of match-winning weights and today it's simply a one-line approach, but obviously with the usual complications to get the best from the swim, and there is good reason for this simplicity.
"I'm sat on Island Lake today and this is typical of most pegs on the venue. It's the F1s I'm targeting and in particular the newer, more recent stock fish, but hoping for a few of the more mature specimens to put in an appearance.
"It's still cold and the normal approach is to get a few lines primed and follow the fish around, but I think there is merit in committing to just one line, for a number of reasons.
"There are a few parameters to work within if you are going to adopt a one-line approach, though. Firstly you need enough fish in the venue or they are just going to wander off and you will sit there just ruing the day and what could have been. The fish also need to be fished for often and have the willingness to compete for food and, most importantly and especially in open-water fishing like this, there needs to be colour in the water or again, in clear water the F1s will soon disappear into oblivion.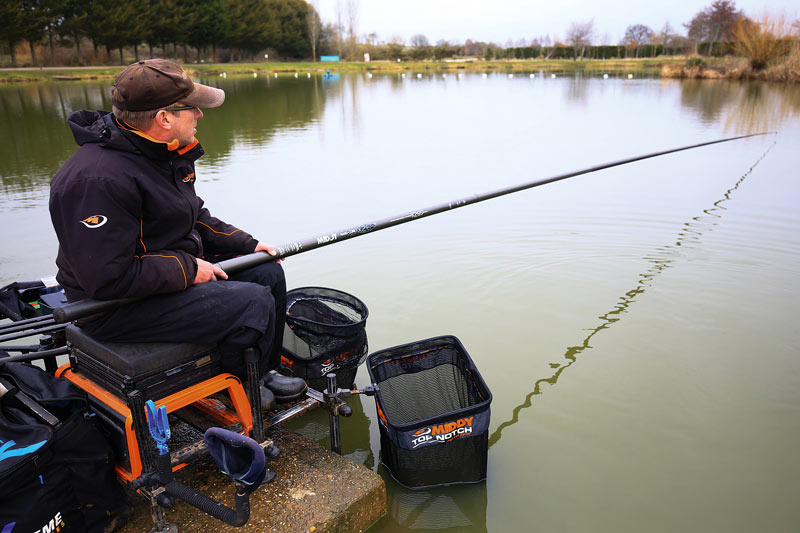 "This venue ticks all those boxes so it's a one-line mind-set. I think this risky strategy allows me to get a better understanding of how the fish are reacting throughout the day and it gives me a better gauge of when and how to vary the feeding, which is a key factor in what you end up with to present to the scales.
"My chosen line today is at 14 metres in the deep water, but the weather conditions will dictate and you need to make sure you keep an eye on the weather as you don't want to be beating a retreat as the wind strengthens, so err on the side of caution.
"Another factor that you can fall foul of in committing to one line are the perils of a nice sunny day, so take note of where the sun will be as it may render a line useless for a couple of hours if it tracks right on to where you are fishing, and if there is a ripple on the water well, look after your eyes!
"I prefer to fish that bit further out if I can as it gives the opportunity of drawing more fish and keeping things that bit further away of netting fish. Shipping is also comfortable with no obstacles to negotiate so today it's perfect.
"Bait choice is route-one pellet, but the options just with pellet approach are vast and there are lots of decisions to make here, so just focusing on the one line gives me more chance of getting things right and keeping in touch with the subtle changes to how these F1s feed through the session.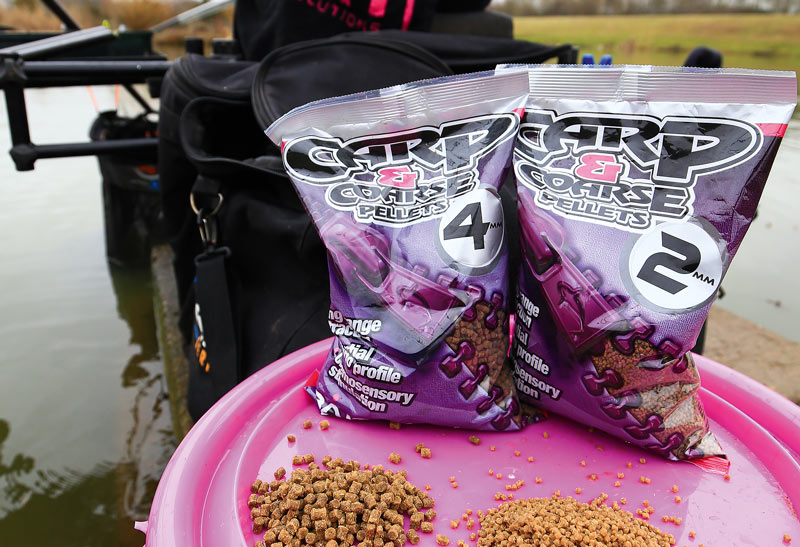 "There are no fishery pellet rules so it's my favoured Bait-Tech 4mm feed pellets and 2mm micros. Hook-bait choices are 4mm and 6mm expanders soaked in corn steep liquor – bagged up they will last for weeks as long as you keep them refrigerated.
"Careful plumbing as usual, but take a good note of the depth; nothing unusual in that but it is relevant later in the session.
"I start the session with just a small Kinder pot of micro pellets; because it's just one line it is so important to feel your way in. I know this is so often preached but there is good reason – you can always put more in but you can't take it out.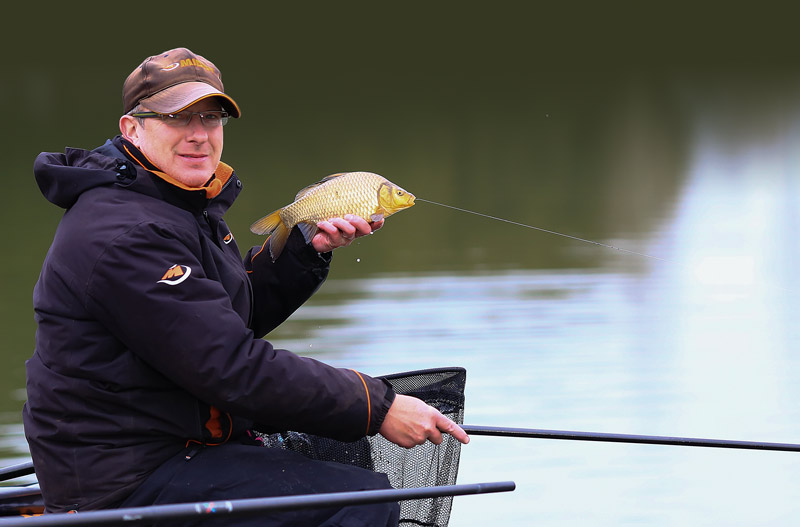 "If it soon becomes apparent that they want a lot of feed as the anglers around you catch immediately by feeding, I still like to hang on a bit before pulling the trigger as it's often the case that you get a flurry of fish initially that respond to feed but it soon settles, and I prefer to build the feed and 'earn the trust' of the fish first. This is all so relevant on a one-line strategy as you only get the one chance.
"You can, however, just switch to another line if things have gone wrong, but get it right by building slowly and I think you will reap the rewards of this blinkered plan.
"With no other anglers about today to force my hand I am going to follow a normal routine for a session and as I catch the occasional fish there is, as always, room for improvement, so I start to increase my feed to a full pot as there are a lot of fish to attract. I'm catching okay but there are a couple of areas I can improve on.
"I'm only feeding micro pellets and the fish seem to want to sit off the bottom, and I'm also getting indications that aren't resulting in bites and those I am getting are characteristic of the F1, and that's shy bites. These I think are partly due to the water being flat today so a switch to a pencil-style float and generally a lighter rig will hopefully sort that, and I'm going to swap to 4mm feed pellets in the hope of encouraging the fish to feed on the deck. Also, I think the noise will pull more fish into the area and create a bit more competition.
"Before I start with the lighter rig I'm going to plumb up again and my float follows the plummet down but a quick drop in either side shows dead depth again. Basically even with this moderate activity the fish have gouged out a bit of a sump in the silt, so keep an eye on depths especially if bites have gone a bit unusual. After re-plumbing a drop each side reveals nearly a float-length's difference.
"My gear setups are basically positive and not so positive. At the positive end are Middy Carp Greys Series 1 in 4x14 and 4x16, which have a wire stem for stability and a 1.5mm tip. The 4x16 is shotted with a tight bulk, and a spread bulk on the 4x14.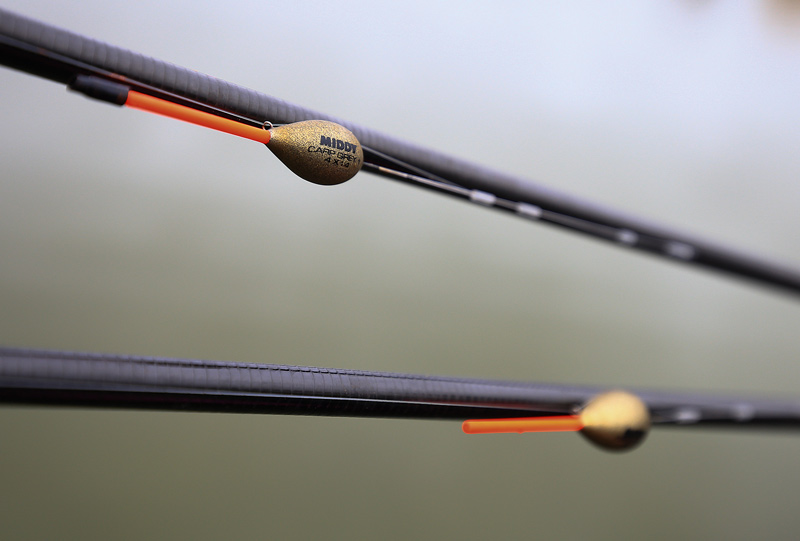 "On the lighter side I use a Middy Styrex Series 5 in a 4x12 and in the flat conditions with the shy bites this has been the best option today. Hook choice is a 63-13, the best pellet hook, with its wide gape and the fact that they are light and strong. My line choice is the usual Middy Lo-Viz 0.14mm main to 0.12mm hooklength, and elastics are the standard winter/F1 choices of Middy Hi-Viz Shockcore hollow in orange and yellow.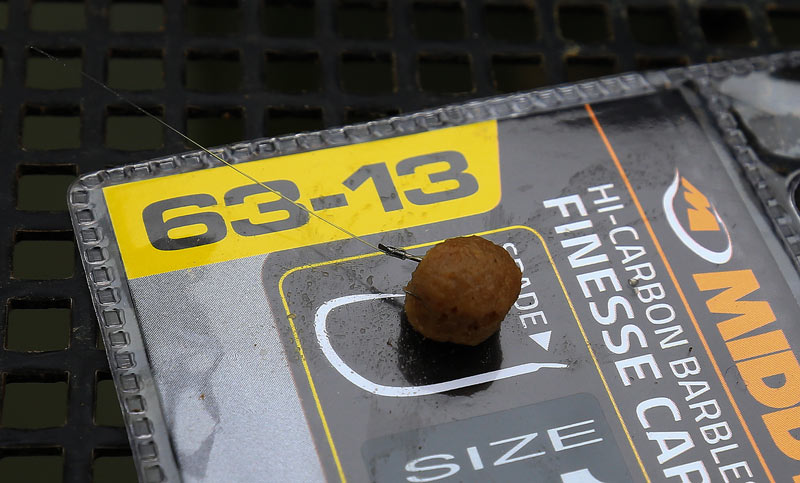 "I like to employ a black sleeve on the tip of the float for light backgrounds and this also grips the surface film when the rigs are dotted right down."
Chris has caught about 50lb today in about three hours and it has really reinforced his confidence in the one line, and on this venue this definitely works better than splitting the available fish.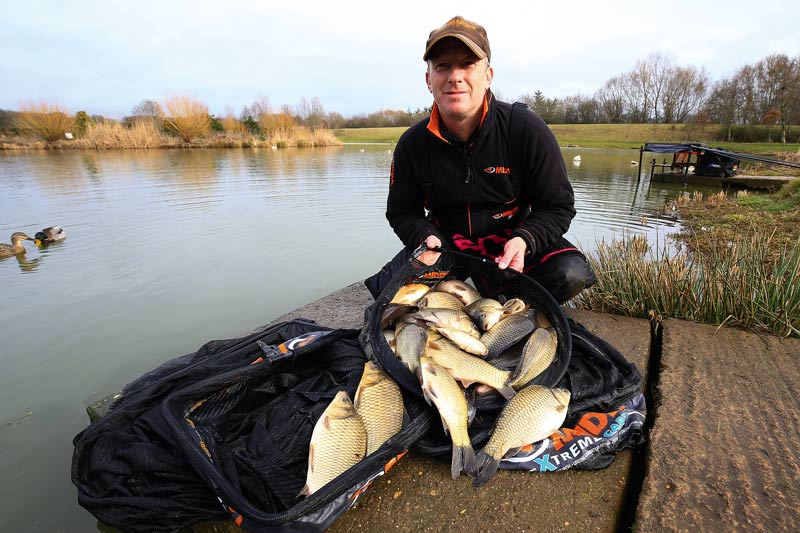 Angler
Chris Cameron
Age: 47
Lives: Gloucester
Sponsor: Middy