Preston Innovations Onbox 360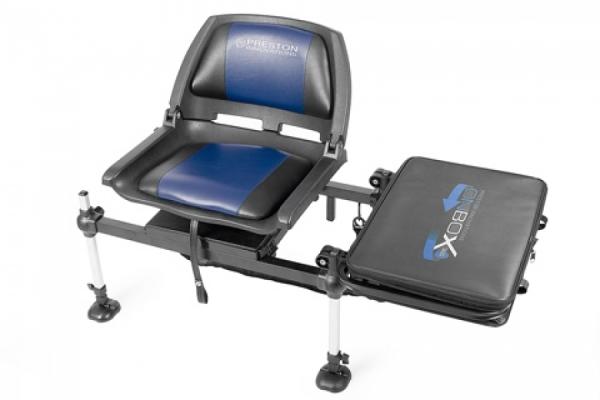 The 360 Revolution! Joe Carass checks out the latest seatbox development from Preston Innovations – The OnBox 360!
I'm going to be honest: I didn't know what to make of the OnBox 360 when I first saw it. I mean, surely a match angler has to sit on a proper seatbox, right?
But then I started to think about it. There are loads of matches that I've been on where this box would have made my day more pleasurable. I can think of no end of 'one rod' matches where, to be honest, sitting on a normal box for five hours is something of a chore.
If you can get past the image of the box – I can imagine anglers take one look at it and say "I wouldn't be seen dead on that!" – and look at the practicality of the 360 then, like me, you will realise it's bloody brilliant!
Originally designed for the feeder angler, the 360 is awesome if comfort is what you are looking for. The stable, ergonomically designed folding seat is a joy to sit on. The biggest problem I have with it will be not nodding off while waiting for a bite!
As the name suggests, the seat actually swivels a full 360 degrees and is incredibly smooth running in doing so. This may seem a bit gimmicky, but as soon as you sit on one you can see why it is such a good idea.
While this box is undoubtedly designed for the feeder angler, pole fishing is surprisingly comfortable from it. I'm not sure I would want to fish 16 metres in a crosswind while sitting on it, but for most of your general pole fishing situations it's ideal. The four adjustable legs ensure that you can fish at the perfect height so that pole control is nice and easy, while any accessory creature comforts that you use on your current box will also work with this.
The rotating seat is ideal for fishing down the margins too, as you can simply rotate around to whichever side of the peg you are fishing.
The legs are the original 23mm OnBox legs as used on the Space Station boxes. The full range of Off Box and Off Box Pro accessories fit these legs, provided the relevant insert is fitted to the accessory. However, to get you started, the box comes with its own dedicated EVA side tray that stores beneath the frame of the box. This zip top tray is nice and spacious and is a handy place to store items of tackle or bait when transporting the box to the bank.
Beneath the seat is a shallow storage area. It is just about big enough to fit a decent assortment of hooks and line in, but the capacity can be increased by adding On Box units, which can be bought in several variations, much like any other modular type seatbox.
My only gripe here, and it is a minor one, would be that there is no dedicated space for feeder storage. You could argue that the feeders could be stored in the side tray or that anglers carry them in separate storage boxes, but I do think something with the box would be nice.
It is nice and light too; not only does the box come supplied with a shoulder strap, but it also has a fixed-point carry handle. It is so quick to set up that for any angler a little short on time it may be just what you are looking for.
The more I have worked with this box the more I like it and it is certainly the ideal seatbox solution for many anglers. Granted it won't be everyone's cup of tea but get into your local Preston dealer and have a look – you may be surprised at just how good it is!
RRP:
£229.99