The Review: Browning Sphere Mgti 930 Reel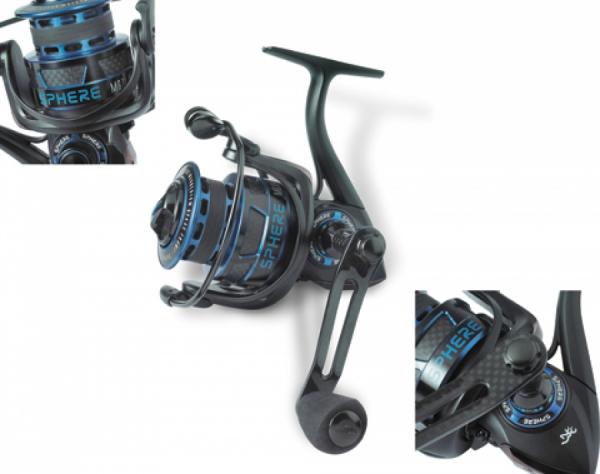 Classy Performance… In Four Sizes! Match Fishing puts Browning's latest reel under the knife.
When buying a reel, the focus of many modern match anglers is to have something lightweight.
Whether you're casting a Method feeder to an island on your local commercial, or running a stick float down a river, the weight factor of a reel is very important. On picking up the Sphere MgTi from Browning, the first thing that you notice is just how lightweight this piece of kit is.
The main body of the reel is made from ultra-light magnesium. From a match angler's point of view, this makes the processes of regular casting and working at the method in question effortless.
Don't be fooled into thinking that the feather-light weight of the reel has compromised the strength at all. In fact, the key areas of the reel are engineered with extra reinforcements. The rotor takes much of the cranking strain when retrieving a heavy weight, whether it be a heavy feeder on a big river or constant pressure from hard-fighting commercial carp. On this reel, the rotor is reinforced with carbon fibre, and the actual axle is made from titanium.
The bail-arm and line guide are other key areas to look at on a workhorse reel. Getting up close to these on the Sphere MgTi, you can see extra engineering has gone into them. The bail arm is quite thick, and even when you give it a good grip and squeeze, it doesn't budge.
In the same department, the line roller is coated with titanium nitrate and has an anti-twist system, meaning that no matter how fast or often you reel in, the line remains in perfect condition on the reel.
The Sphere features a front drag that ticks over with incredible smoothness, helped by the magnum carbon drag discs in place to maintain this smooth working drag against wear and tear. Such a smooth and fine-tuned drag gives you lots of assurance that fish won't be lost when this is set correctly.
The reel is available in four different sizes – 920, 930, 940 and 950 – to cover all match anglers' needs. The smallest 920 version is perfect for short-range work with short rods – fishing a Method on small snake lakes for example, or flicking a small waggler against a bank just out of pole reach.
The 930 and 940 versions lean towards distances a little further out, ideal for general waggler, pellet waggler and feeder fishing. If you wanted something to help you hit that extra distance, the 950 version is a real weapon.
The wider spool helps the line peel off with ease, and there's plenty of cranking power. If you're an angler looking to cast distances with a heavy feeder, or targeting venues that require an aggressive style such as Irish loughs, tidal rivers or large reservoirs, it's ideal!
Like all top-end match reels, these do come at a price. The 920 and 930 models carry an RRP of £199.95, while the larger 940 and 950 models have an RRP of £209.95. For this, however, you also get a spare spool, and both spools have an Anti-Slip Core allowing your line or braid to lay perfectly on the reel. If you're in the market for some new cranking tools, check out these beauties from Browning!
Tech Spec
Capacity: 100m of 0.20mm line
Gear ratio: 5.0:1
Retrieve: 92cm
Spec: 9 ball bearings
Ultralight braid-ready spool
Spare spool included
Continuous anti-reverse
Multi-disc front-drag system
Ultralight magnesium body
Carbon handle
RRP Sphere MgTi 920: £199.95
Sphere MgTi 930: £199.95
Sphere MgTi 940: £209.95
Sphere MgTi 950: £209.95