Sonubaits Supercrumb Groundbait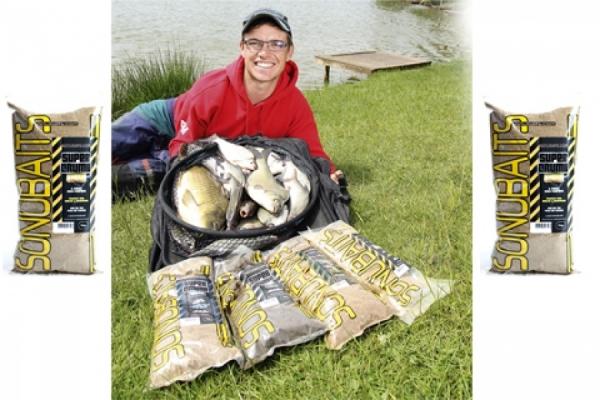 There are four mixes in the Supercrumb range: Lake, River, Bream and Black. Each mix has been designed for a specific scenario, as their names would suggest, and I'll explain each one individually.Silver-fish groundbaits are all the rage at present and Joe Carass reckons he's found a gem in the shape of the Sonubaits Supercrumb range.
Sonubaits has become one of the most popular bait brands among commercial anglers. Its comprehensive range of baits offers great value and has really struck a chord with anglers both here and across Europe.

It has to be said that Sonubaits has a staggering set of consultants – anglers such as Des Shipp, Tommy Pickering, Lee Kerry and Andy Power to name a few. But something was missing; the brand needed some dedicated silver-fish groundbaits and set about developing the Supercrumb range.

These guys don't just go fishing every day, they are tasked with helping both Preston Innovations and Sonubaits come up with the next big hit in the tackle shops. It is a lot of experience to draw from and you just know that when that group of anglers gets together, the resulting groundbaits are going to be good.

Lake is a lovely soft, sweet groundbait. Mixed on its own it will bind just enough for depths up to about six feet. This makes it ideal for shallower venues and even canals, despite what the name says. It is quite a fine groundbait but that makes it ideal to become a 'base' to which others could be added.

The Black groundbait is all about difficult, clear venues. It is a low-feed alternative that will be the ideal choice for winter fishing. Again it is a fine mix, with a slightly spicy note to it. Not only will this groundbait be great on its own, but add small amounts of it to others in the range and you can end up with a lovely dark-coloured mix.

On to my two favourites and the two that I have used the most. River is possibly the mix I like best of the four. I like stickier groundbaits as they can be mixed to suit a lot of different venues and this groundbait really does fit the bill. If you look at the mix closely, you can see that it is absolutely packed with tiny particles. Sonubaits has milled the ingredients very fine so that all of the goodness is in the groundbait.

Finally we have the lovely Bream mix. This is a pale yellow, sweet groundbait that just screams bream to me! It is loaded with quality ingredients and has a high food content that is perfect for keeping hungry shoals of skimmers and bream in your peg. It takes on water very well when the particles have been milled fine like this and makes for an easier mix. I know this is Lee Kerry's groundbait of choice for most situations and when you mix some up you will see why.
All in all the four-strong Supercrumb range offers something for any silver-fish angler. You can tell that they have been developed over a long period of time; each mix is great when used alone, but use a combination and you will be able to tailor these four mixes to suit ANY venue.It is very effective when fished through a feeder, which is its intended use, but don't let that put you off using it as a pole groundbait.
RRP:£3.75